DOWN WITH MURDER INC.
That UK dossier, The Hutton enquiry, Dr Kelly and what did he REALLY know
"...we've got commitments in Europe, we've got commitments in Korea, we have commitments in Southeast Europe which are brand new, we have commitments in the Persian Gulf which may be reduced or go away as we get rid of Saddam Hussein at some point, but as long as he's there, it drives a lot." - Deputy Secretary Wolfowitz Interview with the New York Times

Gavin Davies [BBC - New labour Peer] - Gilligan [spook or dupe?]

Greg Dyke - [BBC - New labour peer] - Dr Kelly as reported in the UK press

The steering of the BBC reporter, Andrew Gilligan, enabled the government [Alistair Campbell et al] to set in motion yet another double bluff operation...Giving Gilligan just enough to get his teeth into, he tracks down Kelly through another BBC journalist - Susan Watts. She has been having conversations with Dr Kelly in which he suggested all was not what it seemed. Gilligan releases the story of the 45 minute claim in the September dossier, live on BBC Radio. These claims which, if the e-mails released on the Hutton report site from the office of No.10 to Members of the Joint intelligence Committee are to be beleived have the ring of truth to it...The dossier was indeed a sham. An obvious and deliberate falsehood that any fool could see was fear mongering propaganda.

The BBC is overseen by governers appointed by the UK Government.

Gilligan is pressured by the government through BBC regulatory channels to name his source, However UK Defense secretary Geoff Hoon all but names Kelly by giving a list of all those who were NOT suspected.

the defense minister and his goons start a smear campaign, calling Dr Kelly ' a walter mitty' character.

Kelly is called to give testimony to the committee established to investigate these claims.

He is labelled a fall guy, a dupe, and given a rough ride.

It is reported that Kelly is being kept in a safe-house and is being questioned by British Intelligence.

Dr David C Kelly is then pronounced missing and a few days later found lying dead in woods near his home in Oxfordshire...

Blair is visibly shaken up by the news on a trip to Tokyo. [I speculate this is pure theatre],

and shortly afterwards announces an enquiry, to be overseen by Lord Hutton, who's track record includes the Bloody Sunday debacle.

The BBC is repremanded, The Government appointed governing commitee are also made up of Labor party donators. These heads are made to publicly roll and the BBC is spectacularly rebranded as a vessel for TRUTH! [It is now a perfect tool for government propaganda.]
Intrigue, unanswered questions and, the death of an MoD weapons expert

Dr Kelly, 59, was a microbiologist who took a central role in United Nations arms inspections in Iraq, and was a renowned authority on that country's chemical and biological weapons programme. He knew better than most - probably better than anyone else - how quickly Saddam Hussein could activate his weapons. A precise man, he was irritated by inaccuracy, and believed that the dossier had exaggerated intelligence for effect.

Several months ago, before the start of the war, Dr Kelly had an opportunity to confront Geoff Hoon, the Defence Secretary, about the dossier when they bumped into each other in the MoD canteen. What passed between them is unknown, but conversations between Dr Kelly and Tom Mangold, a television journalist and friend of the dead scientist, suggest that he was highly sceptical of the dossier's claim that biological and chemical weapons could be deployed within 45 minutes.
"We laughed about that," Mangold later recalled. "He reminded me it would take the most efficient handlers at least 45 minutes just to pour the chemicals or load the biological agents into the warheads."

That claim was a simplification at best ...of information supplied by a senior Iraqi military officer, an MI6 agent-in-place.

But it had arrived on ministers' desks in August, even as the dossier was being prepared. It was always bound to hold pride of place. But it was not enough to satisfy Dr Kelly. So when he met Andrew Gilligan, the BBC Today programme's defence correspondent, on Thursday May 22 he was determined to get the point across. - Telegraph.co.uk

a senior Iraqi military officer, an MI6 agent-in-place?
Son of hostage pleads with UK Prime Minister

The son of the British hostage threatened with execution by his Iraqi kidnappers has appealed to Tony Blair to intervene to save his father's life.

Kenneth Bigley, a 62-year-old engineer from Liverpool, was seized with two Americans in Baghdad last Thursday and his kidnappers have threatened to kill all three men unless their demands for women inmates to be freed from Iraqi prisons are met.

[snip]
Following the release of the execution video, Mr Bigley's son, Craig, 33, called for the Prime Minister to intervene.

"I ask Tony Blair personally to consider the amount of bloodshed already suffered," he told the BBC. "Please meet the demands and release my father - two women for two men. "Only you can save him now," he said. "You have children and you will understand how I feel at this time."

The kidnappers - the Tawhid and Jihad group - are led by Abu Musab al-Zarqawi, a Jordanian who has alleged links to al-Qa'eda.

They have demanded the release of Iraqi women prisoners from the Abu Ghraib and Umm Qasr jails.

The US military says no women are held at either jail, although it says two female "security prisoners" are being held elsewhere.

They are believed to be Dr Rihab Taha, who was in charge of Iraq's biological programmes in the 1980s, and Dr Huda Ammash, a weapons scientist known as "Mrs Anthrax". - Telegraph uk
Flashback: March 29, 2003 - Mrs Anthrax used to justify invasion

Iraq's 'Mrs Anthrax' sits with Saddam

Source: The Times (London)- THE only woman at Saddam Hussein's leadership table looks self-possessed and almost demure, sitting with her head covered and hands folded neatly in front of her. US intelligence officers call her Mrs Anthrax.

The appearance of Baghdad's reputed germ warfare expert, Huda Salih Mahdi Ammash, on Iraqi television on Thursday sent a chill down collective spines in Washington and London.

US officials studying Saddam's appearances wondered yesterday why she was shown sitting three seats away from him, complete with military epaulettes, the well-groomed face of Iraq's biological weapons programme. They are already trying to absorb the discovery of 3,000 Iraqi chemical and biological weapons suits and masks at a hospital in al-Nasiriyah that had been used by Iraqi paramilitaries.

US officials believe that Dr Ammash, who earned a PhD in microbiology at an American university and was appointed to Saddam's Revolutionary Command Council in May 2001, helped to rebuild Iraq's bioweapons programme in the mid-1990s, As the camera panned repeatedly past her face, it seemed as if Baghdad wanted to send a warning to the US and British forces.

"Mrs Anthrax" learnt some of her apparently deadly science at the University of Missouri, where her 1983 doctorate focused on the poisoning effects of radiation, paraquat and adrimycin, a chemotherapy drug, on bacteria and mammals, a university official said.

Geoff Hoon, the Defence Minister, says meanwhile that US-British forces now have categorical evidence that Saddam is ready to use weapons of mass destruction. - source

Flashback: May 2003 - Mrs Anthrax captured

A top Iraqi scientist believed to have worked on biological-weapons programs was detained in central Iraq Monday, senior Defense officials said.

Huda Salih Mahdi Ammash was in U.S. custody, officials said, but they cited conflicting accounts on whether she had surrendered or was captured. Ammash was No. 53 on the list of 55 most-wanted officials from Saddam Hussein's deposed government.

Ammash was Iraq's leading microbial genetic engineer, U.S. officials said. She is believed to have been instrumental in secretly rebuilding Iraq's bio-warfare capabilities in the mid-1990s while she headed a biological laboratory at the Military Industrial Commission, which helped coordinate Saddam's clandestine weapons programs.

"The world is a safer place because she's off the streets," said a U.S. official who spoke on the condition of anonymity.

Ammash is the fifth senior official from Iraq's weapons program in U.S. custody. She has been dubbed "Mrs. Anthrax" in the media for her alleged involvement in programs to produce lethal biological agents.

"She is definitely knowledgeable about Iraq's biological-warfare program, both in terms of the nature and extent of the program and in terms of where facilities and materials might be located," the official added.

U.S. intelligence agencies have tracked Ammash since the early 1990s, the official said, although she had little public notoriety until she appeared in a video released during the war that showed her as the only woman at a meeting with Saddam and his aides. The purpose of the meeting was never explained, and it is not clear when it occurred. - source
Why is Mrs Anthrax so important?

Salih Mahdi Ammash [Hudas father] was a military attache in Washington in the 1950s and subsequently participated in the bloody 1963 coup in which many thousands of leftists were murdered and the country was plunged into chaos for the best part of a year.

Ammash senior was involved in another conspiracy that brought the Ba'ath back to power in 1968 with himself as Interior Minister. In this position, Salih Mahdi Ammash was at least nominally in charge of the Amn Al-Amma (Public Security Department) headed by the notorious torturer Nadhim Kzar.

Kzar was in reality answerable to Saddam Hussain (before they fell apart) who was building up his own separate security agency as well. To be sure, Ammash was more moderate and more cultured than the thuggish Saddam and Kzar, and he was also popular among the then tiny band of Ba'ath Party faithful, but he was a conspirator who disgraced his high public office and who was responsible for assasinations and military coups. Ammash's power relied not so much on popularity, but on the military and on Saddam's and Kzar's brutality, and because of that, he himself was soon made dispensable and kicked up to ceremonial positions which he accepted without protest. Saddam went ahead corrupting Iraq's politics and public institutions and plunging the country into a series of crises that ultimately led to the catastrohpic conditions it is in today under a US colonial regime. - source
Is Huda Salih Mahdi Ammash the person who can categorically proove WMD were / were not IN IRAQ?
is she a CIA place agent, whose job it is, is to make up intelligence to help the Iraq war unfold?

The whole anthrax scam certainly helped create a climate of Fear in the USA, which helped the cause for war against Iraq
Flashback Anthrax attacks linked to Iraq in US press

Iraq 'behind US anthrax outbreaks'

American investigators probing anthrax outbreaks in Florida and New York believe they have all the hallmarks of a terrorist attack - and have named Iraq as prime suspect as the source of the deadly spores. Their inquiries are adding to what US hawks say is a growing mass of evidence that Saddam Hussein was involved, possibly indirectly, with the 11 September hijackers. If investigators' fears are confirmed - and sceptics fear American hawks could be publicising the claim to press their case for strikes against Iraq - the pressure now building among senior Pentagon and White House officials in Washington for an attack may become irresistible. Plans have been discussed among Pentagon strategists for US air strike support for armed insurrections against Saddam by rebel Kurds in the north and Shia Muslims in the south with a promise of American ground troops to protect the oilfields of Basra. Guardian

The earliest mention I can find of "Huda Ammash" and "anthrax" in the same Web page via Google is from May 5. Even a simple search for "Mrs. Anthrax" fails to turn up much before May 5, much less news stories specifically referring to Ammash as "Mrs. Anthrax". Even removing the "." from behind "Mrs" fails to get anything earlier than May 5.

If anyone can find an earlier reference to Ammash as "Mrs Anthrax" I'd love to hear about it. Until that time, though, I'm thinking the worst: that the Administration or some neoconservative or generic hawk planted the term "Mrs Anthrax" as a way of linking Iraq to the anthrax attacks on the United States that occurred after September 11. President Bush, Paul Wolfowitz, Donald Rumsfeld and others have already worked very hard to link September 11 with Iraq in the public mind so succesfully, in fact, that more than 60% of Americans believe such a link exists, despite the complete lack of evidence and I've certainly heard many people argue (years ago, at least) that there was a link between the anthrax attacks and Iraq. - Creating a Link Without the Link: Mrs Anthrax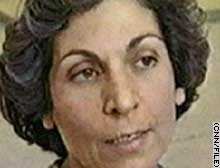 CNN story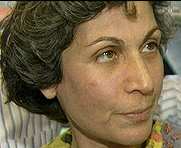 Dr Taha studied plant toxins at the University of East Anglia, between 1980 and 1984. She had been sent by the regime, like others, to gain the expertise which Saddam intended to harness for military purposes. -

BBC
"Dr Germ" - RIHAB TAHA

- Although she was not on the U.S. list of 55 most-wanted Iraqis, Taha was described by the U.S. military as a former director of the Iraqi bacterial and biological warfare programme. She was taken into custody on May 12 last year.

- Taha is accused of exploring the weapons potential of pathogens that cause anthrax and plague at the Al Hakam research lab, beginning in 1987.

- Taha admitted producing germ warfare agents in the past, including anthrax and botulinum, but said all such Iraqi weapons were destroyed.

- She was educated in Britain at the University of East Anglia, where she completed a PhD in plant toxins between 1980 and 1984. She later returned to Iraq and took charge of the country's major biological facilities in the late 1980s.

- Taha is married to Amir Muhammed Rasheed, who ran Iraq's military industries until becoming oil minister in 1995. He was number 47 on the U.S. list.

- In an interview with ABC News, Taha said her work helped protect Iraqis from Israel: "We haven't done anything to harm other people. It is our right to be capable enough to defend ourselves -- all what we have done is just a deterrent." - Reuters

Is Rihab Taha another person who can categorically proove WMD were / were not IN IRAQ?
is she an MI6 place agent?

If the Anthrax attacks can be traced to US/UK complicity - what about those kidnappers, beheaders & torturers?

Scientists to be freed? Dissapeared? To whom? Al Zakarwi - AL-CIA-DA handlers?

The U.S. military says only two Iraqi women are held in its prisons in the country, both in a camp for high-profile detainees.

Dubbed "Dr Germ" and "Mrs. Anthrax" by their captors, the two women -- Rihab Taha, a British-trained microbiologist, and Huda Ammash, a U.S.-trained microbial genetic engineer -- are accused of working on Saddam Hussein's weapons programmes. Taha and Ammash were both detained in May 2003.

At the time, U.S. officials believed their capture would provide key information into Saddam's secret chemical and biological weapons programme, the main argument used by the U.S. and British governments to invade Iraq in March 2003.

U.N. inspectors found no weapons of mass destruction in Iraq during a search in the run-up to the invasion.

On Wednesday, a senior Iraqi justice official told Reuters the case of Taha was under review and she could be freed as early as Wednesday.

Militants led by Jordanian al Qaeda ally Abu Musab al-Zarqawi say they have killed two American hostages after their demands that all Iraqi women be released from prison were not met. They are threatening to kill a British captive. - Reuters

Sept 2004: 3 hostages are taken.

The Kidnapping of the Brit Kenneth Bigley and 2 US [ALL 3 now dead], are by the same 'Zarkarwi led 'Tawhid and Jihad group' responsible for the Nick Berg beheading
Same chair type? How common are these?

Murder Victim Nick Berg &
Abuse perpetrator Linsdsay England

The kidnappers of the 2 US and 1 Brit [Bigley] were reported to be the same Al-Zakarwi led crew who kidnapped Nick Berg and Kim il Song - both of which were not without controversy.
the kidnappers demands are for the release of ALL WOMEN PRISONERS, but as we have seen...it was the Western press who suggested that the US were holding the two Iraqi WMD scientist - Chemical Sally' or 'Mrs Anthrax', Huda Ammash...& Dr Germ' Rihab Taha, who was Dr David Kellys major interviewee during his WMD mission to Iraq

Richard Spertzel, head of Unscom's biological weapons section from 1994-99:

"The first inspection was in November 1994. We interviewed 28 Iraqi personnel over six days. While all four of us participated in the interviews, in this effort David was a workhorse. He led the interviews and showed his attention to detail and dogged pursuit of the facts.

At one point, we had Dr Rihab Taha, said by Iraq to be in charge of its defensive biological research programme, cornered. David had trapped her in contradictory statements regarding the military role in her "research" and she was inadvertently revealing facts she did not intend to reveal. She became extremely agitated and stormed out of the room, asserting that David had insulted her and all the women of Iraq. (When she went off on a tirade, David would merely say, quite calmly: "Dr Taha, please stop!"). At first the head of the Iraqi delegation, Hossam Amin, said Dr. Taha would only return if I dropped David from the team. Then she conceded that he could remain on condition that he stay in an adjacent room and we give her his questions on paper and carry her answers back the same way. Then she said he could be in the same room, but would have to write his questions for another member of the team to ask. Finally she agreed to continue, but insisted that David ask his questions through an interpreter - which is what we had been doing anyway." - Guardian

Stark reminder of private tragedy behind public furore
...and so we have the curious situation of kidnappers in Iraq, appearing to bring up the same 2 scientists that the Corporate media have used to scare the American public into thinking Saddam had attacked America with Anthrax...

Once again Zarqarwis terror cells seem to be helping concretize the Evil of Saddam in the eyes of Joe-Public

Either this is an inside job, with a black-ops cell creating terror & instability or the Press via CENTCOM are spinning everything that happens in Iraq to scare the public into accepting the war, justifying a continued presence in the region
lest we not forget in reality: Saddam was a CIA member of the 6 man assassination squad the 1959 attempt on Iraqi Prime Minister Gen. Abd al-Karim Qasim in which Saddams baathist regime was to be a buffer in the cold war

it is also worthy of note that Mrs Anthrax' father was a Washington pawn in the coup of 1963 - He was CIA... The coup of 1963 eventually placed Saddam in power

see Info clearing house article

We appear to Have Intelligence operatives running around in the upper echelons of the previous Iraqi government and its occupying replacement

another CIA agent?

according to this article in The Times, Kelly's main Iraq interviewee was General Amer Al-Saadi?

"Kelly was diligent in his pursuit of Saddam Husseins henchmen. One of his long-standing foes was General Amer Al-Saadi, Saddams British-educated weapons adviser. Al-Saadi was responsible for Iraqs development of weapons of mass destruction (WMD) from 1972 onwards. Kelly had long suspected him of lying to weapons inspectors.

He described the Iraqi general as a very sinister and very charming man. He was one of the brightest people I have ever met. But he supported the wrong cause.

Kelly interviewed Al-Saadi at least 20 times during UN inspection visits to Iraq. His questioning of the general helped to expose flaws in Iraqs supposedly full, complete, final and comprehensive declaration of weapons of mass destruction in December 2002.

When the Iraqi declaration was rejected by the UN, it was the beginning of the end for Saddam. Within weeks America had completed its military build-up and invaded Iraq. - source
Come in Mr CIA - your time is up! - secret deals?

U.S. military officials issued a deck of cards to help soldiers identify the 55 most wanted. The day after the list was released, Americans got their first surrender. It was Lieutenant General Amer al-Saadi, a top scientist who headed the ministry that developed weapons of mass destruction.

Saddams scientific adviser and liaison with the UN arms inspectors, General Amer Hammoudi Al-Saadi, was not the first Iraqi general to turn himself in to American forces. Just before closing its last edition on April 11, DEBKA-Net-Weekly received the first fragmentary reports from its intelligence sources of another general who trod the same secret path before him.
[snip]

Those reports shed partial light on the ease with which the US 1st Marines Expeditionary Force was able to reach the heart of Baghdad on Wednesday, April 9, without encountering substantial Iraqi resistance. In one case, the Republican Guards supposed to defend the Diyala River bridges and keep American forces out of east Baghdad suddenly stopped shooting and deserted their posts. In general, large sections of the elite SRG divisions charged with defending Baghdad melted away without inflicting or suffering casualties.

In this sense, the keys to east Baghdad were handed over by the high commander of Iraqs elite

General Al-Saadi: Saddams scientific adviser turned himself in Saturday, April 12, taking with him some of Iraqs WMD secrets. He sat quietly at home waiting to be picked up as arranged in his secret exchanges with the Americans before the war. DEBKAfiles intelligence sources add that for some reason no one came to collect him possibly because a trap was suspected. In the end, he took the initiative and escorted by a German television crewman presented himself to the US generals in Baghdad, keeping his side of the bargain. - Debka

One of the dirty little secrets of the 1980s is that the U.S. regularly provided Iraq's Saddam Hussein with top-secret communication intercepts by the U.S. National Security Agency (NSA). Consider the evidence.

When in 1991 the government of Kuwait paid the public relations firm of Hill & Knowlton ten million dollars to drum up American war fever against the evil dictator Hussein, it brought about the end of a long legacy of cooperation between the U.S. and Iraq. Hill & Knowlton resurrected the World War I propaganda story about German soldiers roasting Belgian babies on bayonets, updated in the form of a confidential witness (actually the daughter of the Kuwaiti ambassador to the U.S.) who told Congress a tearful story of Iraqi soldiers taking Kuwaiti babies out of incubators and leaving them on the cold floor to die. President George Bush then repeated this fabricated tale in speeches ten times over the next three days.

What is remarkable about this staged turn of events is that, until then, Hussein had operated largely with U.S. approval. This cooperation had spanned three successive administrations, starting with Jimmy Carter. As noted by John R. MacArthur, "From 1980 to 1988, Hussein had shouldered the burden of killing about 150,000 Iranians, in addition to at least thirteen thousand of his own citizens, including several thousand unarmed Kurdish civilians, and in the process won the admiration and support of elements of three successive U.S. Administrations" [1].

Hussein's artful slaughter of Iranians was aided by good military intelligence. The role of NSA in the conflict is an open secret in Europe, the Middle East, and Asia. Only in this country has there been a relative news blackout, despite the fact that it was the U.S. administration that let the crypto cat out of the bag. - J Orlin Grabbe

Allawi Is A CIA GANGSTER!!!
Bombs planted by Allawis group

"New Iraqi Prime Minister Iyad Allawi worked with the CIA as head of an exile group that sent agents into Baghdad in the early 1990s to plant bombs and sabotage government facilities, The New York Times reported on Wednesday.

Allawi's group, the Iraqi National Accord, used car bombs and other explosive devices smuggled into Baghdad from northern Iraq in its attempts to depose President Saddam Hussein, the newspaper said, citing former intelligence officials.

The bombings, whose effectiveness is disputed, never threatened Saddam's rule, the former intelligence officials said, according to the Times. The Iraqi government at the time claimed that the bombs, including one it said exploded in a movie theater, resulted in many civilian casualties, the Times said. But whether any civilians were killed could not be confirmed because the United States had no significant intelligence sources inside Iraq then, the Times said, citing a former CIA official. "
rueters

Derailing the process: Who benefits?

Baghdad blast kills Iraq leader

The current head of Iraq's US-appointed Governing Council has been killed in a car bomb blast near the headquarters of the US-led coalition in Baghdad. Ezzedine Salim was waiting to enter the compound when the bomb went off at 0530 GMT, killing him and several others. It is not yet clear whether Mr Salim was the target of what US officials say was a suicide attack. Iraq's interim foreign minister has vowed that the political process will not be derailed. "

[snip]

"Several vehicles were destroyed in the blast, which melted the asphalt of the road and sent debris flying over a large area. "There was a huge crowd at the checkpoint," a security guard at a nearby residential compound told Reuters. "There were a lot of cars and people on foot standing there and then this massive explosion. I saw body parts everywhere." - BBC
Allawi the GANGSTER does as he is told...

"We are succeeding in Iraq,"

Allawi tells US Congress

US official confirms Allawi shot six dead

January 19, 2005 A former Jordanian government minister has told The New Yorker that an American official confirmed to him that the Iraqi interim Prime Minister, Iyad Allawi, executed six suspected insurgents at a Baghdad police station last year.

The claim is in an extensive profile of Dr Allawi written for this week's issue of the magazine by an American journalist, Jon Lee Anderson, the author of The Fall of Baghdad and a regular Baghdad correspondent for The New Yorker.

Writing about his research in Jordan in December, Anderson says: "A well-known former government minister told me that an American official had confirmed that the killings took place, saying to him, 'What a mess we're in - we got rid of one son of a bitch only to get another one'."

The New Yorker also revealed that Anderson was present during an interview conducted by the Herald's chief correspondent, Paul McGeough, in late June, with a man who said he witnessed the executions by Dr Allawi.

Dr Allawi denied the allegations when they were published in the Herald last July.

Anderson writes: "The man ... described how Allawi had been taken to seven suspects, who were made to stand against a wall in a courtyard of the police station, their faces covered. After being told of their alleged crimes by a police official, Allawi had asked for a pistol, and then shot each prisoner in the head. [One of the men survived.] Afterward, the witness said, Allawi had declared to those present, 'This is how we must deal with the terrorists.' The witness said he approved of Allawi's act, adding that, in any case, the terrorists were better off dead, for they had been tortured for days." - source
Iraqi Prime Minister Iyad Allawi told a joint session of the US Congress that elections would be held in Iraq as scheduled in January and that despite a tough struggle "we are succeeding."

"I know that some have speculated even doubted whether this (January election) date can be met," Allawi said. "So let me be absolutely clear. Elections will occur in Iraq on time in January because Iraqis want elections on time."

Speaking in English after receiving a warm, standing ovation, Allawi told the chamber: "We are succeeding in Iraq. It's a tough struggle with setbacks, but we are succeeding.

"My friends, today we are better off. You are better off. And the world is better off without Saddam Hussein," Allawi said. "Your decision to go to war in Iraq was not an easy one but it was the right one."

"We Iraqis know that Americans have made, and continue to make, enormous sacrifices to liberate Iraq, to assure Iraq's freedom," he said. "I have come here to thank you, and to promise you that your sacrifices are not in vain.

"Thank you, America." -Channel News Asia

US 'help' on Allawi speech decried

Friday 01 October 2004, - A leading Democratic senator has expressed profound dismay at the Bush administration's alleged role in writing interim Iraqi Prime Minister Iyad Allawi's speech to the US congress last week.

In a letter to President George Bush on Thursday, California Senator Dianne Feinstein said: "I want to express my profound dismay about reports that officials from your administration and your re-election campaign were 'heavily involved' in writing parts of Prime Minister Iyad Allawi's speech.

"You may be surprised by this, Mr President, but I viewed Prime Minister Allawi's speech as an independent view on conditions in Iraq," she wrote.

"His speech gave me hope that reconstruction efforts were proceeding in most of the country and that elections could be held on schedule.

"To learn that this was not an independent view, but one that was massaged by your campaign operatives, jaundices the speech and reduces the credibility of his remarks," Feinstein wrote. - Al Jazeera
2005: Chalabi is now back in power:
From his deputy premier's seat in the elected Iraqi government, Chalabi, 60, oversees Iraq's vast oil resources as chairman of the energy council. He presides over a board that regulates multimillion-dollar rebuilding contracts. He commands the controversial purge of former Baath Party members from government posts and the Iraqi Special Tribunal prosecuting Saddam Hussein. Until an oil minister was named, Chalabi held that job, too.

One of his top aides, Entifadh Qanbar, is headed for a plum job at the Iraqi Embassy in Washington. Chalabi's Harvard-educated nephew is the finance minister; rebel Shiite Muslim cleric Muqtada al Sadr is an ally. On a visit to a hospital in southern Iraq, the secular Chalabi was introduced as "the pride of the Shiites," suggesting that at least some members of the majority sect now claim him as their own.

"Chalabi is a clever politician who knows how to get ahead," said Sheik Khalaf al Alayan of the Iraqi National Dialogue Committee, an umbrella group for Sunni factions. "In any place related to money, you can be sure to find Chalabi's people in control."

A comeback of Chalabi's magnitude is hard work, and he started from rock bottom. He'd become an easy scapegoat for the now-unpopular invasion of Iraq after peddling false or exaggerated intelligence to the Bush administration to fulfill his lifelong dream of Saddam's ouster. His pagoda-style villa in Baghdad was ransacked during a probe into allegations of counterfeiting and kidnapping, and American officials accused him of passing secrets to Iran. The Jordanian government asked for his extradition on a 1992 embezzlement conviction.

Abruptly spurned by his hawkish friends in Washington and faced with little street support in Baghdad, Chalabi's star dimmed. Then came a total makeover. He turned critical of the Americans, who a year earlier had airlifted him into Iraq, and relied on Iraqi power brokers to protect his shaky Baghdad empire. - BNN
events gets stranger...Saddam did not bury 400,000 in mass graves?

PM admits graves claim 'untrue'

Sunday July 18, 2004 - Downing Street has admitted to The Observer that repeated claims by Tony Blair that '400,000 bodies had been found in Iraqi mass graves' is untrue, and only about 5,000 corpses have so far been uncovered.

The claims by Blair in November and December of last year, were given widespread credence, quoted by MPs and widely published, including in the introduction to a US government pamphlet on Iraq's mass graves.

In that publication - Iraq's Legacy of Terror: Mass Graves produced by USAID, the US government aid distribution agency, Blair is quoted from 20 November last year: 'We've already discovered, just so far, the remains of 400,000 people in mass graves.'

On 14 December Blair repeated the claim in a statement issued by Downing Street in response to the arrest of Saddam Hussein and posted on the Labour party website that: 'The remains of 400,000 human beings [have] already [been] found in mass graves.'

The admission that the figure has been hugely inflated follows a week in which Blair accepted responsibility for charges in the Butler report over the way in which Downing Street pushed intelligence reports 'to the outer limits' in the case for the threat posed by Iraq.

Downing Street's admission comes amid growing questions over precisely how many perished under Saddam's three decades of terror, and the location of the bodies of the dead. - The Observer Peter Beaumont, foreign affairs editor

5000 is still a disgrace... are they the victims of the US / UK defense industry?
Audit: U.S. lost track of $9 billion in Iraq funds

WASHINGTON (CNN) -- Nearly $9 billion of money spent on Iraqi reconstruction is unaccounted for because of inefficiencies and bad management, according to a watchdog report published Sunday.

An inspector general's report said the U.S.-led administration that ran Iraq until June 2004 is unable to account for the funds. The $8.8 billion was reported to have been spent on salaries, operating and capital expenditures, and reconstruction projects between October 2003 and June 2004, Bowen's report concluded.

The money came from revenues from the United Nations' former oil-for-food program, oil sales and seized assets -- all Iraqi money. The audit did not examine the use of U.S. funds appropriated for reconstruction. (Full story)

Auditors were unable to verify that the Iraqi money was spent for its intended purpose. In one case, they raised the possibility that thousands of "ghost employees" were on an unnamed ministry's payroll. - CNN

The Payoff? Baath Party Quiet money?

U.S. Checking Reported $300 Million Iraqi Cash Move

WASHINGTON (Reuters) - U.S. authorities are investigating why $300 million in American bills was taken out of Iraq's Central Bank this month and flown to Lebanon, the U.S. ambassador to Iraq said on Sunday.

The envoy, John Negroponte, said that he did not know if the money was missing or if it had been used to buy weapons, as some Iraqi officials have said.

Negroponte, in a taped interview from Baghdad on CNN's "Late Edition," said no U.S. government money was involved. He linked the issue to political rivalry related to national elections scheduled for next Sunday.

"So what we may be seeing, at least in part at least here, is just part of the wind-up of a political campaign. In any case, we are looking into it," he said.

The New York Times, which reported the incident on Saturday, cited unidentified Iraqi officials as saying the cash had been used to buy tanks and other arms from international dealers in a rush to put together an armored division for the fledgling Iraqi army. - Wired News
By Bombing and destroying evidence in Iraq...

Are these warmongerers now covering evidence of their complicity in Saddams warcrimes,
because Saddams, and others, were used in effect as
a way of testing new weapons on an unsuspecting population?

Saddam, a US stooge, was complicit in the supression of his 'own people' VIA US cold war shadenfraud... and the UN sanctions which occured for many years on end.

secret experiments are not new :

Japanese WWII Human Experiments Revealed

Japanese Imperial Army's Unit 731 killed thousands of Chinese and Russians held prisoner in Japanese-occupied Manchuria, in experiments to develop chemical and biological weapons.

In the autumn of 1945, MacArthur acceded to granting immunity to members of Unit 731 in exchange for data of research on biological warfare. "The value to the U.S. of Japanese BW data is of such importance to national security as to far outweigh the value accruing from war crimes' prosecution." The BW information obtained from Japanese sources should be retained in 'top secret' intelligence channels and not be employed as war crimes evidence and not be fallen into the Soviet hands. The State Department disagreed over a two year period and the topic simply disappeared.

Why did the US lose interest in pursuing the issue of war criminals? China became communist, Japan was a required base for operations in Korea, and Japan became a major trading partner and economic power in the East. - source - Unit 731

U.S. bribed Japanese analysts to obtain germ warfare research

The Japan Times - Monday 15th August, 2005

The United States paid money and gave other benefits to former members of a Japanese germ warfare unit two years after the end of World War II to obtain data on human experiments conducted in China, according to two declassified U.S. government documents.

It has been known that the Allies offered to waive war crime charges at the tribunal for officers of the Imperial Japanese Army's Unit 731 in exchange for experiment data.

But the latest findings reveal Washington's eagerness to obtain such data even by providing monetary rewards, despite the horrific nature of the unit's activities, in an attempt to beat the Soviet Union in the arms development race.

Historians believe that some 3,000 people died in the experiments conducted in China by the unit led by military doctor Shiro Ishii before and during the war.

The total amount paid to unnamed former members of the infamous unit was somewhere between 150,000 yen to 200,000 yen. An amount of 200,000 yen at that time is the equivalent of 20 million yen to 40 million yen today, based on an initial salary comparison for central government employees now and then.

The two declassified documents were found in the U.S. National Archives by Keiichi Tsuneishi, a professor at Kanagawa University and an expert on biological and chemical weapons.

One of the top secret documents was a 'report on bacteriological warfare' compiled for the chief of staff of the Far Eastern Commission, dated July 17, 1947. It was compiled by Brig. Gen. Charles Willoughby, head of the G2 intelligence unit of the Occupation forces in Japan.

The other was a letter dated July 22, 1947, that Willoughby sent to Maj. Gen. S. J. Chamberlin, director of intelligence of the U.S. War Department General Staff, to illustrate the need for continued unrestricted use of confidential funds to obtain such intelligence.

In the documents, Willoughby described the achievements of his unit's investigations, saying the 'information procured will have the greatest value in future development of the U.S. BW (bacteria warfare) program.'

Citing a U.S. War Department specialist in charge of the investigation, Willoughby wrote in the report that 'data on human experiments may prove invaluable' and the information was 'only obtainable through the skillful, psychological approach to top-flight pathologists' involved in Unit 731 experiments.

The U.S. provided money, food, gifts, entertainment and other kinds of rewards to the former Unit 731 members, according to the report.

'All of these actions did not amount to more than (150,000 yen to 200,000 yen), netting the (United States) the fruit of 20 years' laboratory tests and research,' the report says.

Willoughby described the cost as a 'mere pittance' in his letter to Chamberlin.

'I contend that with new restrictions on the use of (confidential) funds we shall find it successively more difficult to induce these people to disclose information,' Willoughby wrote.

Kanagawa University's Tsuneishi said it had been thought that the U.S. had gathered the information by making unit members choose between cooperating and facing war crime charges, 'but it has become clear that this was done by winning (unit members') hearts with money and rewards.'

The documents reveal that the two sides -- the United States which had initially overlooked the existence of the human experiments and Japan which had been trying to hide the truth -- 'ended up trading information through monetary benefits without any regard for their behavior,' Tsuneishi said. - Japan Times Via Big News Network
| | |
| --- | --- |
| | The long-term aim of these experiments with mind-altering drugs is thought by those who have studied the MK-ULTRA programme to have been to ensure the dominance of Anglo-American civilisation in the war of all against all, the key to evolutionary success. Brain-washing would be used not only to defeat the enemy but to ensure compliance and loyalty of one's own population. The Olsen files |
Were Frank Olson & Dr David Kelly a similar deal?
Murdered to cover human experiments?
according to Gordon Thomas:

"Secret documents have revealed US Vice President Dick Cheney and Secretary of Defence Donald Rumsfeld are "linked to the murder" of a senior CIA scientist. Frank Olson, who was a key member of the CIA's secret brainwashing programme MK-ULTRA, was sent plunging from a New York hotel window after he had threatened to reveal the CIA involvement in "terminal experiments" in post-war Germany.

The importance of the documents are not only their historic significance. They could play an important role in the race for the White House this November. Ironically it falls due on the 51st anniversary of Olson's murder. Frank Olson's son, Eric, a psychologist, believes that fact will not be overlooked by President Bush's opponents as they search for further evidence that Rumsfeld and Cheney have a long history of news management and hiding the truth that could be highly embarrassing to the White House.

The documents reinforce how Rumsfeld and Cheney have honed their skills over the past thirty years to ensure that today they have so far managed to keep the current scandal of US torture in Iraq - and elsewhere - from ensnaring themselves and President Bush.

For almost half a century Eric Olson has insisted his father was murdered "on orders from the highest level". Frank Olson's work for the CIA had included making biological weapons. He had devised an aerosol disguised as insect spray that contained the lethal pathogen, botulism. It was successfully used to kill a Russian GRU military intelligence officer on a visit to Gdansk, Poland, in 1951.

Another creation had been toothpaste containing salmonella, an incapacitating bacterium. The CIA arranged for it to be distributed in 1952 to Bulgarian troops in Sofia. Yet another weapon was inserted into Polish produced jam, the shigella bacterium, which produced incapacitating diarrhoea. For a time it produced a major outbreak among Polish and other Warsaw Pact frontline troops in 1952." - source

according to John Marks:

Frank Olson specialized in the airborne delivery of disease. He had been working in the field ever since 1943, when he came to Fort Detrick as one of the original military officers in the U. S. biological warfare program.

Before the end of the war, he developed a painful ulcer condition that led him to seek a medical discharge from the uniformed military, but he had stayed on as a civilian.

He joined SOD when it started in 1950. Obviously good at what he did, Olson served for several months as acting chief of SOD in 1952-53 but asked to be relieved when the added stress caused his ulcer to flare up. He happily returned to his lesser post as a branch chief, where he had fewer administrative duties and could spend more time in the laboratory.

A lover of practical jokes, Olson was very popular among his many friends. He was an outgoing man, but, like most of his generation, he kept his inner feelings to himself. His great passion was his family, and he spent most of his spare time playing with his three kids and helping around the house. He had met his wife while they both studied at the University of Wisconsin.

- excerpts from : The Search for the Manchurian Candidate The CIA and Mind Control - John Marks
Olson at Porton Down...

Frank Olson had come to Britain between 1950-53 to work on attachment at Porton Down and had also made frequent visits to an intelligence facility in Sussex. This is confirmed by entries in the special passport that Olson used.

[snip]

[Dr. William] Sargant wanted the British government to distance itself from the CIAs work with MK-ULTRA, Miniccino says he nevertheless was committed to the principle of mind control and became the link between the British Secret Intelligence Service and MK-ULTRA. Miniccino adds, So if Frank Olson expressed serious doubts about the MK-ULTRA project to Sargant, then he signed his own death warrant. What Miniccino is implying and what public prosecutor Saracco wants to prove is that the MK-ULTRA mind control projectwith its clinical trials on unsuspecting human beingswas such a sensitive issue with the western intelligence community that it would go to any lengths to prevent an insider like Olson, from blowing the whistle. - Frank Olsen Legacy project

RAF Man 'Duped into Being A Sarin Guinea Pig'

Winston Churchills government tried hide the death of an RAF man in nerve gas tests 51 years ago because of national security, according to a Wiltshire cororoner investigating the death.

On May 6, 1953 Leading Aircraftman Ronald Maddison, 20, died after entering a chamber at the Porton Down military base wearing respirators.

LAC Maddisons family claimed he was tricked into taking part in the experiments in the belief it was a quest to find a cure for the common cold. The Scotsman
Did Dr David Kelly try to used his knowledge that the massacre at Hallabja was a UK/US sanctioned Human Bio-warfare experiment?

Did he try to bribe the UK/US warpigs with his knowledge?

or did his conscience finally get the better of him?
=
Olson:

Fort Detrick USA

With the information concerning biological weapons in the Korean War on the one hand and the information about the White House coverup in 1975 on the other, the story of the death of Frank Olson finally hit bottom. Frank Olson did not die as a consequence of a drug experiment gone awry. He died because of security concerns regarding disavowed programs of terminal interrogation and the use of biological weapons in Korea. This secret was so immense that even twenty-two years later the White House had been enlisted to maintain it. Olson family statement 2002

Kelly???

Porton Down UK

Arms to Iraq -

The Scott inquiry had been set up in 1992 following the collapse of the trial in the case of Matrix Churchill, a British firm exporting equipment to Iraq that could be put to military use.

Three senior executives of Matrix Churchill said the government knew what Matrix Churchill was doing, and that its managing director Paul Henderson had been supplying information about Iraq to the British intelligence agencies on a regular basis.

The inquiry revealed details of the British government's secret decision to supply Saddam with even more weapons-related equipment after the Halabja killings.

Former British foreign secretary Geoffrey Howe was found to have written that the end of the Iraq-Iran war could mean major opportunities for British industry in military exports, but he wanted to keep that proposal quiet. Saddam Could Call CIA in His Defence by Sanjay Suri - CFRG
Surprisingly, the charge of unjustly waging war against neighbouring Iran, which resulted in the death of more than a million people, has not been framed. The Iranian government has demanded that Saddam Hussein be tried by an international court on this issue. If Saddam is ever tried on this issue, American complicity and culpability in instigating the eight-year-old Iran-Iraq war will be revealed. Donald Rumsfeld, the current American Defence Secretary, was one of the key American officials who cemented the strong military ties that existed between Washington and Baghdad throughout most of the 1980s.

If he is allowed to have his way, Saddam Hussein could demand that the Central Intelligence Agency (CIA) be called to testify on the "Hallabja" incident. Frontline -India

Iran sues U.S. in world court for helping Saddam kill Iranians
The Iraqi Judge Who Knew too Much -- and was Fired for It

"I visited the headquarters of the crminal brigade," which are under the control of the Interior Ministry, the judge says. "I questioned more than 15 prisoners. The conditions of their detention are deplorables, and the police are acting like Nazis. They use all sorts of barbaric methods, like electric shock, to make their prisoners talk --one man remains partially paralyzed by this torture. Having been myself detained on numerous occasions by the Hussein regime, I consider these illegal detentions to be a personal challenge. I know the suffering they represent. I issued an order for the Minister of the Intrior and the chief of intelligence to appear before me. I indicted 20 agents of the security services, of whom 5 were guilty of torture. After an intense struggle, I was able to secure the liberation of 52 of the illegally detained."

The problem, says the judge, is that "with the intensification of guerilla warfare, the Americans lost interest in these goings-on. " And the Allawi government refuses to obey the injuctions of the court. "When I protested that the permission of a judge is necessary for these people to be imprisoned, the government set up a new judge and a special tribunal that will follow its orders. To do this, the Allawi government uses a law concocted by Saddam Hussein in 1971, which is no longer in force today, and which permits them to arrest and detain who they want, when they want."

According to Judge Al-Maliky, the more than 110 people currently imprisoned illegally are all accused of being Iranian spies. "I do not say that there are no Iranian agents in Iraq, and I'm well-laced to know that foreign fighters operate on our territory. Several of my investigations have proved that. But, in these particular cases, I can certify that those detained are ordinary Iraqis, men linked to religious Shiite parties of the Supreme Council of the Isalamic Revolution, or are Iraqi Hezbollah, or are Iraqis expelled during the Iraq/Iran war and who returned after the fall of Saddam."

On October 18, the Minister of the Interior Falah Al-Nakib admitted, before the provisional parliament, a few cases of "arbitrary detention" which the government promised to "work to end." The next day, Judge Al-Maliky was fired, without explanation, by the Judicial Council.

Judge Al-Maliky has not only lost his envied position as the senior investigating magistrate of Iraq, he has lost his confidence in the current government, and in the hope of a better future for his country. "I can't tell you at which point I feel deceived," he says. "Under the old Saddam regime, I said: okay, it's a dictatorship which acts like a dictatorship. But today, we hear talk about a free and democratic Iraq, in which no one is supposed to be above the law. But this government tortures, just like before under Saddam." - Doug Ireland - Indymedia
Iraq's Justice Minister accuses U.S. of having "lots of secrets they want to hide"

In an exclusive interview with the Associated Press, Abdel Hussein Shandal, Iraq's Justice Minister, said "It seems there are lots of secrets they (U.S. government) want to hide."

June 21, 2005 In an exclusive interview with the Associated Press,Abdel Hussein Shandal, Iraq's Justice Minister, said "It seems there are lots of secrets they (U.S. government) want to hide."

Shandal accused the U.S. of concealing information about Saddam Hussein and of trying to delay interrogations of Hussein. The Iraqi government had said the trial of Saddam trial would be held within two months, but they are now saying it will be before the end of 2005.

American officials have urged Iraq to be cautious about expediting a trial and have said Iraq needs to have a more established judicial system first. U.S. officials have also said the trial might inflame sectarian tensions and interfere with the drafting of Iraq's constitution. - parmedia

U.S. delaying Saddams interrogations

Iraqi Justice Minister Accuses U.S. of Delaying Saddam Questioning
Key Saddam trial evidence 'lost'

Human Rights Watch says it is likely crucial evidence for the trials of Saddam Hussein and other former Iraqi officials has been lost or tainted.

US-led coalition forces failed to secure relevant sites after last year's invasion of Iraq, the group says.

They failed to prevent people from looting thousands of official documents from government buildings. - BBC

Iraqi scientists killed to cover evidence?

Israeli secret agents killed 310 Iraqi scientists

By Mustafa Amara - Azzaman, 2004-10-30 -- More than 310 Iraqi scientists are thought to have perished at the hands of Israeli secret agents in Iraq since fall of Baghdad to US troops in April 2003, a seminar has found.

The seminar, held in Cairo, was attended by politicians, journalists and experts with an interest in current Iraqi affairs.

The experts said they had detected an organized campaign aimed at "liquidating Iraqi scientists" in the past 18 months and most of them pointed the finger at the Israeli secret police service, the Mossad.

The organizers said their aim was to highlight the plight of Iraqi scientists particularly those who were engaged in the weapons programs under the former regime.

"There is a joint American and Israeli plan to kill as many Iraqi scientists as possible," said Abdel Raoof al-Raidi, an ambassador and assistant foreign minister.

The Iraqi ambassador in Cairo, Ahmad al-Iraqi, accused Israel of sending to Iraq immediately after the US invasion "a commando unit" charged with the killing of Iraqi scientists.

"Israel has played a prominent role in liquidating Iraqi scientists … The campaign is part of a Zionist plan to kill Arab and Muslim scientists working in applied research which Israel sees as threatening its interests," al-Iraqi said.

DR. Imad Jad, an Israeli affairs expert at the Al-Ahram Studies Center, said the US had already airlifted 70 Iraqi scientists out of the country and placed them in areas to make it difficult for them to "transfer information to anti-US quarters."

He said more than 310 Iraqi scientists have been killed so far and most of them at the hands of Mossad agents working in Iraq.

He said the Ahram Center estimated that nearly 17,000 Iraqi scientists working in various fields of knowledge have fled the country since the US-led invasion.

In Baghdad, interim government officials refused to comment on the deliberations that took place in the Cairo conference.

However, the Ministry of Higher Education and the Ministry of Science and Technology said their own figures tally with those mentioned at the seminar, particularly regarding the number of Iraqi scientist been killed so far. - Mustafa Amara - Azzaman

Why censor 8000 pages???

America tore out 8000 pages of Iraq dossier

THE United States edited out more than 8000 crucial pages of Iraq's 11,800-page dossier on weapons, before passing on a sanitised version to the 10 non-permanent members of the United Nations security council. The full extent of Washington's complete control over who sees what in the crucial Iraqi dossier calls into question the allegations made by US Secretary of State Colin Powell that 'omissions' in the document constituted a 'material breach' of the latest UN resolution on Iraq.

Last week, Secretary General of the UN Kofi Annan accepted that it was 'unfortunate' that his organisation had allowed the US to take the only complete dossier and edit it. He admitted 'the approach and style were wrong' and Norway, a member of the security council, says it is being treated like a 'second-class country'.

Although Powell called the Iraqi dossier a 'catalogue of recycled information and flagrant omissions', the non-permanent members of the security council will have no way of testing the US claims for themselves. This will be crucial if the US and the UK go back to the security council seeking explicit authorisation for war on Iraq if breaches of resolution 1441 are confirmed when the weapons inspectors -- this weekend investigating 10 sites in Iraq, including an oil refinery south of Baghdad -- deliver their report to the UN next month.

A UN source in New York said: 'The questions being asked are valid. What did the US take out? And if weapons inspectors are supposed to be checking against the dossier's content, how can any future claim be verified. In effect the US is saying trust us, and there are many who just will not.'

Current and former UN diplomats are said to be livid at what some have called the 'theft' of the Iraqi document by the US. Hans von Sponeck, the former assistant general secretary of the UN and the UN's humanitarian co- ordinator in Iraq until 2000, said: 'This is an outrageous attempt by the US to mislead.'

Although the five permanent members of the security council -- the US, the UK, France, China and Russia -- have had access to the complete version, there was agreement that the US be allowed to edit the dossier on the ground that its contents were 'risky' in terms of security on weapons proliferation. - sundayherald.com

WMD galore?
"UNSCOMS first real breakthrough occurred in january 1995, when Kelly went to the apartment of a Canadian Inspector, David Ezekiel, on First Avenue and Thirty Eighth Street in mid-town Manhatten, very close to UN headquarters. A French female UN inspector, Annick Paul-Henriot, had arranged a meeting with an Isreali Military Intelligence officer.

Over lemon tea and biscuits, the visitor passed over documents showing that British and German companies had exported some 32 tonnes of growth medium for bacteria to the Iraqis. The 32 tonnes was substantially more than could ever have been required for normal civilian use; it was an inexcusable figure and for Kelly it was a 'Gotcha' moment.

- Page 307 - Plague Wars [1999],Tom Mangold & Jeff Goldberg

"We allowed and encouraged American corporations to do business with Saddam in the 1980s. That's how he got chemical and biological agents so he could use them in chemical and biological weapons.

Here's the list of some of the stuff we sent him (according to a 1994 U.S. Senate report):

* Bacillus Anthracis, cause of anthrax.

* Clostridium Botulinum, a source of botulinum toxin.

* Histoplasma Capsulatam, cause of a disease attacking lungs, brain, spinal cord, and heart.

* Brucella Melitensis, a bacteria that can damage major organs.

* Clostridium Perfringens, a highly toxic bacteria causing systemic illness.

* Clostridium tetani, a highly toxigenic substance."

from 'We Finally Got Our Frankenstein... and He Was In a Spider Hole!' -- by Michael Moore
CIA finds NADA, ZIP, NO WMD...nothing...NIL, ZERO...with all the power, they could have planted them ...WHY IS THAT?

Contradicting the main argument for a war that has cost more than 1,000 American lives, the top U.S. arms inspector reported Wednesday that he found no evidence that Iraq produced any weapons of mass destruction after 1991. He also concluded that Saddam Hussein's weapons capability weakened during a dozen years of U.N. sanctions before the U.S. invasion last year. - CNN

Nuclear assets 'vanish' in Iraq

Monday, 11 October, 2004, Equipment and materials that could be used to make nuclear arms have been vanishing in Iraq since the invasion, the United Nations has warned. Satellite images show entire buildings have been dismantled without any record being made, said Mohamed ElBaradei, the head of the UN nuclear watchdog.

Iraq's US-backed leaders have not reported to the UN on the state of nuclear plants despite a duty to do so.

But they have asked the UN to help sell off unwanted nuclear material.

Inspectors from Mr ElBaradei's International Atomic Energy Agency (IAEA), who established that Saddam Hussein had abandoned any nuclear weapons programme before the war, have not been allowed to move about Iraq freely by the US.

Apart from a couple of limited checks on the main nuclear facility at Tuwaitha last June after reports of looting - and with no teams now on the ground - the IAEA has to rely on satellite imagery and other sources.

In a letter to the UN Security Council, Mr ElBaradei said buildings related to Iraq's previous nuclear programme appeared to have been systematically dismantled and equipment and material removed.

"The disappearance of such equipment and materials may be of proliferation significance," the IAEA director general warned.

Sensitive technology such as rocket engines has turned up for sale abroad, Mr ElBaradei said.

However, high-precision "dual-use" items including milling machines and electron beam welders appear to have disappeared, as has material such as high-strength aluminium.

Mr ElBaradei called on any state with information on the location of such items to inform his agency.

The US removed nearly two tonnes of low-enriched uranium from Iraq earlier this year. The IAEA has verified that 550 tonnes of nuclear material still remain at Tuwaitha.

Iraq, the agency says, has asked for help to sell the nuclear material and in dismantling and decontaminating former nuclear facilities.

Mr ElBaradei reminded the Security Council that Iraq was still obliged to "declare semi-annually changes that have occurred or are foreseen at sites deemed relevant" by the IAEA. However, since March 2003 "the agency has received no such notifications or declarations from any state", he said. Last week, a report from chief US weapons inspector Charles Duelfer concluded that Saddam Hussein had stopped trying to build weapons of mass destruction following the 1991 Gulf War. - - BBC

Saddam had NO WMD? Now i'm not so sure!

cover up?

Britain Withdraws Iraq Weapons Claims

Oct. 12, 2004 - Foreign Secretary Jack Straw on Tuesday said British spy masters have formally withdrawn the intelligence that Iraqi troops could deploy some chemical and biological weapons on 45 minutes notice, information used as a rationale for joining the U.S.-led war in Iraq.

Straw insisted that Britain was right to go to war even though spy chiefs have now withdrawn two key pieces of intelligence. MI6, Britain's foreign spy service, earlier this year withdrew intelligence on Iraqi production of biological agents, which it said it received from the spy agency of another, undisclosed country.

Straw said it would have been too risky not to act against Saddam Hussein and that U.N. sanctions against him weren't working

"I do not accept, even with hindsight, that we were wrong to act as we did in the circumstances which we faced at the time," Straw told the House of Commons in a response to the U.S. Iraq Survey Group report, which concluded last week that Saddam had no illicit weapons stockpiles.

"Even after reading all the evidence detailed by the ISG, it is still hard to believe that any regime could behave in so self-destructive a manner as to pretend it had forbidden weaponry when in fact it hadn't," he added.

MI6's formal withdrawal of the 45 minute notice claim is an embarrassing development for Prime Minister Tony Blair. - Kansas City star

Now - the WMD in Iraq has not been found, was it there? APPARENTLY not...

but what if the WMD WERE REALLY THERE...?

NOT in the context presented by the UK government:

That 'Iraq were capable of being deployed over UK in 45 minutes'

but in the context of a secret weapons program designed to be experimented with,
as part of a US/UK post-cold war secret operation.

As part of a state apparatus capable of other human experiments [in torture, media control, capital punishment, fear programming as social engineering].

This secret state, and others are being utilised in the preparation of the next phase that Hitler-Bush and his friends in the underground reich are gradually implementing...Global Totalitarianism.

the non discovery is a DOUBLE BLUFF...

because Dr David C Kelly knew Saddam had them ...

but i think he also found out from 'DR GERM' that they were of 'western' origin' and part of a much bigger programme that was used at Hallabja...

Was the whole scenario of Dr Kelly being at loggerheads with Rihab Taha was a secret deal?...

was it a bluff of theatre to provide the framework that Kelly needed to protect his source from the henchmen?

had Dr Germ given Kelly info on the whole British / US origins of the training and proliferation of Bilological & Chemical weapons...?

Is this why both Iraqi Women scientists are being held in limbo by the US in Iraq?

I think Dr Kelly knew that the Sanctions he was helping impose via his reports to the UN as Operation Rockingham ['rocking 'em' - geddit?] were actually a form of experiment, a mass torture from the higher powers.

A method of more outside influence in the Fascist experiment.

what if: rogue states are the elites socio-political experiments in fascism?

Saddam, the US stooge, defies the UN repeatedly, allowing the US/UK via the UN to impose sanctions, affecting the civil infrastructure of the country, punishing the population for the regimes dictatorial traits...

Once US/UK troops invaded they could hide any self-incriminating infrastructure, by destroying it, distracting the world with shock and awe, look embarrassed...kill a scientist or two [try 400 and rising] who knew what the secret purpose of these rogue states really are...

Totalitarian tryout zones

The experiment is ONGOING

What other secrets are being hidden by 'leaks' from payed off 'reporters...and Spies?

what else apart from ...the rendition programme, CIA teams, lifting/killing potential whistleblowers, such as Abu Omar, helped by Berlusconis secret team in Italy; This all points to deliberate use of terror tactics in Iraq, such as the kidnapping of Italian Journalist Giuliana Sgrena and the killing of Italian Intelligence No.2 Calipari by secret armies working for the US/UK alliance under former Honduran Death-squad instigator John Negroponte.

This secret Black-ops team [P2OG] has a purpose to act as a terror 'force multiplier' - utilising PSYOPS, Abuse, Kidnappings, beheadings... remote bombing disguised as 'suicide bombers'...
Update: 2005 - Hostages taken - Elections and Prisoner releases

Hostage Norman Kember

Also in this timeframe Gas explosions rock South East UK as questions are asked around Europe & in UK Parliament over RENDITION... Hostage Norman Kember is close friends with CND's Bruce Kent, who is head of CND who want to see an end to Nuclear Power
Shi'ites eye power as killings continue

By Gideon Long BAGHDAD, Dec 19 (Reuters) - Bombs exploded in three Iraqi cities and two senior officials survived assassination attempts on Monday as partial election results suggested the new government will be dominated by Islamist Shi'ite Muslims.

An Iraqi lawyer said two women known as "Dr. Germ" and "Mrs. Anthrax", weapons experts under Saddam Hussein, were among 26 senior aides being released. A U.S. military spokesman said only that eight "high-value detainees" were freed on Saturday.

A German woman hostage released on Sunday was safe and well in Baghdad, but an Iraqi militant group posted an Internet video claiming to show the killing of an American abducted this month.

Hundreds of angry Iraqis staged protests as the government hiked fuel prices to bolster an economy battered by war, sanctions, under-investment and widespread violence.

The level of violence has risen since the successful and largely peaceful poll on Dec. 15, the first parliamentary election since the war in which Sunni Arabs voted in strength.

In the latest attacks, a suicide car bomber targeted a convoy carrying an Iraqi police colonel in Baghdad. Two civilians were killed by the blast, which left the smoking wreckage of eight cars strewn across a street. The colonel, two bodyguards and five civilians were wounded.

In another district, gunmen fired on the convoy of Baghdad's deputy governor Ziyad al-Zawbai. Three of his bodyguards were killed and Zawbai was wounded.

Attackers also set off bombs in Basra, Iraq's second city, wounding three bodyguards of an adviser to the defence minister, and in Miqdadiya, 90 km (56 miles) northeast of Baghdad, wounding four civilians.

Partial results from the election suggested the government tasked with taming the violence will be dominated again by Iraq's main Shi'ite Islamist coalition, at odds with Washington over human rights and ties to Iran.

The coalition, the United Iraqi Alliance, may hold on to a slim parliamentary majority despite a big turnout by minority Sunni Arabs who boycotted the last election in January.

The alliance has been criticised by U.S. officials for its record in government this year and by Sunni Arab rebels who accuse it of backing sectarian militias.

The partial results showed the alliance had won 58 percent of the vote in Baghdad against just 14 percent for former Prime Minister Iyad Allawi, who had been expected to mount a stronger challenge in the capital.

In its southern heartland, site of some of Shi'ite Islam's holiest shrines, the UIA appeared to have swept the board, and in one province, Maysan, it took over 20 times more votes than its nearest rival.

HOSTAGE SAFE

Germany, which opposed the U.S.-led invasion of 2003, said 43-year-old archaeologist Susanne Osthoff was safe in Baghdad after being held hostage since Nov. 25. While the Osthoff family feted her release, an insurgent group said it had killed an American hostage.

The Islamic Army in Iraq posted a video on the Internet showing a gunman firing repeatedly into the back of a blindfolded man kneeling on the ground. The group said the man was U.S. contractor Ronald Schulz. The video was posted 11 days after the group said it had killed him because the U.S. government had failed to meet its demands, including the release of prisoners in Iraq.

At least six other Western hostages -- two Canadians, a Briton, two Americans and a Frenchman -- are believed to be held in Iraq. Their fate remains unknown.

U.S. and Iraqi forces say they are making headway against the Sunni Arab-led insurgency in a conflict that has killed many thousands of Iraqis in the past three years and made life dangerous and miserable for millions more.

On Sunday they began "Operation Moonlight", a strike against suspected militants along the banks of the Euphrates river in Iraq's vast western province of Anbar, near the Syrian border. (Additional reporting by Mussab al-Khairalla, Omar al-Ibadi, Aseel Kami, Mariam Karouny, Deepa Babington and Alastair Macdonald in Baghdad and Philip Blenkinsop in Berlin) - alertnet.org

U.S. freeing Saddam aides, including "Dr Germ"

BAGHDAD, Dec 19 (Reuters) - Saddam Hussein's weapons experts known as "Dr Germ" and "Mrs Anthrax" are being released, an Iraqi lawyer said on Monday and a U.S. military spokesman said eight such "high-value detainees" had already been freed.

Tareq Aziz, Saddam's right-hand man in diplomacy, was among other detainees being considered for release later.

Lieutenant Colonel Barry Johnson said the eight freed on Saturday were among 27 prisoners, considered senior members of the administration overthrown by U.S. forces in 2003, who posed no threat to security, were neither charged with crimes nor material witnesses and had no intelligence value.

Johnson declined to identify any of the detainees or comment on the fate of those still held prisoner.

Baghdad lawyer Badia Aref said 26 people, including five who were ill, were now in the process of being released, including Huda Ammash, nicknamed "Mrs Anthrax" by the popular press, and Rihab Taha, dubbed "Dr Germ".

"The list included Huda Ammash and Rihab Taha and also the head of the intelligence Ibrahim al-Ani," Aref said, declining to say whether they had already left Baghdad airport, where they have been held along with Saddam and dozens of others.

"There were no accusations against them. Other lists are being prepared and might include Tareq Aziz," said Aref, who acts as an attorney for Aziz and Ammash. - alertnet.org

all to enable continued access to Iraqi resources, enabling the 'energy cartels' continuing manipulation of the price of essential commodities,

Iraqis protest as goverment hikes fuel prices

By Omar al-Ibadi BAGHDAD, Dec 19 (Reuters) - Angry Iraqis staged protests across the country on Monday after the government raised fuel prices as much as threefold in a bid to revive the economy.

Hundreds of demonstrators marched through the streets of Najaf, Kerbala, Sulaimaniya and other towns following the decision, which pushed up the price of fuel for cooking and heating as well as petrol. The government defended the move, saying fuel was still cheap in Iraq and the hike in prices was necessary to bolster the flagging economy.

Premium gasoline rose by 200 percent while diesel jumped by the same amount. Regular gasoline rose by 150 percent and bottled household gas by 100 percent. That meant a litre of ordinary gasoline rose from 20 Iraqi dinars -- about 1.4 U.S. cents -- to 50 dinars.

Iraq has the world's third-largest known reserves of oil but decades of war, sanctions, under-investment and now widespread violence and sabotage have left it critically short of fuel. It has to import nearly half of all its gasoline.

With the oil sector still struggling, the government is spending $6 billion a year to import oil products from other countries. It is under pressure from the World Bank to cut subsidies which keep prices down.

"Iraq is still the only country selling products at such low prices, and that is leading to people smuggling products out of Iraq into neighbouring countries," Oil Ministry spokesman Asim Jihad said, justifying the decision.

The government says it hopes to raise $500 million through the price increase. But for Iraqis, facing a daily dose of violence and high unemployment, the reforms are likely to cut deep, and are galling in a country that sits on an ocean of oil.

"The whole world is taking Iraq's petrol for nothing while the government is raising the prices paid by the poor miserable Iraqi people," Baghdad taxi driver Saad Alwan Hussain said as he leaned out of the window of his car in central Baghdad.

Hikmat Ibrahim Abbosh, a 39-year-old print worker, said: "We woke up this morning and heard fuel prices had increased. The government wants us to be like neighbouring countries, so why don't they provide us with the things they have so we can live the way they do?"

The cabinet agreed to the price rises in September and had intended to bring them in at the end of the year, but brought them forward to Monday -- just four days after an election.

"If the government faces a deficit, it should think of other ways to remedy it and shouldn't place another burden on our shoulders," said Hassan Jarrallah, a 40-year-old taxi driver. "I don't know how they could do this." - alertnet.org

thus enabling further Middle Eastern adventures and a push corporate Geo-political interests into Africa and Asia
Captain Wardrobes



Down with Murder inc.