Geneva Convention

* The convention came into force in 1950.

* The convention states that prisoners of war must be treated humanely at all times.

* No form of coercion, physical or mental, may be used to obtain information.

* The International Committee of the Red Cross must be allowed access to the prisoner and under no restrictions.

Article 100 states:

"Prisoners of war ... shall be informed as soon as possible of the offences which are punishable by the death sentence under the laws of the detaining power."

* Prisoners must be protected from public curiosity.
This page attempts to look at what is becoming apparant as a small part of a wider increasingly complicated net of intrigue and disgusting practices
'Foreign policy' is being driven by abuse, deliberate terror. see Diego Garcia, the Royal sanctioned ethnic cleansing for a torture Island & Guantanamo Bay. The rendition program Lear Jets - Corporate sponsored prison planes ...Strange goings on in the Global Gulag.
excerpt from USA/JORDAN/YEMEN Torture and secret detention: Testimony of the 'disappeared' in the 'war on terror' a report by Amnesty international
Thousands of detainees remain held in US custody in Iraq and hundreds remain in US custody in Afghanistan, some of them having been detained without trial and virtually incommunicado for more than a year. Several thousand other detainees are believed to be held in the custody of other governments at the behest of the USA. The ICRC has access to some of these detainees.
In addition, however, the USA is holding an unknown number of detainees in secret, incommunicado custody in unknown locations and unknown conditions. Amnesty International has received reports that in the context of the 'war on terror' the USA has established secret detention facilities in a number of countries. These could include Jordan, Pakistan, Egypt, Thailand and Afghanistan, and in the US base on the British Indian Ocean territory of Diego Garcia.
Canadian citizen Maher Arar has said that he was flown out of the USA on a jet by a team that called themselves the "Special Removal Unit".(12) Federal aviation records support his contention that he was transferred on 8 October 2002 aboard a Gulfstream jet, and that he was flown via New Jersey, Washington DC, Maine, and Rome to Jordan, from where he was driven to Syria. The Gulfstream III jet's registration number is reported to have been N829MG, records for which show that it also went to Guantanamo Bay in December 2003. Evidence of other aircraft allegedly used to carry out secret transfers has also come to light, using civil aviation records and sightings by "planespotters".
Between June 2002 and January 2005, a Gulfstream IV jet, registration number N227SV (previously N85VM), reportedly flew to Afghanistan, Morocco, Dubai, Jordan, Italy, Japan, Switzerland and the Czech Republic, as well as stops in US air bases in Maryland and Germany, 82 stops at Dulles International Airport outside Washington DC, and 51 visits to the US Naval Base in Guantanamo Bay.
On 18 February 2003, the jet was in Cairo, Egypt. That was the day after Egyptian national Osama Nasr Mostafa Hassan was abducted on a street in Milan and allegedly driven to the US air base in Aviano, Italy, interrogated, drugged and taken to the US military base in Ramstein in Germany. From there he was flown to Egypt, where he was allegedly tortured, including with electric shocks. (13) He is reported to have been released in mid-2004, but rearrested shortly afterwards after he made a phone call to his wife. He is believed to remain in custody in an unknown location, although it has been suggested that he may be currently held in the Damanhour prison, outside Alexandria, Egypt. Amnesty International fears that he may be subject to further torture or ill-treatment. On 24 June 2005 an Italian judge ordered the arrest of 13 CIA agents for their alleged involvement in his abduction.
The widespread and systematic practice of torture in Egypt has persisted despite its prohibition under domestic and international law. For well over a decade, specialized UN expert bodies, including the Committee against Torture and international and national human rights organizations have been documenting cases of torture and ill-treatment, including deaths in custody in Egypt.
This particular Gulfstream jet has also flown to Azerbaijan. Amnesty International believes this plane may have been used to transport Yemeni national 'Abd al-Salam al-Hiyla. As Amnesty International reported in June 2004, his family lost contact with him after he travelled to Egypt on a 15-day business trip from 9 September 2002. His family said that the Egyptian embassy in Sana'a, Yemen, told them that he had left Egypt on "a special American plane that took him to Baku, Azerbaijan"(14) 'Abd al-Salam al-Hiyla is currently held in Guantanamo Bay, having been taken there via custody in Bagram air base in Afghanistan.
Renditions
The Bush administration facilitated or participated directly in the transfer of an unknown number of persons without extradition proceedings, a practice known as "irregular rendition," to countries in the Middle East known to practice torture routinely. The Washington Post in December 2002 described the rendition of captured al-Qaeda suspects from U.S. custody to other countries, such as Syria, Uzbekistan, Pakistan, Egypt, Jordan, Saudi Arabia, and Morocco, where they were tortured or otherwise mistreated. Unnamed U.S. officials suggested that detainees were deliberately moved to countries known for their use of torture to ease constraints on their interrogations. One official was quoted as saying, "We don't kick the [expletive] out of them. We send them to other countries so they can kick the [expletive] out of them." An official who had supervised the capture and transfer of accused terrorists said "If you don't violate someone's human rights some of the time, you probably aren't doing your job…I don't think we want to be promoting a view of zero tolerance on this." 23
Tarek Dergoul, a Briton released from Guantánamo in March 2004, said that during interrogation there he was threatened with being sent to Morocco or Egypt, "where I would be tortured."
In one case, Maher Arar, a Syrian-born Canadian in transit from a family vacation through John F. Kennedy airport in New York, was detained by U.S. authorities. After holding him for nearly two weeks, U.S. authorities flew him to Jordan, where he was driven across the border and handed over to Syrian authorities, despite his repeated statements to U.S. officials that he would be tortured in Syria and his repeated requests to be sent home to Canada. Mr. Arar, whom the United States asserts has links to al-Qaeda, was released without charge from Syrian custody ten months later and has described repeated torture, often with cables and electrical cords, during his confinement in a Syrian prison.
In another case, Swedish television reported in May 2004 that in December 2001 a U.S. government-leased Gulfstream 5 jet airplane transported two Egyptian terrorism suspects who were blindfolded, hooded, drugged, and diapered by hooded operatives, from Sweden to Egypt. There the two men were tortured, including in Cairo's notorious Tora prison.24 The plane was apparently the same one that had allegedly been used two months earlier to transport a Yemini suspect from Pakistan to Jordan.
In a third case, U.S. operatives reportedly managed the capture and transfer of Mohammed Haydar Zammar, a top al-Qaeda suspect and dual German-Syrian national, to Syria in June 2002, over the protests of the German government. The United States has reportedly provided questions to Syrian interrogators.25
"Disappearances"
Among the most disturbing cases, perhaps unprecedented in U.S. history, are the detainees who have simply been "disappeared." Perhaps out of concern that Guantánamo will eventually be monitored by the U.S. courts, certainly to ensure even greater secrecy, the Bush administration does not appear to hold its most sensitive and high-profile detainees there. Terrorism suspects like Khalid Sheikh Mohammed, accused architect of the September 11 attacks, and Abu Zubaydah, a close aide of Osama bin Laden, are detained by the United States instead in "undisclosed locations," presumably outside the United States, with no access to the ICRC, no notification to families, no oversight of any sort of their treatment, and in most cases no acknowledgement that they are even being held. Human Rights Watch has pieced together information on 13 such detainees, apprehended in places such as Pakistan, Indonesia, Thailand, Morocco, and the United Arab Emirates, who have "disappeared" in U.S. custody.
Is this the Plane?

question: Is the worldwide 'rendition program':

the torture at Abu Ghriab, Gauntanamo, Diego Garcia, in Egypt, Uzbekisten, Syria, Algeria, Libya, Turkey, Morroco...

an extension of the CIA MK program? If so, what is it's purpose?

60 Minutes has videotaped a secret jet the Central Intelligence Agency is said to be using to deliver terror suspects to countries known for torturing people.

the plane made at least 600 flights to 40 countries, all of which came after 9/11, including 30 trips to Jordan, 19 to Afghanistan, 17 to Morocco, and 16 to Iraq. The plane also went to Egypt, Libya and Guantanamo Bay, Cuba. CBS
Bush denies torture claims

March 17, 2005 - WASHINGTON: US President George W. Bush has denied claims the United States condones the use of torture as he defended deporting alleged terrorists for interrogation in countries thought to use the practice.

"This country does not believe in torture. We do believe in protecting ourselves," Mr Bush said during a press conference when asked about the policy of deportation.

"The United States must make sure we protect our people and our friends from attack. That was the charge we have been given. And one way to do so is to arrest people and send them back to their country of origin with the promise that they won't be tortured. That's the promise we receive," he said.

Mr Bush did not directly address whether Washington extracted that same promise when it does not repatriate a suspected terrorist but instead sends that person to a third country.

"We seek assurances that nobody will be tortured when we render a person back to their home country," said Mr Bush. - The Australian

This is the same line parroted by The Blair junta

Announcing a new "twin track" approach, Mr Clarke said that in addition to control orders, the government would pursue a policy of "deportation with assurances".

This would allow the government to deport those regarded as a serious threat by seeking memo of understanding from their country of origin to ensure that they would not face torture or execution on their return...FT

CIA's Assurances On Transferred Suspects Doubted

March 17, 2005 - One CIA officer involved with renditions, [...] called the assurances from other countries "a farce."

Another U.S. government official who visited several foreign prisons where suspects were rendered by the CIA after the attacks of Sept. 11, 2001, said: "It's beyond that. It's widely understood that interrogation practices that would be illegal in the U.S. are being used."

[snip]

Rendition, a form of covert action that is supposed to be shrouded in the deepest secrecy, was first authorized by President Ronald Reagan in 1986 and was used by the Clinton administration to transfer drug lords and terrorists to the United States or other countries for military or criminal trials.

After the 2001 attacks, Bush broadened the CIA's authority and, as a result, the agency has rendered more than 100 people from one country to another without legal proceedings and without providing access to the International Committee of the Red Cross, a right afforded all prisoners held by the U.S. military.

The CIA general counsel's office requires the station chief in a given country to obtain a verbal assurance from that country's security service. The assurance must be cabled back to CIA headquarters before a rendition takes place.

In practice, though, the CIA has little control over prisoners once they leave CIA custody, said three recently retired CIA officials and other intelligence officials who have dealt with foreign intelligence services on detainee matters.

"These are sovereign countries," said Michael Scheuer, a recently retired CIA officer who favors the use of renditions to disrupt terrorist networks. "They are not going to let you into their prisons."

"Once they are in the jurisdiction of another country, we have no rights to follow up," said Edward S. Walker Jr., a former assistant secretary of state for Near Eastern affairs and now president of the Middle East Institute.

[excerpts]- - Washington Post
"This caveat does nothing to prevent torture at the hands of agents of other states; in fact, it effectively encourages and fosters it. It is a fundamental duty of all courts to act as a bulwark against human rights violations. Today, the Court of Appeal has shamefully abdicated this most important duty," Amnesty International
Gulfstream V turbojet -

-a plane favored by corporate excecutives-has scoured the world, from Pakistan to Indonesia to Jordan, sometimes being boarded by hooded and handcuffed passengers, the registration-restricted Washington Post reports Monday. The plane's existence and use has been documented repeatedly by Raw Story and the Times of London. This from Monday's Post.

The plane's owner of record, Premier Executive Transport Services Inc., lists directors and officers who appear to exist only on paper. And each one of those directors and officers has a recently issued Social Security number and an address consisting only of a post office box, according to an extensive search of state, federal and commercial records.
Bryan P. Dyess, Steven E. Kent, Timothy R. Sperling and Audrey M. Tailor are names without residential, work, telephone or corporate histories - just the kind of 'sterile identities,' said current and former intelligence officials, that the CIA uses to conceal involvement in clandestine operations. In this case, the agency is flying captured terrorist suspects from one country to another for detention and interrogation.
The CIA calls this activity 'rendition.' Premier Executive's Gulfstream helps make it possible. According to civilian aircraft landing permits, the jet has permission to use U.S. military airfields worldwide.
Since Sept. 11, 2001, secret renditions have become a principal weapon in the CIA's arsenal against suspected al Qaeda terrorists, according to congressional testimony by CIA officials. But as the practice has grown, the agency has had significantly more difficulty keeping it secret.
According to airport officials, public documents and hobbyist plane spotters, the Gulfstream V, with tail number N379P, has been used to whisk detainees into or out of Jakarta, Indonesia; Pakistan; Egypt; and Sweden, usually at night, and has landed at well-known U.S. government refueling stops.
As the outlines of the rendition system have been revealed, criticism of the practice has grown. Human rights groups are working on legal challenges to renditions, said Morton Sklar, executive director of the World Organization for Human Rights USA, because one of their purposes is to transfer captives to countries that use harsh interrogation methods outlawed in the United States. That, he said, is prohibited by the U.N. Convention on Torture.
The CIA has the authority to carry out renditions under a presidential directive dating to the Clinton administration, which the Bush administration has reviewed and renewed. The CIA declined to comment for this article.
'Our policymakers would never confront the issue,' said Michael Scheuer, a former CIA counterterrorism officer who has been involved with renditions and supports the practice. 'We would say, 'Where do you want us to take these people?' The mind-set of the bureaucracy was, 'Let someone else do the dirty work.' '
Each of the officers of Premier Executive is linked in public records to one of five post office box numbers in Arlington, Oakton, Chevy Chase and the District. A total of 325 names are registered to the five post office boxes.
An extensive database search of a sample of 44 of those names turned up none of the information that usually emerges in such a search: no previous addresses, no past or current telephone numbers, no business or corporate records. In addition, although most names were attached to dates of birth in the 1940s, '50s or '60s, all were given Social Security numbers between 1998 and 2003.
According to former CIA operatives experienced in using 'proprietary,' or front, companies, the CIA likely used, or intended to use, some of the 325 names to hide other activities, the nature of which could not be learned. - source
Cryptogon Uncovers Plane designation shenanigans...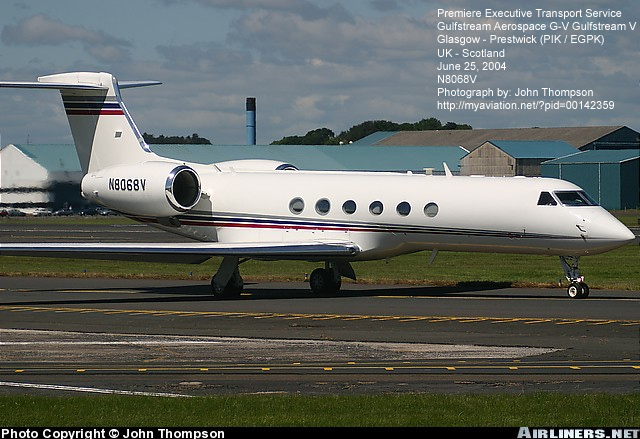 Here's where it gets really interesting. I just checked N8068V on the FAA database and it now comes up as a "deregistered" Robinson R22 BETA helicopter. But there's just one problem...
Does that Gulfstream V look like a Robinson R22 BETA helicopter to you? Wave hello to the spooks and their busted cutout operation.
Here's a screenshot of the FAA record for N8068V showing it to be a "Deregistered" Robinson R22 BETA helicopter. The plain text from the FAA follows:

N8068V is Deregistered

Deregistered Aircraft 1 of 1

Aircraft Description
Serial Number 2401 Type Registration Corporation
Manufacturer Name ROBINSON HELICOPTER Certificate Issue Date None
Model R22 BETA Mode S Code 52575653
Year Manufacturer None Cancel Date 12/29/1993
Reason for Cancellation Exported Exported To SOUTH AFRICA

Aircraft Registration prior to Deregistration

Name ROBINSON HELICOPTER COMPANY
Street 24747 CRENSHAW BOULEVARD
City TORRANCE State CALIFORNIA Zip Code 90505
County None
Country Unknown


Airworthiness
None


Other Owner Names
None
If you're wondering what N8068V looked like as N379P, here it is: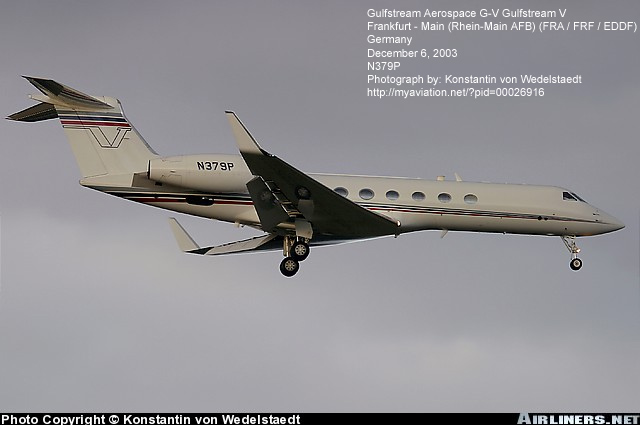 What does the FAA N-Number inquiry show for N379P?
N379P is not Assigned/Reserved
Cryptogon
Charter planes linked to Assembly Point Aviation

Last June, the Boston Red Sox chartered an executive jet to help their manager make a quick visit home in the midst of the team's championship season.

But what was the very same Gulfstream--owned by one of the Red Sox's partners, but presumably without the team's logo on its fuselage--doing in Cairo on Feb. 18, 2003?

Perhaps by coincidence, Feb. 18, 2003, was the day an Islamic preacher known as Abu Omar, who had been abducted in Italy the previous day and forced aboard a small plane, also arrived at the Cairo airport.

Omar, whose given name is Osama Nasr Mostafa Hassan, was imprisoned by the Egyptians and, he claims, brutally tortured. The public prosecutor in Milan, Armando Spataro, who is investigating Omar's apparent kidnapping, expects to file charges within a few days, according to an Italian official who spoke on condition of anonymity.

Spataro made headlines last month when, attempting to identify the plane that transported Omar from Italy to Egypt, he served a warrant on the Italian commander of the air base at Aviano, Italy, which is home to the U.S. Air Force's 31st Fighter Wing.

Spataro declines to say whether the Gulfstream that landed in Cairo, which bore the tail number N85VM, departed from Aviano around the time of Omar's disappearance.

But Federal Aviation Administration records obtained by the Tribune show that Gulfstream N85VM has been many places around the world that the Red Sox have almost certainly never gone.
[snip]
In addition to its FAA flight history, the Gulfstream has been tracked, and sometimes photographed, by the worldwide cadre of aviation aficionados who call themselves "planespotters"--not because of its possible connection with the U.S. government, but because planespotters pride themselves on keeping meticulous records of every aircraft that comes and goes at their chosen airports.
The Red Sox logo was visible, for example, in photos taken at an air show in Schenectady, N.Y., on Aug. 23, 2003, eight days after the Gulfstream returned to Washington from an around-the-world flight that included Anchorage; Osaka, Japan; Dubai; and Shannon.
The logo was not visible when the Gulfstream was photographed during a fuel stop in Shannon on June 12, 2004. But when the plane turned up at Denver's Centennial Airport in February of this year, a photo showed it was sporting not only the Sox logo but a new registration number, N227SV.
Same jet, charter agent says
Mahlon Richards, a co-owner of Richmor Aviation in Hudson, N.Y., and the Gulfstream's charter agent, confirmed that N85VM and N227SV, which share the same manufacturer's serial number, 1172, were in fact the same aircraft.
According to FAA records, the Gulfstream's owner is not Richmor but Assembly Point Aviation, a company with an address in Albany, N.Y., but no telephone number. Dun & Bradstreet describes Assembly Point as a "religious organization" that is somehow involved with "churches, temples and shrines." - Chicago tribune
Gulfstream Jets Kidnapping people?

NetJets, a subsidiary of Warren Buffet's Berkshire Hathaway. Operates a quarter-million flights annually to 140 countries; has affiliated programs in Europe and the Middle East. Its fleet includes hundreds of aircraft ranging from seven-seat Cessna Citations to 18-seat Boeing Business Jets. - executive skyguide

NetJets- they have a lot of other planes too!
Like High performance 737's - see 9-11