US covertly tries to instigate Civil war?
...needs to control the region indefinately...
"Iraq [...] suffered its worst day of violence since the war's end, when its majority Shia community was targeted in a series of sophisticated and simultaneous attacks that killed as many as 223 people and left its religious leaders blaming the Americans for multiple security failures. Crowds in Kerbala and Baghdad turned on US troops in frustration and fury as the scale of the atrocities in both cities became clear, raising fears that the Shias will seek revenge for the bombings and bring the country to the brink of a religious civil war. The US military last night pointed to al-Qaida involvement in the multiple explosions on one of the holiest days in the Shia calendar, with a Jordanian militant Abu Musab al-Zarqawi, an associate of Osama bin Laden, being named as the prime suspect. Last night the UN secretary general, Kofi Annan, warned that the restoration of Iraqi sovereignty, due to take place on June 30, could be jeopardised by the violence. Paul Bremer, the US administrator in Iraq, said the signing of the intermim constitution would be delayed until later this week after an "appropriate period of mourning".
Festival time in Iraq. But by the end of the day 220 lay dead Blasts kill 143 pilgrims in Iraq
SUNNI AND SHIA UNITE AGAINST US --18 US GI'S DEAD

"Two Sunni clerics one from the Fallujah area, arrived with a letter of support for Sadr's rebellion --the first public sign of an alliance between the Sunni resistance and the Shiites.

In an ominous development for occupation forces, the letter called upon all Muslims to come together to throw out "infidel occupiers of Iraq." Yesterday, the Sunni Scholars Council also called on Sunnis and Shiites to join forces.
Meanwhile in Fallujah, U.S. forces reached the center of the city in heavy fighting and were forced to pull back before nightfall. The military used an AC-130 helicopter to pound a civillian area. Sixteen Iraqis died during pitched battles with Marines -who reported two wounded. Promising more troops, if needed, US Secretary of Defense Donald Rumsfeld said the incursion was a raid. He said --"They have captured a number of people over the past 36-hours.... A number of people have resisted and been killed."
Gulu Future [see Tues 6th April]
one week in iraq - "...
the toll of Iraqis killed climbed to 460 and the military admitted it had lost control of two southern towns. "
Fallujah

"Why have parts of the Shia population joined with the Sunni insurgency? While this revolt is a product of general hatred of the occupation and US rule, the gun battles which have erupted all across Iraq came specifically as a result of protests by supporters of radical Shia cleric Moqtada Sadr. Somewhat ironically, this violent revolt was triggered by the closure of Sadr's al-Hawza newspaper a week ago on the grounds that it was inciting anti-US violence. Then US troops arrested one of his top deputies in Najaf.

Rather than stifling the movement, the two acts of state repression inflamed the problem. Initially, there was a wave of peaceful demonstrations, including the occupying of police stations and government buildings across Iraq including UK occupied Basra. In Baghdad, the Iraqi army responded to the protests by opening fire and allegedly killing three people. Since then the revolt has spread, with rebels taking at least two towns by Thursday (Najaf and Kut). While occupying troops are suffering losses, it is Iraqis who, as usual, are making up the bulk of the dead and wounded.

As well as the Shia revolt, 1,200 US troops as well as Iraqi security forces were sent to "pacify" Falluja, a Sunni town of 200,000 people. This is where four US citizens were killed a few weeks ago (the US is less vocal that this was in response to deaths of Iraqi civilians in their raids). By the 8th of April, the US had killed over 300 Iraqis as a result of waging heavy street battles, using warplanes and tanks. This included around 40 worshippers killed when the US blew up part of a Mosque. Not the best way to win hearts and minds."
Mission Accomplished? anarcho -Indymedia

Occupation watch report

'It appears that the US are preparing to eliminate, by death or capture, all males between say 14 and 60 in Fallujah. The US has already warned the population they face a choice between the US forces and the militants, and told people to leave the city. Arial bombing has apparantly been heavy today, and US tanks have destroyed 10+ civilian homes. Up to 450 people have been killed, in all probability mostly civilians as there are many pictures of dead children coming out. "
Massacre Imminent in Fallujah?

"American forces declared al-Jazeera must leave before any progress is made to settle the Fallujah stand-off," al-Jazeera director general Wadah Khanfar said, citing sources close to the Iraqi Governing Council."
Al Jazeera
Corporate news

US allies call for truce in Iraq

"How can a superpower like the US put itself in a state of war with a small city like Falluja? This is genocide," he told AFP news agency on Friday, the first anniversary of the fall of Saddam Hussein.
The Iraqi interim Human Rights Minister, Abdel Basit Turki, and a member of the Iraqi Governing Council's rotating presidency, Iyad Allawi, both resigned on Friday.
In Washington, US Secretary of State Colin Powell said the Shia and Sunni rebellions had proved stronger than expected. "
BBC

"U.S. authorities in Iraq say more than a million pilgrims are in and around Kerbala for the ceremonies of Arbain, but large groups of pilgrims were not yet massing on the streets.
Iraq's U.S. governor, Paul Bremer, has said the safety of pilgrims cannot be guaranteed during Arbain. Last month suicide attacks in Baghdad and Kerbala on the Shi'ite occasion of Ashura killed 171 people. Washington said the attacks were masterminded by a Jordanian linked to al Qaeda to try to spark civil war.
Iraqi police, whom U.S.-led forces had previously entrusted with keeping order during Arbain, were nowhere to be seen.
Streets were being patrolled by Sadr's Mehdi Army and another Shi'ite armed group, the Badr Brigade, as well as local guards, some employed by the clerical authorities. Militiamen waved pilgrims to the sides of streets for fear of sniper fire...
...The fall of Saddam Hussein and his Sunni-dominated secular regime a year ago ended decades of oppression for the 60-percent Shi'ite majority and left them free to observe major festivals like Ashura and Arbain, marking one of the founding events of Shi'ite Islam in a seventh century battle near Kerbala."
reuters reuters

indymedia

"There has been a massacre in Falluga. Falluga is under siege. 470 people have been killed, and 1700 injured. There has been no ceasefire. They (Americans) told people to leave, said they have 8 hours to leave and people began to leave but they're trapped in the Desert. The Americans have been bombing with B52s..."

"an American convoy was attacked there and 9 soldiers were injured and 27 were kidnapped. That's right 27. None of the newswires are reporting it though. And I heard this from (*name best not to supply without permission). Its really really bad. They (Americans) have been firing on Ambulances, snipers are following the ambulances, they cannot get in..."

"Well over 470 people have now been slaughtered by US troops in Falluja, this week. 1700 have been injured. The deathtoll is expected to rise due to the siege nature of the military cordon around the town. ambulances are being fired upon and followed by sniper sights if they attempt to enter the town. Eyewitnesses have reported seeing bodies lying dead in the streets. Hospitals have been attacked. Medical supplies and bed shortages are at crisis levels. Residents are calling it a massacre. People from all over are attempting, some succeeding, to get into Falluja to help evacuate the injured by car. People are donating food, medical supplies and water to those fleeing. All of Iraq is watching and sympathising with Falluja say people on the ground there. "

"There is at the time of writing (10/04/04) a 13km column of Falluja residents fleeing the bomb-smashed town, trapped in the desert and surrounded by US troops which eye-witnesses report have been firing on them. Most of the desert marooned refugees are elderly men, women and children."
URGENT: Falluja Massacre Update. Eyewitnes Accounts. Please Take Action!
Eyewitness Report: Fallujah
Another eyewitness report from Fallujah
Iraqi 'beaten to death' by US troops
April 14, 2004
"AN Iraqi has died of his wounds after US troops beat him with truncheons because he refused to remove a picture of wanted Shiite Muslim leader Moqtada Sadr from his car, police said today."
News.com.au
'We are going to fight them and impose our will on them and we will capture or... kill them until we have imposed law and order on this country,' he declared at the weekend. 'We dominate the scene and we will continue to impose our will on this country."

Paul Bremer, imperial representative - Occupied Iraq source
"I expect everyone knows by now about the kidnapping of three Japanese civilians and the threat to burn them alive unless the Japanese government withdraws its troops from Iraq. Anxious, everyone huddled round the satellite TV in one of the apartments. The tape from the kidnappers showed them crouched, blindfolded, knives to their throats. "
Jo Wilding writes about the Japanese hostages in Iraq

ABC news has really summed it all up...

"In Tokyo, hundreds of people rallied outside Prime Minister Junichiro Koizumi's office on Saturday, demanding the withdrawal of Japanese troops from Iraq to save the lives of the three Japanese hostages.

"The lives of people are more important than the Japan-US alliance,"

the demonstrators chanted as they were prevented by police from crossing the street to the prime minister's official residence in the centre of Tokyo.

Ken Takada, who organised the rally, said his group had collected 100,000 signatures to urge Mr Koizumi to yank his troops from Iraq. He said another rally would be held on Sunday.

A former leader of the Japanese Red Army militant group also urged the kidnappers to spare the lives of the Japanese hostages, making his plea in an open letter in Lebanon's As-Safir newspaper on Saturday.

Masao Adashi, 65, said the three were "not government officials, but members of a non-governmental organisation opposing the policy of their government" in Iraq.

But the prime minister has vowed to keep his soldiers in the southern Iraqi city of Samawa despite the hostage crisis." "We must not yield to terrorists' foul threats," he said on Friday. Japanese Hostages face death sentence

Aljazeera airs tape of dead 'CIA men'

hi, my name is Thomas... and i'll be your story for today...
"Asked how long Hamill had been free before he was found, Kimmitt said: " We don't know that information. We will find that out, I'm sure that he will be glad to tell his story... "

"One small boy of 11, his face covered by a kefir and toting around a Kalashnikov that was nearly as big as he was, patrolled areas around the clinic, making sure they were secure. He was confident and very eager for battle. I wondered how the U.S. soldiers would feel about fighting an 11 year-old child? For the next day, on the way out of Falluja, I saw several groups of children fighting as mujahedeen.
After we delivered the aid, three of my friends agreed to ride out on the one functioning ambulance for the clinic to retrieve the wounded. Although the ambulance already had three bullet holes from a U.S. sniper through the front windshield on the driver's side, having westerners on board was the only hope that soldiers would allow them to retrieve more wounded Iraqis. The previous driver was wounded when one of the sniper's shots grazed his head. Bombs were heard sporadically exploding around the city, along with random gunfire. "
Iraq dispatches blog
Troops' death toll in April reaches 100
Eleven more U.S. troops die in Iraq
Surely this is Hypocracy?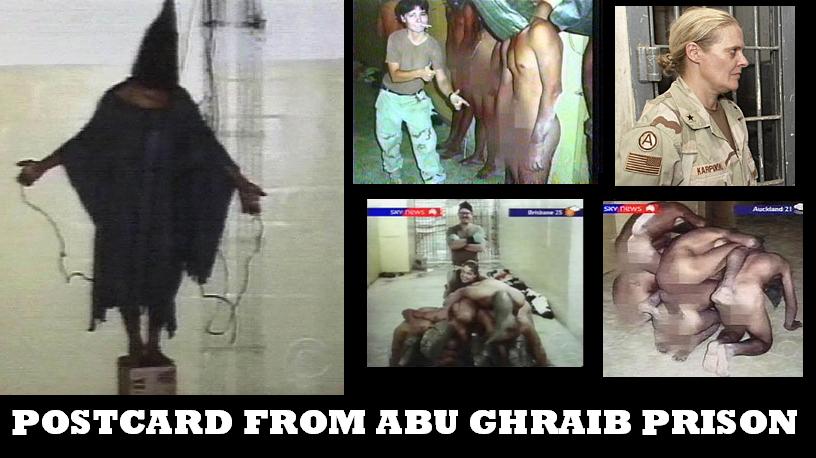 Psyops confuses the issues...
US force 'to pull out of Falluja'

April 29, 2004

US marines have agreed to withdraw from positions in the flashpoint Iraqi city of Falluja, according to an American military commander. Lt Col Brennan Byrne said this would allow a newly created all-Iraqi force to take control of the city on Friday. But US defence officials in Washington say they are not aware of any deal and no troops are currently pulling out. Hours after the reported deal, fresh explosions and gunfire was reported as US warplanes circled the city. Falluja, a predominantly Sunni Muslim city of 300,000 people that lies 50km (30 miles) west of the capital Baghdad, has been a hotbed of resistance to the US-led occupation of Iraq. Satellite image showing location of recent fighting in Falluja

US forces moved against insurgents in the city on 5 April following the gruesome killings of four American civilian contractors there. Doctors in Falluja say some 600 people have already been killed since the siege began and thousands have fled. Elsewhere in Iraq, 10 US soldiers have been killed in attacks - eight in a car bombing south of Baghdad.

'Falluja Protection Army'

Col Byrne told reporters that the new Iraqi force had been set up under an agreement reached with local leaders. He said it would be known as the Falluja Protection Army (FPA), and would be made up of about 1,100 Iraqi soldiers led by a former general from the Saddam Hussein era. BBC News

U.S. Marines Say to Remain In,
Around Falluja

Fri Apr 30, 2004 10:47 AM ET

FALLUJA, Iraq (Reuters) - U.S. Marines will maintain some positions in and around Falluja as an Iraqi battalion takes over the restive town, a Marines statement said Friday. "Until the battalion's units demonstrate a capability to man designated checkpoints and positions, Marines will continue to maintain a presence in and around Falluja," the statement said.

"The coalition objectives remain unchanged -- to eliminate armed groups, collect and positively control all heavy weapons and turn over foreign fighters and disarm anti-Iraqi insurgents in Falluja." A former general in Saddam Hussein's Republican Guard said Friday he was forming a new force with U.S. agreement to restore stability to the town, but fresh clashes showed that a month of fighting with Sunni Muslim insurgents was not over.

The statement from the Marines said the new Iraqi force would help track down those who killed four American contractors on March 31 and the people who mutilated their bodies, the incident which led to the Marine siege. The Iraqi force would also help find those who overran Falluja's police station, killed more than 20 policemen and freed prisoners in February, it said. Once found, those responsible would be tried in Iraqi courts, it said.
U.S. command, Brigadier General Mark Kimmitt told Sky News:
"Any suggestions we're handing over responsibility or withdrawing is patently false,"
reuters
Bush re-defines the concept of NORMALITY
Update: Ahmed Chalabi - left out in the cold?

Bluff and double Bluff...
The fake handover
US troops to stay in Iraq
after June 30 handover: Bush

President George W. Bush has vowed US troops will stay in Iraq after the June 30 handover of power to Iraqis, as new and potentially damaging allegations emerged on US military guidelines for interrogating prisoners in Iraqi jails. yahoo news Asia

Blair ready to hand over Iraq by July

London/Baghdad, May 16. (Observer News Service): Tony Blair moved to extract himself from growing turmoil in Iraq with a pledge on Saturday to hand over 'full sovereignty' in June, as renewed violence flared in the troubled country.
Hindu news
US 'appoints' new prime minister - How democratic?
"The choice of Iyad Allawi, closely linked to the CIA and formerly to MI6, as the Prime Minister of Iraq from 30 June will make it difficult for the US and Britain to persuade the rest of the world that he is capable of leading an independent government.

He is the person through whom the controversial claim was channelled that Iraqi weapons of mass destruction could be operational in 45 minutes.

Dr Allawi, aged 59, who trained as a neurologist, is a Shia Muslim who was a member of Saddam Hussein's Baath party in Iraq and in Britain, where he was a student leader with links to Iraqi intelligence. He later moved into opposition to the Iraqi leader and reportedly established a connection with the British security services. His change of allegiance led to Dr Allawi being targeted by Iraqi intelligence. In 1978 their agents armed with knives and axes badly wounded him when they attacked him as he lay asleep in bed in his house in Kingston-upon-Thames.
Dr Allawi became a businessman with contacts in Saudi Arabia. He was charming, intelligent and had a gift for impressing Western intelligence agencies. After the 1991 Gulf War, the Iraq National Accord (INA) party, which he helped to found, became one of the building blocks for the Iraqi opposition in exile. The organisation attracted former Iraqi army officers and Baath party officials, particularly Sunni Arabs, fleeing Iraq."
Patrick Cockburn

More from Truthout

"The reasons for Allawis unpopularity are not difficult to find. He has a long and intimate association with Western intelligence agencies and close connections to the Baath Party and dissident elements of Saddam Husseins regime. His only opposition to Bremer has been over the issue of de-Baathification. Allawi has insisted on retaining officials from the key institutions of state repressionthe military, police and intelligence servicesin order to deal with the mounting opposition to the occupation.

Allawi presides over the IGCs security committee and has had a hand in building an Iraqi army and police force. His deputy Nouri Badran, who is also a member of Allawis Iraqi National Accord (INA), runs the interior ministry. His cousin Ali Allawi runs the defence ministry. Last December Allawi flew to CIA headquarters in the US to meet with CIA director George Tenet over the creation of a new Iraqi intelligence service to counter the armed anti-US resistance.

According to an article in the New York Times, Allawi received the green light to recruit ex-members of the hated Mukhabarat intelligence service, which was responsible for much of the torture and killings under the Hussein regime. Allawis associate Ibrahim al-Janabi, another member of the IGC security committee, justified the move as essential to establishing public order. Under the Saddam regime, the entire structure of Iraq was built around security. The mentality of the people revolved around this security, Janabi said.

Allawi has long been associated with the CIA and other intelligence agencies. Born into a wealthy Shiite merchant family, he became an enthusiastic member of the Baath Party while a student in Baghdad. He went to London in 1971 to continue his medical studies and resigned from the party in 1975. In 1978, an attempt was made on his life in London, allegedly by Iraqi agents. Allawi told the Washington Post recently: At the time I was in contact with high-ranking Baath officials and military officers who shared my view that Saddam had hijacked the party. Allawis orientation to dissenting Baath Party members, particularly military and intelligence officers, has been the hallmark of his opposition to the Hussein regime. With the assistance first of the British MI6 then the CIA, he built a network of contacts throughout the 1980s, travelling extensively in the Middle East as a businessman. In December 1990, in the midst of the first Gulf War, Allawi established the Iraqi National Accord (INA) with the support not only of London and Washington, but of Jordan, Turkey and Saudi Arabia
axis of logic

How long will it be before we all get our prime ministers appointed?

Derailing the process: Who benefits?

Baghdad blast kills Iraq leader

The current head of Iraq's US-appointed Governing Council has been killed in a car bomb blast near the headquarters of the US-led coalition in Baghdad. Ezzedine Salim was waiting to enter the compound when the bomb went off at 0530 GMT, killing him and several others. It is not yet clear whether Mr Salim was the target of what US officials say was a suicide attack. Iraq's interim foreign minister has vowed that the political process will not be derailed. "

[snip]

"Several vehicles were destroyed in the blast, which melted the asphalt of the road and sent debris flying over a large area. "There was a huge crowd at the checkpoint," a security guard at a nearby residential compound told Reuters. "There were a lot of cars and people on foot standing there and then this massive explosion. I saw body parts everywhere."

[snip]

[secret operations?]

US military officials say an American soldier was killed and two injured in a gunbattle in a city south of Baghdad on Sunday. They did not identify the city but said the soldiers were from the Task Force 1st Armoured Division which has been fighting forces loyal to Mr Sadr. BBC

Iraqi council chief assassinated in suicide attack at Baghdad checkpoint

The New Governing Council President is chosen : Ghazi Mashal Ajil al-Yawer

Iraqs new president : The Saudi-ization of Iraq
Adnan Pachachi appointed, then refuses / voted out!

"Former foreign minister Adnan Pachachi was appointed Iraq's new president Tuesday but turned down the post, an aide said. Governing Council President Ghazi Mashal Ajil al-Yawer was then named to the top post, a council member said. "
Calgary Herald

US Puppet No. 1

US / Saudi Puppet No. 2?

"Iraq's first post-Saddam government has finally been unveiled after days of wrangling between American officials in Iraq and the Governing Council. Interim Prime Minister Iyad Allawi said the 30 June handover would be a major step in creating a new, sovereign Iraq. Beside Mr Allawi as he spoke was the interim President Ghazi Yawer, himself appointed only hours before."

"Mr Allawi said Shia politician Adel Abdul Mehdi would be finance minister and Hoshiyar Zebari, a Kurd, would remain foreign minister. He also named Hazim al-Shalaan as defence minister and Falah al-Naqib as interior minister. The full list of the administration came after it was announced that the head of the Governing Council, Ghazi Yawer, would be the country's new interim president. Earlier reports said ex-Foreign Minister Adnan Pachachi had been chosen as president but had declined the job. "
Iraqi interim cabinet revealed
Sheikh Ghazi Mashal Ajil al-Yawer, a "northern tribal figure (Sunni)," al-Yawer is "a civil engineer who spent 15 years based in Saudi Arabia. He is a close relative of Sheikh Mohsen Adil al-Yawar, head of the powerful Shamar tribe, which comprises both Sunnis and Shia."
Disinfopedia

"Yawer is 45 and graduated from the University of Petroleum and Minerals in Dhahran, Saudi Arabia. He also has a Masters from George Washington University."
ABC

Full list of cabinet from the Guardian

Same people different name : cosmetic control?

"Hours later, the Governing Council decided to dissolve immediately rather than remain in office until the transfer of sovereignty June 30, said council member Younadam Kana.

"Kana told reporters that 20 of the 22 members of the U.S.-appointed body, which was appointed last July, agreed to disband. She said that two members expressed reservations, arguing the interim constitution adopted in March required the council to continue its work until the sovereignty transfer. "
MSNBC
"the Coalition Provisional Authority ``will remain the sovereign authority until June 30'' despite the naming of a new government and the dissolving of the Governing Council."
Iraq Council Disbands; CPA Still in Power
UN Security Council Resolution On Iraq Passes Unanimously

The Councils text spelled out a leading role for the United Nations to help Iraq convene a national conference in July to select a Consultative Council, advise and support the new authorities on the process for holding elections, scheduled for January 2005, and promote national dialogue and consensus on the drafting of a new constitution.

In addition, Secretary-General Kofi Annans yet-to-be named Special Representative and the UN Assistance Mission for Iraq (UNAMI) were tasked with helping the Government develop civil and social services, coordinating reconstruction, development and humanitarian assistance, promoting the protection of human rights, and helping the authorities plan for a census.
BNN

promoting the protection of Human Rights...?

It's a bit late now isn't it?

thousands have been murdered...By a coalition that flouted the UN

and now the US led junta can go on to the next conquest...breaking every rule supposedly set up by the forming of the UN and the Geneva convention:

A leader who is above the law is a TYRANT

President Bush, as commander-in-chief, is not restricted by U.S. and international laws barring torture, Bush administration lawyers stated in a March 2003 memorandum.

The 56-page memo to Defense Secretary Donald Rumsfeld cited the president's "complete authority over the conduct of war," overriding international treaties such as a global treaty banning torture, the Geneva Conventions and a U.S. federal law against torture.

"In order to respect the president's inherent constitutional authority to manage a military campaign ... (the prohibition against torture) must be construed as inapplicable to interrogations undertaken pursuant to his commander-in-chief authority," stated the memo, obtained by Reuters on Tuesday. Reuters