Columbine - the Sequel?
The Making of monsters out of corporate-fascist-state-drugged kids continues:
In an attack eerily similar to the 1999 Columbine massacre, a student has embarked on a school 'rampage' in Minnesota.
* Reports of people dead in hallways

* Media is not saying if Chase Lussier(killed) is related to Daryl Lussier.

* Jeff Weise's father killed himself in 1997 after a daylong standoff with tribal police.

* Report at some point, 'school authorities' had suspected him of wanting to attack the school.

* Report that Weise once told a classmates, "That would be cool if I shot up the school."

* Student Lance Crowe, declined to speak at a news conference.

* Red Lake school had a disaster plan, cameras and security guards in place.

* Jeff Weise shot his second cousin(Chase Lussier) Media waits 5 days to report it. (Another indication this was not a random event)

* The Lussiers are one of the biggest and most influential families in Red Lake.
check those numbers - 22 dead in shooting 'rampage'...
At least 22 people have been killed or injured after a gunman went on a shooting spree in northern Minnesota.

Red Lake, MINN – At least eight were shot and killed at Red Lake High School on Monday afternoon. Two others, a man and a woman, were found dead inside a home in the community.

At least 14 others were injured, according to police.

FBI spokesman Paul McCabe said six students were among the dead. A teacher and a security guard were also killed.

All of the students died in the same room. The gunman is believed to be one of the dead students.

The high school has about 300 students. It is on the Red Lake Indian Reservation about 400 kilometres north of Minneapolis.

Monday's incident is the worst school shooting in the United States since two teens went on a killing rampage at Columbine High School in Littleton, Colorado, killing 12 students and a teacher and wounding 23 before killing themselves, on April 20, 1999. source
check those numbers - 10 dead in shooting 'rampage'...
Officials: Student's rampage leaves 10 dead - Witness describes gunman grinning, waving

Tuesday, March 22, 2005 - Red Lake High School students console each other Monday after the school shooting.

(CNN) -- A student on Monday killed two of his grandparents, then went on a shooting rampage at his Minnesota high school, killing seven people and wounding as many as 13 others before killing himself, officials said.

FBI Special Agent Paul McCabe told reporters the dead include a female teacher, a male security officer and four students at Red Lake High School.

"We believe that one of those students is the shooter," McCabe said.

The FBI office in Minneapolis later said two more wounded students had died. The school, about 240 miles north of the Twin Cities, was evacuated and locked down, McCabe said.

"At this time, we believe he was acting alone," he said, refusing to comment on a possible motive, adding, "It's far too early in the investigation."
The slain students were shot in one room, he said.
"Apparently, he walked down the hallway shooting and then he entered a classroom, he shot several students and a teacher, then himself," said Roman Stately, with the Red Lake Fire Department, who arrived at the high school moments after the shootings. Authorities discovered about an hour later that the boy had shot and killed his grandmother and grandfather, a veteran of the police force, Stately told KARE-TV. Stately said the boy used his grandfather's police-issued weapon in the school rampage. Witness Sondra Hegstrom described the gunman grinning and waving, according to The Pioneer of nearby Bemidji, Minnesota.
"I looked him in the eye and ran in the room, and that's when I hid," she told the newspaper.
Teacher Diane Schwanz told The Pioneer that the shooter tried to break through the door to her classroom. "I just got on the floor and called the cops," Schwanz told the paper. "I was still just half-believing it."
The shootings occurred about 3 p.m. (4 p.m. ET), in Red Lake High School, a school of 300 students that is on a sovereign Indian reservation near the Canadian border.
Tribal authorities closed the reservation after the shootings, The Associated Press reported. Minnesota Gov. Tim Pawlenty expressed his condolences and offered comfort.
"We ask Minnesotans to help comfort the families and friends of the victims who are suffering unimaginable pain by extending prayers and expressions of support," his office said in a statement.
Sen. Norm Coleman said: "Laurie and I send our heartfelt prayers and sympathies to the family and friends of those lost and injured today in Red Lake and to all those touched by this tragedy." - CNN
Police guns used? : ex-policeman Grandfather Killed
"...reports say that the gunman's grandfather has been identified as Daryl Lussier, a veteran officer with the Red Lake Police Department. It is thought that his guns may have been used in the attack."
"The reservation is about 240 miles north of the Twin Cities. It is home to the Red Lake Chippewa Tribe, one of the poorest in the state. According to the 2000 census, 5,162 people lived on the reservation, and all but 91 were Indians." - megastar.co.uk
check those numbers - 7 dead in shooting rampage...
keep taking the pills...
High school student kills 7 people
Tuesday, March 22, 2005 - BEMIDJI, Minn. A high school student went on a shooting rampage on an Indian reservation Monday, killing his grandparents at their home and then seven people at his school, grinning and waving as he fired, authorities and witnesses said. The suspect apparently killed himself after exchanging gunfire with police. .
It was the nation's worst school shooting since the Columbine massacre in 1999 that killed 13 people. . One student said her classmates pleaded with the gunman to stop shooting. .
''You could hear a girl saying, 'No, Jeff, quit, quit. Leave me alone. What are you doing?'' student Sondra Hegstrom told The Pioneer of Bemidji, using the name of the suspected shooter. .
Before the shootings at Red Lake High School, the suspect's grandparents were shot in their home and died later. There was no immediate indication of the gunman's motive. . Authorities didn't identify the gunman, but a few media outlets identified him as Jeff Weise, citing students and tribal leaders. . Accounts of Weise's age varied from 15 to 17, as did whether he was a current student at the school. . Relatives told the St. Paul Pioneer Press that Weise was a loner who usually wore black and was teased by other kids. Relatives told the newspaper his father committed suicide four years ago, and that his mother was living in a Minneapolis nursing home because she suffered brain injuries in a car accident. . In addition to the shooter, the death toll at the school included five students, a teacher and a security guard, FBI spokesman Paul McCabe said in Minneapolis. Among the dead was Neva Rogers, 62, a teacher at the school for five or six years, the Minneapolis Star Tribune reported. .
Fourteen to 15 other students were injured, McCabe said. Some were being cared for in Bemidji, about 20 miles south of Red Lake. . Authorities closed roads to the reservation in far northern Minnesota while they investigated the shootings. .
Hegstrom described the shooter grinning and waving at a student his gun was pointed at, then swiveling to shoot someone else. ''I looked him in the eye and ran in the room, and that's when I hid,'' she told The Pioneer. .
McCabe declined to talk about a possible connection between the suspect and the couple killed at the home, but Red Lake Fire Director Roman Stately said they were the grandparents of the gunman. He identified the shooter's grandfather as Daryl Lussier, a longtime officer with the Red Lake Police Department, and said Lussier's guns may have been used in the shootings. .
Stately said the shooter had two handguns and a shotgun. .
''After he shot a security guard, he walked down the hallway shooting and went into a classroom where he shot a teacher and more students,'' Stately told Minneapolis television station KARE. .
Students and a teacher, Diane Schwanz, said the gunman tried to break down a door to get into her classroom. .
''I just got on the floor and called the cops,'' Schwanz told the Pioneer. ''I was still just half-believing it.'' .
Ashley Morrison, another student, had taken refuge in Schwanz's classroom. With the shooter banging on the door, she dialed her mother on her cell phone. Her mother, Wendy Morrison, said she could hear gunshots on the line. .
'''Mom, he's trying to get in here and I'm scared,''' Ashley Morrison told her mother, according to the newspaper. .
All of the dead students were found in one room. One of them was a boy believed to be the shooter, McCabe said. He said it was too early to speculate on a motive. .
Martha Thunder's 15-year-old son, Cody, was being treated for a gunshot wound to the hip. .
''He heard gunshots and the teacher said 'No, that's the janitor's doing something,' and the next thing he knew, the kid walked in there and pointed the gun right at him,'' Thunder said, standing outside the hospital in Bemidji. .
Police officers were posted at the hospital Monday night to discourage reporters from entering. When a reporter approached three men walking across a hospital parking lot, one broke down in tears, and the others said they had no comment. .
The school was evacuated after the shootings and locked down for the investigation, McCabe said. .
''It will probably take us throughout the night to really put the whole picture together,'' he said. .
Floyd Jourdain Jr., chairman of the Red Lake Chippewa Tribe, called it ''without a doubt the darkest hour'' in the group's history. ''There has been a considerable amount of lives lost, and we still don't know the total of that,'' Jourdain said. .
It was the nation's worst school shooting since two students at Columbine High School in Littleton, Colo., killed 12 students and a teacher and wounded 23 before killing themselves on April 20, 1999. .
The rampage in Red Lake was the second fatal school shooting in Minnesota in 18 months. Two students were killed at Rocori High School in Cold Spring in September 2003. Student John Jason McLaughlin, who was 15 at the time, awaits trial in the case. .
Red Lake High School, on the Red Lake Indian Reservation, has about 300 students, according to its Web site. .
The reservation is about 240 miles north of the Twin Cities. It is home to the Red Lake Chippewa Tribe, one of the poorest in the state. According to the 2000 census, 5,162 people lived on the reservation, and all but 91 were Indians. - Int. Herald Tribune
"By the way, I'm being blamed for a threat on the school I attend because someone said they were going to shoot up the school on 4/20, Hitlers birthday, and just because I claim being a National Socialist, guess whom they've pinned?"

- Jeff Weise [posting on a libertarian National Socialist website - Mar 19th, 2004]

Was Weiss on Luvox? Prozac?

Two days after a shooting rampage on the Indian reservation here left 10 dead, friends, relatives and neighbors of Jeff Weise -- the 16-year- old assailant -- began to sketch a portrait of a deeply disturbed youth who had been treated for depression in a psychiatric ward, lost several close family members, sketched gruesome scenes of armed warriors and was removed from the school where he gunned down most of his victims Monday. - infowars
Weise drew cartoons of shooting? - hints at obsession linked to compulsive paranioa / neurosis caused by SSRI?

These are the chilling images drawn by US high school gunman Jeff Weise before he went on his killing spree.

The 16-year-old shot dead down nine people, including classmates, before turning the gun on himself in the worst school massacre since Columbine.

Today the images drawn by the young Nazi fanatic for an animated film were shown on American television - a terrifying insight into the mind of the assassin.

In the sequence, which he had posted on the internet, Weise drew a killer lighting a cigarette before using an assault rifle to randomly gun down targets in the street. He then blows up a police car with a grenade, shoots a hooded person and puts a gun into his own mouth. - This is London

Alex Jones has a flash of the strange movie Weiss made, and more details here
shall we Blame video games?
School shooter followed video game-like 'script'
Dr Katherine Newman: This is not an original piece of artistry in that sense. He's following out a script he's very familiar with, with a tragic suicidal ending to it.
Subrata De: When you say "script"- what do you mean?
Dr Katherine Newman: What I mean by 'a script' is that when you look at popular culture, movies, video games, you will see this kind of "shoot 'em" pathway running through many of them. It's not an original idea of his; it's something that kids are exposed to by the millions. - msnbc
Aren't the Pentagon involved in designing some video games???
for instance: John B Alexander advised on Splinter cell

designed by these creeps
With military games becoming more and more of a hot property these days, ideas for good games are also becoming popular as well. Recently, Platinum Studios with the support of Fog Studios signed an agreement with well known military theorist and consultant US Army Colonel John Alexander (Retired) to develop his ideas into entertainment properties including video and PC games. Game developers Blue Shift Studios and Handheld Games are already signed to develop the games. Interview with John B Alexander
SICK: MTV labels SYMPTOMS of the Disturbed effects of SSRI on Weises' mind as 'clues' like in some bad murder mystery film: School Shooter Left Trail Of Clues On The Internet
Cover up: MTV also mention another posting Weise made about being framed for a school shooting, without citing the posting made above on the National Socialist website THIS MONTH:
'Weise wrote of being "pegged ... as a school shooter" last year on the conspiracy site abovetopsecret.com, according to the Star-Tribune,'
But the story does confirm that Weise was on Anti-depressants
'Weise shared his mental-health problems with his online community often, admitting to cutting his wrists and being placed on antidepressant medication. In a Yahoo profile in which he used the name verlassen4_20 — a combination of Hitler's birthday (April 20) with a German word meaning "forsaken" or "abandoned" — Weise wrote that his nickname was Totenkopf, the German word for "death's head" or "skull," according to the Times. An altered picture next to his profile featured Weise with monster's teeth and hollow eyes.
In the Yahoo profile, last updated in June 2004, Weise reported that he was on medication, seeing a therapist and had "a brand new pair of cuts on my wrists." He listed as his favorite quote, attributed to Nazi leader Adolf Hitler, as, "The law of existence requires uninterrupted killing ... So that the better may live."
as does this one:
A cultural coordinator at Red Lake Middle School told the Washington Post that Jeffrey Weise was taking the anti-depressant Prozac and was hospitalized for suicidal tendencies at least once.
A bus driver for a local health center told the paper he once drove Weise 60 miles to a psychiatric ward in Thief River Falls. The boy's grandmother also said he suffered from depression.
...and Family members have tried to cast aside the archetypal 'maniac' media spin:
"He didn't mean to do it. He didn't mean to hurt anybody," Lussier said. "There were no signs. I was with him (Monday) morning before it happened, and I couldn't see (any) difference in him. ... I didn't see anything coming."
Kim Desjarlait, another of Weise's aunts, agreed. "For it to suddenly come out for it to be Jeff that did this major shooting ... there were no signs. There was nothing to say, 'Hey, we need to talk.'" "
Some of Weise's relatives said he led a troubled life as a teen and said he was in and out of mental health treatment centers. But Lussier said he was definitely not the loner other students have described to the media. "
"(Others) did torment him, but he was not a loner," Lussier said. "He had his friends, he had his very close friends. He had few, select friends, but he was not a loner." "
Lussier said, "He trusted very few." Family: Weise wasn't a loner
dosage of Porzac was whacked up...
Dosage increased
Weise's relatives "knew he had a problem with depression, and they took him to treatment," Cook said. "He was getting counseling." His medication dosage had been increased a week earlier, Cook added.
His grandmother, Shelda Lussier, 54, said he saw a mental health professional at Red Lake Hospital on Feb. 21, the same day his prescription was refilled for 60 milligrams a day of Prozac, which he had been taking since last summer, the Washington Post reported.
Studies have linked Prozac and similar antidepressants to a greater risk of suicidal thoughts and behavior in kids. In October, the Food and Drug Administration revised the drugs' packaging to warn health professionals that they should closely monitor young patients when an antidepressant is prescribed or the dose is changed.
Prozac's manufacturer said monitoring patients being treated for depression is critical, especially if they are children. star tribune
If he had been "high on PCP's" & not 'being treated' with Prozac - it would be all over the headlines...
...The mainstream press never seem to mention 'COMBINED effects' as a scenario and the possibility of outside influence of a third party.
If i could hold an independent investigation into this terrible tragedy, I would also try and trace the other posters on the web Forums,..who knows...some of them may have links to other type of organisations
[think the CIA, FBI, infiltrators/steerers/trolls - maybe certain 'Native American' hating NAZI/hate groups]
...who could, by cross checking with spook freindly data suppliers of Weises condition... very easily seek to create an impression / control / NLP / mindjob - on a vulnerable teenager, capice?
A Mind control mechanism could work on a gradualistic level utilizing all levels -
Language via media [Web chatrooms - TV - Video Game - music etc.]
becomes twisted by emotional stress and the effects of SSRI Pharmaceuticals on the brain.
Family rivalry or deep Politics?
Youth culture is to blame???
'The Darkers'
Weise was first described as a loner after the shooting. But kids who knew the two now say that he and Jourdain were charismatic members of a clique of about five students known as "The Darkers."
Dressed in black clothes and chains, with hair dyed or spiked, the Darkers loved heavy-metal music and ridiculed others who were into rap or country music.
While on the cusp of being Goths, a movement in which kids dress in black and wear white makeup and dark lipstick, the Darkers stopped short of embracing the Goth movement entirely.
Devin Roy, 18, is a friend of Chase Lussier, one of the shooting victims. Roy attended Red Lake High School last year, and recalled seeing Weise and Louis Jourdain hanging out together, often in the library before school or during lunch.
"They were always together," Roy said. "They'd always walk around with their backpacks in the school."
Both came to school with unusual hairstyles. Weise sometimes formed his hair into devil's horns, and Jourdain liked to spike his hair and dye it unusual colors, Barrett said.
Sources with knowledge of the investigation into the killings have said that authorities are interviewing teenagers who may have knowledge of what happened.
A girl who was identified by many of the teenagers as a friend of Weise's, Lori Sayers, said she had been interviewed by authorities but declined to comment to a reporter about Weise or Louis Jourdain.
Among the Darkers, Weise was probably the most outspoken about his love of heavy-metal music and his beliefs about the world, said kids who knew both. Barrett, for example, said that Weise wanted to fight him last year because Barrett is into rap music. - star tribune
As many as 20 teens knew plot of Red Lake shooting
Capt. Dewayne Dow of the tribal police told a group of parents, teachers and staff at a three-hour school board meeting that authorities believe as many as 20 students were involved.
One law enforcement official said the FBI believes that as many as four students — including gunman Jeff Weise and Louis Jourdain, a classmate arrested Sunday — were directly involved in planning an attack on Red Lake High School, while well over a dozen others may have heard about the plot.
"There may have been as many as four of these kids who were active participants in the plot," said the official, who declined to be identified discussing an ongoing investigation. "The question is, how many other kids had some knowledge of this or had heard about it somehow? We think there were quite a few."
FBI agents seized 30 to 40 computers from the high school computer laboratory today in order to perform forensic analysis on the machines, FBI and school officials said. Investigators hope to learn more from the school computers, since much of the alleged discussion and planning among Weise and his friends occurred through e-mails and instant messages, the law enforcement official said. seattletimes
Louis Jourdain complicit? - or is it a set up?
FBI - "just believe EVERYTHING you see on the screen, please..."
Computer trail led to tribal chief's son
30th March, 2005 (UPI) - Investigators followed a computer message trail to the son of the Red Lake Chippewa tribal chairman in the last week's Minnesota school shootings, reports said.
Sources close to the investigation of Jeff Weise's March 21 shooting spree on the Red Lake Indian Reservation told the Minneapolis Star Tribune Weise planned the rampage with Louis Jourdain more than a year ago.
Jourdain, 16, was arrested Sunday, six days after Weise killed nine people before taking his own life. He was held in Duluth on charges of conspiracy to commit murder.
An alleged plot to get weapons and kill people at the senior high school was found in e-mail and instant messages, a source said.
Another source said Jourdain indicated he would be angry if Weise began an assault without him. At least three other reservation teens who exchanged messages with Weise have been questioned and the possibility of a conspiracy numbed the reservation.
Tribal Chairman Floyd Jourdain Jr. said his son was incapable of such a violent act. - Big News Network.com
hmmm...So...Floyd Jourdain Jr. says HIS SON was not capable -
But that Father who died in a police shoot out, and that mother who died in the car accident induced coma- yeah remember that? Yeah... their son IS capable...
Why would Daddy Jourdain think his son NOT capable - Was he NOT ON SSRI's????
Jeez...all those soldiers in Iraq must have been dosed up, proper!
Opops! MY BAD: THEY WERE!!!
Malaria pills - Mefloquine - causes paranioa and hallucinations
Pills made him snap, says soldier
The drug's manufacturer warned of rare but severe side effects including paranoia and hallucinations. It became his defense: The pills made him snap. The Army dropped all charges, a spokesman later saying that [the soldier] Pogany "may have a medical problem that requires care and treatment."
Pogany is among the current or former troops sent to Iraq who claim that Lariam, the commercial name for the anti-malarial drug mefloquine, provoked disturbing and dangerous behavior. The families of some troops blame the drug for the suicides of their loved ones. Though the evidence is largely anecdotal, their stories have raised alarm in Congress, and the Pentagon has stopped giving out a pill it probably never needed to give to tens of thousands of troops in Iraq in the first place.
"What are we doing giving drugs that cause hallucinations, confusion, psychotic behavior to people that carry weapons and hold secret clearances?" asked Pogany, 33, who is now seeking a medical discharge. "It doesn't pass the common-sense test." - msnbc
[FUNNY HOW WE KEEP COMING BACK TO THE PENTAGON, ISN'T IT?]
* Jeff Weise's father killed himself in 1997 after a daylong standoff with tribal police.
What caused the Police stand-off with his father? Did Darryl Lussier Kill Weises father?
Did he attribute this to the death of his mother? Notice how quickly these details came out in the press, while they were being stopped from going into the community by BIA police because the families wanted privacy.
Flashback: March 22nd - "Relatives told the newspaper his father committed suicide four years ago, and that his mother was living in a Minneapolis nursing home because she suffered brain injuries in a car accident. " - Int. Herald Tribune
Commited suicide? or shot in a stand-off?
Weise was also a capable writer and animator - Here is an excerpt from Jeff Weise writings, retrieved via Google on March 24, 2005.
The transport truck quickly backed out of the morgue parking lot and sped off towards the western exit followed by it's escort. Unbeknownst to the townsfolk "Operation Paperclip" had just begun...
bearing in mind that Weise had apparently previously posted on 'AboveTopSecret.com' it would be OK to assume that he had read of 'conspiracy/ secret government' material such as 'operation paperclip'...It becomes obvious reading his articulte writing, that he has interests in 'gothic', horror, zombie, slasher themes [similar to the Columbine boys]
Weise was a talented kid, who became confused with his racial identity and obsessed on Nazi ideology as an outlet for his inner turmoil.
Where did Weises Nazi obsession stem from?
Weise wrote in a posting:
"The Natives you've known to be sympathetic to the cause are probably one's who've experienced first hand what kind of problems cultural and race mixing can cause. As a result of cultural dominance and interracial mixing there is barely any full blooded Natives left. Where I live less than 1% of all the people on the Reservation can speak their own language, and among the youth wanting to be black has run ramped. We have kids my age killing each other over things as simple as a fight, and it's because of the rap influence. Wannabe-gangsters everywhere, I can't go 5 feet without hearing someone blasting some rap song over their speakers," Weise posted on the site. "Under a National Socialist government, things for us would improve vastly... That is, if we haven't already become too soft from the way this materialistic life-style has made us, and that is why I am pro-Nazi. It's hard though, being a Native American National Socialist, people are so misinformed, ignorant, and close minded it makes your life a living hell, but I know if we achieve what we set out to, it will be worth it all." cryptome
Weises posted the above on the Libertarian National Socialist Green Party forum
Why would Weise consider - heavy metal/goth/matrix-esque cyberpunk - more akin to Native American culture than the Rap/homeboy/gang culture he saw as taking over his community?
They use green issuses mixed with an ideology of ethnoculture:

The crux of this issue is the difference between "racism" and the belief that a population only exists if coherent in both culture and ethnicity; anthropologists and sociologists refer to this latter belief as "ethnoculturalism." An ethnoculture exists only when it has unbroken, unmixed lineage and upholds its culture in values, philosophies, art and traditions including the seemingly mundane but strikingly diverse ways one raises children, prepares food, establishes house and courtship rituals. "Racism," by contrast, is the preference of one race over all, and in our modern time conveys the stigma of bigotry as well, which is the belief that some races are inferior and others superior. Libertarian National Socialist Green Party [caution advised]
Was Weise being steered to hate Rap music by the NAZIS?
Origins of Native American Reservations
In the 19th century, the Westward expansion of the United States incrementally expelled large numbers of Native Americans from vast areas of their territory, either by forcing them into marginal lands farther and farther west, or by outright massacres. Under President Andrew Jackson, Congress passed the Indian Removal Act of 1830, which forced the Five Civilized Tribes from the east onto western reservations, primarily to take their land for settlement. The forced migration was marked by great hardship and many deaths. Its route is known as the Trail of Tears.
Conflicts generally known at the time as "Indian Wars" broke out between U.S. forces and many different tribes. Authorities entered numerous treaties during this period, but later abrogated many for various reasons. Well-known military engagements include the atypical Native American victory at the Battle of Little Bighorn in 1876, and the massacre of Native Americans at Wounded Knee in 1890. On January 31, 1876 the United States government ordered all remaining Native Americans to move into reservations or reserves. This set about the downturn of Prairie Culture that had developed around the use of the horse for hunting, travel and trading.
American policy toward Native Americans has been an evolving process. In the late nineteenth century reformers in efforts to civilize Indians adapted the practice of educating native children in Indian Boarding Schools. These schools, which were primarily run by Christians, proved traumatic to Indian children, who were forbidden to speak their native languages, taught Christianity instead of their native religions and in numerous other ways forced to abandon their Indian identity and adopt European-American culture, despite many of the practices being in violation of clauses of the U.S. Constitution separating church and state. There are also many documented cases of sexual, physical and mental abuses occurring at these schools.
Many other attempts were made to deprive the American Indians of their culture, language, and religious beliefs, some of which are reported to continue into current times. - wikipedia
The Bureau of Indian Affairs (BIA) is the principle bureau within the Federal government responsible for the administration of programs for Federally recognized Indian tribes and for promoting Indian self-determination. In addition, the Bureau has a trust responsibility emanating from treaties and other agreements with Indian groups.

The BIA [Bureau of Indian Affairs] supply reservations with police
BIA = FBI????
Compare: Klu Klux Klan met with the Nation of Islam to discuss terms of separate Nations
NOI's extremism of views has led to a series of bizarre allegiances with other far right contemporise that included the Klu Klux Klan and neo-Nazi type organisations.
In early 1961 NOI and the KKK had a meeting in Atlanta, Georgia in the US. Both Elijah Muhammad and Malcolm X a NOI leader met KKK dignitaries. The two groups came to the joint opinion that parts of South Carolina and Georgia in the United States should become a black homeland with KKK holding state power. (Searchlight December 1997).
Louis Farrakhan has shared a platform at an NOI meeting with members of the American Nazi Party in full dress regalia seated as honoured guests. The NOI publicly accepted donations from a former KKK leader who went on to lead the White Aryan Resistance.
The NOI also holds affiliation with the far-right National Front in Britain. In 1988 the NOI used the Front to import and distribute NOI's "The Final Call" in Britain. - source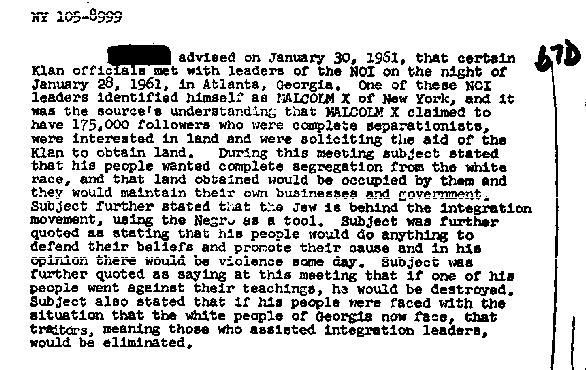 source PDF
Farrakhan however takes his messianic beliefs to new levels of absurdity. Farrakhan has said that the white 'race' was created by an evil wizard, called Dr Yacub, as an experiment on a remote island, 6,000 years ago. He has said that he met his former leader, Elijah Muhammed, on board a flying saucer orbiting the Earth and that his body will be conveyed to heaven on a UFO.
Farrakhan - An Anti-Semite, a Misogynist, an Icon for Fools but above all else An Enemy of the Black Working Class
sounds familiar to the rapture, doesn't it?
FBI COINTELLPRO OPERATION
Throughout its history, the Klan has had a contradictory relationship with the national government: as a defender of white privilege and the patriarchal status quo, and as an implicit threat, however provisional, to federal power. Depending on political conditions in society as a whole, vigilante terror can be supplemental to official violence, or kept on the proverbial shortleash. As a surrogate army in the field of terror against official enemies, the Klan enjoys wide latitude. But when it moves into an oppositional mode and attacks key institutions of national power, Klan paramilitarism - but not its overt white supremacist ideology - is treated as an imminent threat to the social order, suppressed, but never destroyed, unlike other COINTELPRO target groups.
These roles are not mutually exclusive. As anti-racist researcher Michael Novick warns: "The KKK and its successor and fraternal organizations are deeply rooted in the actual white supremacist power relations of US society. They exist as a supplement to the armed power of the state, available to be used when the rulers and the state find it necessary."
The Klan's "supplemental" role, particularly as a private armed force sporadically deployed to arrest the development of movements for Black freedom, is best considered by comparison to other Bureau operations. Unlike other COINTELPROs, the "Klan - White Hate Groups" program was of a different order entirely. Senior FBI management and a majority of agents in the field endorsed the Klan's values, if not the vigilante character of their tactics; from militaristic anti-communism to extreme racial hatred; from ultra-nationalism to misogynist puritanism. - COINTELPRO: The Untold American Story
Question: Are some of the Police at Red Lake involved with an FBI Co-intelpro operation?
Is the kind of self-determination [IE: one of moral anti capitalism] that the Elders wish to see for their children not the kind the Authorites want to see indoctrinated
IE: corporate-state slavery.
THE TEN INDIAN COMMANDMENTS
Treat the Earth and all that dwell thereon with respect
Remain close to the Great Spirit
Show great respect for your fellow beings
Work together for the benefit of all mankind
Give assistance and kindness wherever needed
Do what you know to be right
Look after the well-being of mind and body
Dedicate a share of your efforts to the greater good
Be truthful and honest at all times
Take full responsiblity for your actions.....
Was Jeff Weise really just another isolated incident - A kid who got 'medicated', who got 'the treatment'- who got programmed...
maybe he feared he was turning into one of the mind controlled zombies in his stories...
Are the Libertarian National Socialist Green Party an FBI Co-intelpro operation?

one whose purpose is to steer and discredit [NAZIFY] anyone seeking to form meaningful social autonomy within Native American reservations
FBI - The good 'ole boys
In July 1995, national attention focused suddenly on an annual private gathering in southeastern Tennessee known as the "Good O' Boy Roundup" (Roundup). News stories reported that the Roundup was a "whites-only" gathering of Bureau of Alcohol, Tobacco and Firearms (ATF) and other federal law enforcement officers that resembled a "Klan rally" and at which these agents discriminated against blacks by posting racist signs, wearing racist T-shirts, performing racist skits, and playing racist music. A widely-publicized excerpt from a home video allegedly filmed at a Roundup showed a sign that read, "Nigger check point." In addition, allegations of criminal conduct, including narcotics distribution and rape, were raised at a Senate Judiciary Committee hearing held within ten days of the original news stories.
The initial allegations of racist conduct were made in an article in the Washington Times on July 11. The two primary accusers were Jeffrey Randall and a person identified only as a "former Alabama police official," whom we later determined to be Richard Hayward. Although not identified as such, Randall and Hayward proved to be members of a militia group based in Alabama that sought to discredit the ATF. In media interviews, Randall and Hayward stated that they went to the site of the 1995 Roundup with the intention of finding racist conduct to report. Hayward had previously attended several Roundups as a registered attendee, until he was banned for his own racially offensive conduct.
Once Hayward and Randall's allegations were made public, one former and several current black ATF agents made allegations that the Roundup was a "whites-only" event and that no black agents had ever been invited to attend. In addition, two local women provided affidavits to the Senate Judiciary Committee alleging, among other things, that a woman had been gang-raped at a Roundup, a "drug enforcement officer" had offered one of them drugs during a Roundup, and a goat had been purchased for bestiality purposes. - usdoj.gov
School gunman was shot twice
WASHINGTON - The 16-year-old gunman in the Red Lake High School killing rampage was shot twice by police moments before the teenager killed himself, according to a sheriff's deputy who saw the bloody crime scene.
"As he rounded a corner, he was met with gunfire from a tribal officer," according to a written account by the deputy, James Goss of the Polk County sheriff's department in Minnesota. "They exchanged gunfire until the shooter was hit in the hip and leg by the officer."
A government official who has knowledge of the investigation confirmed that the gunman, Jeff Weise, had at least two apparent gunshot wounds that did not appear to be self-inflicted.
Goss's account is the most detailed thus far of what happened in the second-worst school-shooting incident in U.S. history. It also offers a glimpse of the horror inside the school during the incident. Weise, a loner who reportedly admired Hitler and had a penchant for violent artwork, killed nine people at the Red Lake reservation on March 21.
Weise at one point "started shooting through doors of ... rooms. He shot out the glass of one room, then placed arm through the glass and shot blindly into the room," Goss wrote.
The graphic memo, which the deputy initially sent to a family member after a brief security assignment Saturday on the Red Lake reservation, was obtained by USA TODAY. In an interview, Goss acknowledged writing the memo and said that it accurately reflected the account provided to him by the FBI.
"The entire school was covered with blood," Goss wrote. "There were bullet holes everywhere."
Weise went to the school in the tribal police patrol vehicle belonging to his grandfather, who was killed in the rampage. When he arrived at the school, Weise jumped out of the moving vehicle, causing it to ram into the double doors outside the entrance, the e-mail said.
Also Tuesday, a 16-year-old boy arrested as an alleged conspirator in the attack was identified as the son of the Red Lake tribal chairman. The chairman, Floyd "Buck" Jourdain Jr., said he believes his son Louis is innocent and had nothing to do with planning the school assault. - By Kevin Johnson, USA TODAY
NOTE: It is very strange that the news stories parrot on about 'Teenagers' and 'depression' and 'influences' such as 'politics' or 'music'. 'Goth' alt-culture, Marylin Manson, shoot'em up video games were frequently paraded as reasons The Columbine shootings occured. Yet the media still ignores the CAUSE of teenage depression - one of which might well be the prospect of being tested for signs of mental illness...
An extract from chapter 4 of the mental health screening act:
"The Commission also concluded that the roles played by states must be central to the transformation process, but states must rely heavily upon the involvement of consumers in research, planning, and evaluation activities. At the same time, the coordinated efforts of more than 25 Federal agencies must undergird and reinforce the states' processes. Every adult with a serious mental illness or child with a serious emotional disturbance must have an individualized plan of care coordinating services among programs and across agencies. Every state must have a comprehensive mental health plan, the ownership of which is shared by all state agencies impacting the care of persons with serious mental illnesses."
So, according to this plan, EVERY man, woman and child in the United States is to be screened, analyzed and monitored by the US government and legal enforceable personalized "care" regimes WILL BE applied to those exhibiting signs of "mental illness."
Here are a few more things that might just make a kid a tad depressed:
INCREASINGLY AUTHORITARIAN PSEUDO-RELIGIOUS CORPORATE CONTROL OVER THEIR LIVES
DEHUMANIZATION = NO HOPE: POOR PROSPECTS : LOW WAGES
INNER TURMOIL - ISOLATION FROM BULLYING - COGNITIVE DISSONANCE FROM CORPORATE MUSIC / LIFESTYLE / SLAVERY MECHANISM
THEIR SURROUNDINGS: MISERY - POVERTY - WAR - RELIGIOUS DOGMA
VIA A UBER-HETRO NORMALITY CULTURE WHICH IS SOCIALLY ENGINEERED TO BECOME INCREASINGLY UNWILLING TO ACCEPT DIFFERENCE IN EVERYDAY SITUATIONS
A mind numbingly robotic corporate state run for the benefit of the few, not the communities that slave their lives away in service to it.

mmmm!!! doesn't this some it all up?
from a chatmag statement:
"One of the contributing factors is Reservation life. With high unemployment, rampant alcoholism, and domestic abuse, what chance does a teenager have to grow into responsible adulthood?
How is it that in recent weeks, one of the major fast food chains announced that they are outsourcing their drive-in window ordering to a firm in India?
Our message to McDonalds, and to those other businesses taking their call centers and help desks overseas; you're outsourcing to the wrong Indians. There is a whole Internet savvy generation ready and able to work right here on our Reservations."
Say What??? Working in Mcd's is gonna save your life??? how??? isn't it more like the opposite??? Don't shitty underpaid corporate whores feel just a little dehumanized?
Or is it the will of corporations to make you feel like a valuable member of the burger supply chain that is now called society! It the will of corporations to make you feel like a valuable member of the burger supply chain!!! one which fills our kids with junk food - processed gloop filled with additives and preservatives such as aspartame, Tartrazine, Sunset Yellow, Amaranth, Brilliant Black, Cochineal Red, monosodium glutamate which are a main cause of symptoms leading to a diagnosis of 'brain disorders' such as ADHD / ODD and depression which then lead to the prescribing of SSRI's:
Foods greatly influence the brain's behavior. A poor diet, especially one with a lot of junk foods (high in simple sugars and fats), is a common cause of depression. The levels of brain chemicals called neurotransmitters, which are closely linked to our mood and regulate our behavior, are controlled to some extent by what we eat. The neurotransmitters most commonly associated with mood are dopamine and norepinephrine (improves alertness and thinking, and serotonin (eases tension, regulates sleep and appetite). The amino acid L-triptophan is a building block for serotonin and is present in complex carbohydrates (not simple sugars). High-protein foods, on the other hand, promote the production of dopamine and norepinephrine.
Some of the nutrients that have been found to be deficient in patients with depression include: calcium, vitamins B6, B12, magnesium, amino acids-L-Tyrosine, L-Tryptophan (5 HTP), GABA, inositol, fatty acids, zinc and copper, vitamin C, and iron, omega-3 fatty acids
Treating Depression With Traditional Chinese Medicine and Nutrition
The original Co-intelpro operations were set up to steer Nazi groups to destroy revolutionary political groups such as the BlackPanthers, AIM [American Indian Movement], Socialist Workers party, Communist party. Indeed any group with the aim of securing human rights and autonomy in how they lived their lives and taught their future generations.
These illegal operations were justified under the threat of 'communism' - This was and still is, a tactic in underground warfare, infiltration, control and murder
It seems that now - as the corporate state rises globally, anyone who wishes to question this 'authority' is a threat and is once again a target of black-ops
This global corporate war is not only focused on redifining ['democratizing'] geo-politically useful ares such as Afghanistan, Iraq, and the Caspian. It is also focused on Militancy, seeking to convert, enslave, nullify, or destroy, anyone who disagrees with it's uber-corporate policies.
Just as Iraq is an Occupation
our minds, our behavior, our very identity is a target for occupation.
PSYOPS - INFOWARS - Psychological profiling, be aware
This should also serve as a warning to anyone posting on chatrooms-forums
NEVER GIVE ANY PERSONAL DETAILS THAT COULD GIVE OTHERS AN ADVANTAGE OVER YOU...
be aware that someone skilled can psychoanalyse your creative output - your drawings, writings, music...and use it against you. SERIOUS Satanists and NAZIS are NOT NICE PEOPLE, THEY ENJOY SUFFERING AND DEATH and wish to control you for their own ends.
Think about it: Try to become aware of your obsessions...re-define yourself.
Your identity is EVER-CHANGING and that it is not a market to be sold products to.
Likewise: if a family member or close friend starts trying to get you into stuff: be aware that they might be not what they seem: try to question what people say, in a constructive & non-confrontational manner
there is a fine line between personality, opinion, cult, totalism, propaganda, behavior management and mind control.
mechanism of control via conversion:
The Empire of Normality
debilitation and dehumanization [victim as passive slave]
Cosmetic Free Market economy - covert mind control mechanism

converted
into

rehumanized as re-educated, re-alligned, born again convert...

active slave for the cause - the moral majority which seeks to convert those affected by dehumanization
where do you place yourself?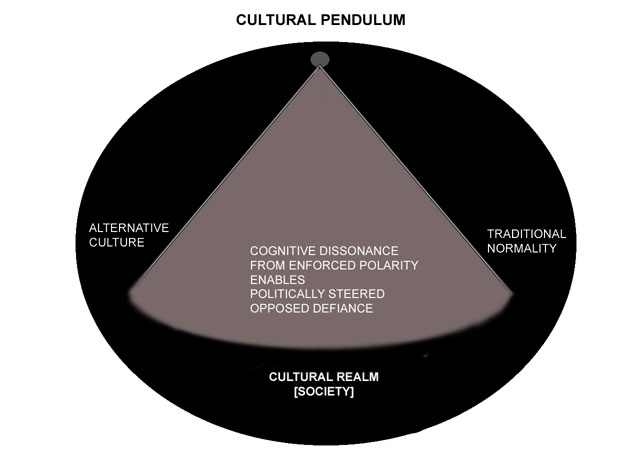 You are the pendulum
keep yourself occupied
Look busy!
DIY
this story below highlights the power of cults &
their use of brainwashing in technology....[in this case 'text' messaging
'God's text messages told me to kill'
Trial of nanny who says her pastor lover told her to murder his wife plays out like a soapie in Sweden
Sunday Times/July 4, 2004 - Bizarre revelations of cellphone messages from God and steamy cult sex have emerged in a murder trial gripping Sweden.
At the trial, 27-year-old nanny Sara Svensson has admitted shooting dead her employer's wife as she slept and attempting to kill a neighbour. But she claims she was coerced into the crimes by the dead woman's husband, the Rev Helge Wassmo, 32, head of an obscure Pentecostal sect in the secluded village of Knutby, north of Stockholm. The court has heard that the minister had been having simultaneous affairs with Svensson and his neighbour's wife, Anette Linde, 26. Wassmo has denied any wrongdoing. If convicted of murder, he could be sent to prison for between 10 years and life.
The sensational case has dominated headlines in the liberal Scandinavian country. Sweden's biggest tabloid, Aftenbladet, has been devoting as many as a dozen pages a day to the trial, with headlines such as "Each Sexual Intercourse was a Tribute to God" and "The House of Death".
"The story has all the classic elements of a drama: murder, sex, religion, infidelity and jealousy. Normally, this would only happen in the movies, but here it has taken place in a small rural community," Niklas Silow, the paper's news editor, told Reuters.
The Aftenbladet website has been broadcasting radio reports from the trial, which began at the end of May. Svensson has told the court that Wassmo told her that killing his wife and neighbour was the only way she could please God. Prosecutors believe the pastor wanted to get rid of his wife to start a new life with Anette Linde. He is now also suspected of killing his first wife, Helene. When she "fell over in the bath" in 1999, striking her head on a tap, her death was treated as an accident, but now the case has been reopened and her corpse exhumed. Knutby, a 13th-century village with just 600 inhabitants, is situated in bucolic farmland. However, those who have left the sect to which Wassmo belongs say life in the congregation was far from idyllic.
Led by a woman known as "Christ's Bride", the pastors in the sect reportedly had a say in nearly every aspect of members' lives, including whom they could marry. The movement is an off-shoot of the Church of Sweden, a Lutheran church to which seven million of Sweden's nine million citizens belong, but rarely attend its services.
The sect apparently puts great emphasis on prophecies and witnesses in court have told how Wassmo talked of having dreams in which he had been instructed that his wives would be "called home to God".
Svensson has testified that she received a number of anonymous SMS messages - which she believed were from God - urging her to commit murder. A technology company has traced erased messages on her phone to Wassmo, who admitted sending them but said they were intended only to guide her in her faith.
Svensson, it has emerged, moved into the Wassmo home last year to look after the couple's three children. Soon afterwards, when his wife began to suffer from depression, Wassmo sought "solace" with the nanny, visiting her at night in her room to "help him through a religious crisis". His wife - who slept above Svensson's room - apparently never questioned this arrangement.
Members of the sect adhere to an intepretation of the Bible that calls for the complete subjugation of women, corporal punishment of children and unquestioning obedience to spiritual leaders.
Every night, according to statements made to the court, Wassmo and Svensson had sex as "an act of obedience to God" and as proof of their "pure brotherly love". "Every sex act was a victory for God," Svensson testified.
But, at about the same time, Wassmo began an intense affair with neighbour Linde, and the couple, who met almost every day, allegedly began making plans to get rid of their respective spouses.
Divorce was discussed. Then they toyed with the idea of killing the two in a car crash.
Finally, Svensson appeared to provide a solution to their problems.
Wassmo's tone toward the nanny changed. He would tell her she was "a reprobate minion of the Devil" and a "vile, dirty, hopeless creature", the court heard. He allegedly claimed to see divine apparitions bearing the message that his wife must die and Svensson must be the one to kill her. In November, while Wassmo was away on business, Svensson sneaked into his wife's bedroom and smashed her head with a hammer. But the woman remained conscious, yelling: "What the hell are you doing? Leave my house immediately."
Svensson fled the village.
The court heard that, upon his return, Wassmo was distressed to find his wife still alive. He then allegedly sent Svensson between 1 200 and 2 200 cellphone text messages urging her to finish the job.
In January, Svensson returned, armed with a pistol, and killed Wassmo's wife. Then she went next door and shot Daniel Linde in the head and chest, leaving him for dead. But he survived the attack. The trial is expected to conclude later this month. In the meantime, every day's testimony brings new twists.
One of the most eagerly awaited witnesses was Asa Waldau, elder sister of the murdered woman. One of the founders of the sect, she is "the bride of Christ", having "married" Jesus in a ceremony in 1999.
Speaking of her brother-in-law, she told the court: "Since he couldn't break me into submission, he made me a leader and put me on a pedestal. I loved him once as a brother, but I have never been in love with him." - Rickross.com