UC Regents lose control of nuclear weapons program
Five admirals, Carlyle Group and Rand take over
Part 4
by Leuren Moret
A controlled society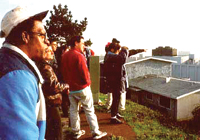 Hunters Point environmental justice activist Lynne Brown (left) leads a toxic tour to the Hunters Point Shipyard, still heavily contaminated with radioactive pollution, a probable contributing cause of Bay View Hunters Point's astounding infant death rate – a rate over twice as high as San Francisco's citywide rate. That's the topic of "Too young to die," the story that dominates the front page of Sunday's Chronicle.
Photo: Communities for a Better Environment, www.cbecal.org
SAIC (Science Applications International Corp.), a Pentagon-connected company involved in voting machines (Sequoia, Diebold etc.), controlling the internet (Network Solutions) and training foreign militaries, also had contracts to develop information systems for the Pentagon, FBI and IRS.
Police can now legally stop a person on the street, ask their name, type it into a palm pilot and come up with detailed personal information in a few seconds. An Associated Press story on Sept. 9, 2004, Conn. City Uses Scanners to Nab Criminals, revealed that police in New Haven, Conn., are now driving around in police cars with infrared scanners, connected to databases, which they are using on license plates to hunt for criminals, tax delinquents and parking ticket violators. Some of the $25,000 scanners were paid for in one month from collected revenues.
A military project of DARPA, the Defense Advanced Research Projects Agency in the Department of Defense, the backbone of the internet was developed at the Livermore Lab, and the real purpose of the internet is now being revealed:
The technotronic era involves the gradual appearance of a more controlled society. Such a society would be dominated by an elite, unrestrained by traditional values, wrote Zbigniew Brzezinski, member of the Council on Foreign Relations, founding member of the Trilateral Commission and National Security Advisor to five presidents, in his 1971 book Between Two Ages. Soon it will be possible to assert almost continuous surveillance over every citizen and maintain up-to-date complete files containing even the most personal information about the citizen. These files will be subject to instantaneous retrieval by the authorities.
The association of Admiral Inman, the Bush crime syndicate, Texas oil companies and the Carlyle Group with the University of Texas (UT) explained why an advanced fourth generation nuclear weapons research program is at UT. And it explained why the University of Texas is so eager to take over the nuclear weapons labs. But this takeover resembles Inmans involvement with a stealth takeover of the Mars program, transferring it from the management and control of the Jet Propulsion Lab to NASA.
The NASA Deep Space Program was started at the Jet Propulsion Lab (JPL) at Cal Tech to do space exploration more efficiently with lower costs. Criticism of NASA/JPL Mars mission failure problems in the Thomas Young Report released on March 28, 2000, revealed that the supposedly public space program had been hijacked into secrecy and that the military was calling the shots.
NASA Administrator Daniel Goldin on March 29, 2000, revealed at JPL the day after release of the report just who was in control and the existence of a JPL Oversight Committee that nobody at JPL knew existed: Id also like to acknowledge Admiral Inman, head of the JPL Oversight Committee at Cal Tech. He couldnt be here today, but I talked to him by phone. His commitment to the team here is also unwavering. And I thank him for that.
Goldin was there to address beleaguered personnel, scientists and engineers of the nations premier center for unmanned planetary exploration, and to somehow advise them of the new political and engineering realities, while simultaneously exhorting them to continue to new heights but now under more stringent NASA management. The real question is what was Admiral Inman doing as chair of a committee in a private university overseeing all civilian unmanned exploration of the planet Mars without the knowledge of anyone at JPL?
In two years, Admiral Bobby Ray Inman took over the space program, and in another year from now he will have succeeded in taking over the nuclear weapons program. When Newsweek called him a superstar in the intelligence community, it was for good reason.
A Naval officer I interviewed later replied when I asked him if he knew Inman, Oh yeah, hes one of the players.
Behind the ostensible government sits enthroned an invisible government owing no allegiance and acknowledging no responsibility to the people, said Theodore Roosevelt on April 19, 1906. To destroy this invisible government, to befoul the unholy alliance between corrupt business and corrupt politics is the first task of the statesmanship of today.
Depopulation: fourth generation nuclear weapons and depleted uranium
The development of fourth generation nuclear weapons is now underway, with the U.S. in first place, Germany and Japan tied for second place, followed by Russia and other nuclear and non-nuclear states. As an expert witness on the environmental and health effects of depleted uranium (DU) weaponry for the International Criminal Tribunal for Afghanistan, held in Japan in 2003, I discovered that there was a connection between the use of depleted uranium by the U.S. since 1991- in the Middle East, Yugoslavia and Central Asia - and fourth generation nuclear weapons.
The iron triangle that ties politics to the military and big corporations exists between the Carlyle Group, President George H.W. Bush (1989-1993), the introduction in 1991 of depleted uranium weaponry, and the program at the University of Texas for development of fourth generation nuclear weapons. Frank Carlucci, former chairman of the Carlyle Group (1989-2003), sat on the board of directors of General Dynamics (1991-97), which is one of the main manufacturers of DU weaponry in the U.S.
International scientists Drs. Andre Gsponer, Jean-Pierre Hurni, and B. Vitali, watch-dogging nuclear weapons developments globally, presented a paper which identified the use of DU weaponry as a way to test the radiobiological effects of the new nuclear weapons now under development: It is shown that the radiological burden due to the battlefield use of circa 400 tons of depleted-uranium munitions in Iraq (and of about 40 tons in Yugoslavia) is comparable to that arising from the hypothetical use of more than 600 kt (respectively 60 kt) of high-explosive equivalent pure-fusion fourth-generation nuclear weapons (Fourth International Conference of the Yugoslav Nuclear Society, Belgrade, Sept. 30-Oct. 4, 2002).
The use of weapons in war are most effective when the weapons do not kill, but create long-term health and environmental consequences in soldiers and the civilian population, such as lingering illnesses which slowly destroy the health of the environment and the people, causing a decline in the productivity of a nation and the economy. The use of Agent Orange in Vietnam is a good example of an environmental disaster with lingering and long-term health effects on a population, as well as causing trans-boundary contamination.
Depleted uranium is a permanent terrain contaminant with a half-life of 4.5 billion years, forms immense volumes of nano-sized particles - smaller than bacteria or viruses - which are lofted permanently as components of atmospheric dust, traveling around the world until they are rained or snowed out of the air. There is no possible protective clothing, air filters that will filter out the tiniest particles or treatment for internal exposure to this form of poison radioactive gas.
DU was proposed as a military poison gas weapon in 1943 under the Manhattan Project. Even worse, uranium targets the DNA, and the Master Code (histone) which controls the expression of the DNA, and slowly destroys the genetic future of exposed populations (see Depleted Uranium: The Trojan Horse of Nuclear War).
In federal law U.S. Code, Title 50, Chapter 40, Sec. 2302 - weapons of mass destruction are defined: The term weapon of mass destruction means any weapon or device that is intended, or has the capability, to cause death or serious bodily injury to a significant number of people through the release, dissemination, or impact of - (A) toxic or poisonous chemicals or their precursors; (B) a disease organism; or (C) radiation or radioactivity
The U.S. has staged four nuclear wars since 1991 (see Washingtons Secret Nuclear War) using illegal DU dirty bombs, dirty missiles and dirty bullets as radiological weapons (see Depleted uranium: Dirty bombs) and released an amount of radiation into the atmosphere which is at least 10 times more radiation than the equivalent of 40,000 Hiroshima bombs, the amount released during atmospheric testing. In June 2003, the World Health Organization predicted in a press release that cancer will increase 50 percent globally by the year 2020, a result which can have only an environmental cause.
Already, medical and scientific journals are reporting mysterious increases in infant mortality in 20 regions of Europe (Lancet, January 2004), the UK (Guardian, August 2004) and the U.S. (New Scientist, February 2004). Infant mortality should be decreasing now, as a trend continuing for more than a century due to improved education and prenatal care. Instead, it is increasing in the U.S. for the first time in 45 years, with no identified cause.
For radiation specialists, infant mortality is the most sensitive indicator of radioactive pollution, a response researchers have identified as a result of exposure to low level radiation from atmospheric testing and nuclear power plant accidents, releases and startups.
The story that dominates the front page of Sundays San Francisco Chronicle, Too young to die, reports that the infant mortality rate in Bay View Hunters Point is more than twice as high as the rate for all of San Francisco. Especially hard hit are the parts of this traditionally Black neighborhood closest to the Hunters Point Shipyard, headquarters of the secret Naval Radiological Defense Laboratory from World War II until 1969. The Shipyard remains heavily contaminated with radioactive pollution.
The global pollution from thousands of tons of DU in nano-size particles, traveling around the earth and being deposited in the global environment, will have a devastating long-term effect. Not only will it cause illnesses and genetic mutations in the future generations of those internally exposed, but it will have a depopulating effect long proposed by the U.S. military.
DU is the perfect weapon, delivering nanoparticles of poison, radiation and particulate pollution - the real killer directly into living cells where they cause the cells to go haywire and dysfunctional. As Marion Fulk, former Manhattan Project scientist and a Livermore Lab retired nuclear physical chemist, puts it, Particulates are screwing up the strings (Master Code) that pull the puppet (the DNA).
If the development and escalation of technological wars between nation-states continues, radiological warfare may be an increasingly used strategy contributing to the extermination of large numbers of people, and an expedient way to empty out troublesome political centers in regions containing desired resources. It may be preferred over various biological alternatives now under intense development by the U.S. government.
References for Part 4
Conn. City Uses Scanners to Nab Criminals by Diane Scarponi, Associated Press, Sept. 9, 2004, http://story.news.yahoo.com/news?tmpl=story&u=/ap/20040909/ap_on_re_us/scanning_for_scofflaws.
Summary of Thomas Young Report released on March 28, 2000, http://mars.jpl.nasa.gov/msp98/news/news71.html.
When the Best Must Do Even Better, remarks by NASA Administrator Dan Goldin at JPL on March 29, 2000, http://www.hq.nasa.gov/office/pao/ftp/Goldin/00text/jpl_remarks.txt.
International Criminal Tribunal for Afghanistan, http://www.mindfully.org/Reform/2004/Afghanistan-Criminal-Tribunal10mar04.htm, http://afghan-tribunal.3005.net/english/.
Fourth Generation Nuclear Weapons: The Physical Principles of Thermonuclear Explosives, Inertial Confinement Fusion, and the Quest for Fourth Generation Nuclear Weapons by Andre Gsponer and J.-P. Hurni, 1999, http://nuclearweaponarchive.org/News/INESAPTR1.html.
A comparison of delayed radiobiological effects of depleted-uranium munitions versus fourth-generation nuclear weapons by A. Gsponer, J.-P. Hurni, and B. Vitale, Fourth International Conference of the Yugoslav Nuclear Society, Belgrade, Sept. 30-Oct. 4, 2002, http://arXiv.org/abs/physics/0210071.
Letter to Congressman McDermott from Leuren Moret Feb. 21, 2003, http://www.mindfully.org/Nucs/2003/Leuren-Moret-Gen-Groves21feb03.htm.
Preferential Staining of Nucleic Acid-Containing Structures For Electron Microscopy by Huxley and Zubay, Journal of Biophysical and Biochemical Cytology (J. Cell Biol.) 11 (2): 273, November 1961, http://www.jcb.org/cgi/reprint/11/2/273.pdf.
Depleted Uranium: The Trojan Horse of Nuclear War by Leuren Moret, World Affairs Journal, August 2004, http://www.mindfully.org/Nucs/2004/DU-Trojan-Horse1jul04.htm.
Washingtons Secret Nuclear War by Shaheen Chughtai, Al-Jazeera, Sept. 14, 2004, http://english.aljazeera.net/NR/exeres/B2E2DF9B-1E0C-43F4-BBF6-074C1367E27C.htm.
Depleted uranium: Dirty bombs, dirty missiles, dirty bullets - A death sentence here and abroad by Leuren Moret, San Francisco Bay View, Aug. 18, 2004, http://www.sfbayview.com/081804/Depleteduranium081804.shtml.
Global cancer rates could increase by 50% to 15 million by 2020, World Health Organization (WHO) press release, April 3, 2003, http://www.who.int/mediacentre/releases/2003/pr27/en/print.html.
Sudden unexplained infant death in 20 regions in Europe: case control study by R.G. Carpenter et al, Lancet, Jan. 17, 2004, Vol. 363, p.185-191.
Rise in stillbirths prompts inquiry by John Carvel, The Guardian, Aug. 20, 2004, http://www.guardian.co.uk/uk_news/story/0,,1287041,00.html.
US infant deaths rise for first time in 45 years by Shaoni Bhattacharya, New Scientist, Feb 12, 2003, http://www.newscientist.com/news/print.jsp?id=ns99994675.
Three Mile Island: Health study meltdown by Joseph Mangano, Bulletin of the Atomic Scientist, September-October 2004, Vol. 60, No. 5, pp. 30-35, http://www.thebulletin.org/issues/2004/so04/so04mangano.html.
Smart dust, roboflies, microbugs: UC is spying on you by Leuren Moret, San Francisco Bay View, Feb. 26, 2003, http://www.mindfully.org/Nucs/2003/Berkeley-Library-Classified22feb03.htm.
Too young to die, Part 1: Lifes toll by Erin McCormick, San Francisco Chronicle, Oct. 3, 2004, p. A1, http://www.sfgate.com/cgi-bin/article.cgi?f=/c/a/2004/10/03/MNINFANTMO.DTL.