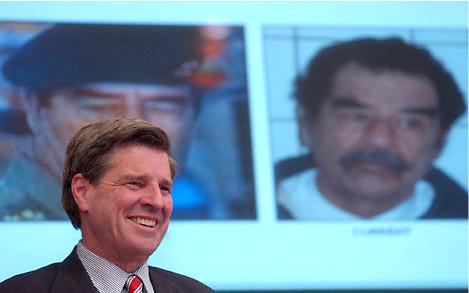 - "we got him..." Bremer said...arrogantly, to whoops of gameshow proportions.

see photo gallery
"On December 15th, the head of the U.S. occupation in Iraq, Paul Bremer, held an early morning press conference. His first words were "Ladies and Gentlemen, we got him." This was how millions of people around the world learned of the capture of former Iraqi leader Saddam Hussein."
"Yvonne Ridley [who] reported in last weekend's Sunday Express that Saddam Hussein was actually captured by Kurdish forces who then drugged him and abandoned him for U.S. troops to find after brokering a deal. In 2001, Ridley was imprisoned for 10 days by the Taliban while on assignment in Afghanistan."
FLASHBACK-IRAQ INVASION ALREADY STARTED! ridley's believe it or not

Strange co-incidence...NOT!!!
"A tribal chief in the northern Iraqi village of Ad-Dawr where Saddam was captured said the former dictator hid in the same farm where he had sought refuge as a young man in 1959 after a botched assassination bid on then president Abdul Karim Qassim."
Iraq's oil pipelines attacked as details surface of Saddam's final refuge
"Saddam was not captured as a result of any American or British intelligence. We knew that someone would eventually take their revenge, it was just a matter of time."
Saddam held by Kurds, drugged and left for US troops: report Hindustan Times
According to Debka.com, there is a possibility that Saddam was held for up to three weeks in al-Dwar by a Kurdish splinter group while they negotiated a handover to the Americans in return for the $25m reward. This, the writers say would explain his dishevelled and disorientated appearance.
But perhaps the mother of all conspiracy theories, is the one about the pictures distributed by the Americans showing the hideout with a palm tree behind the soldier who uncov ered the hole where Saddam was hiding. The palm carried a cluster of pre-ripened yellow dates, which might suggest that Saddam was arrested at least three months earlier, because dates ripen in the summer when they turn into their black or brown colour.
Revealed: who really found Saddam? Sunday Herald

[If you did these pics - thank you]