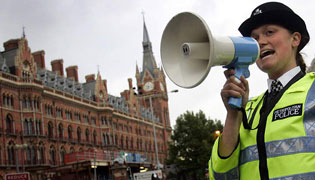 Obey! Obey! Move towards
the next bomb please
Update: BTP Tavistock links
Independant researcher Bridgite Dunne found that the British Transport Police are based in Tavistock Square, close to the Number 30 bus bomb blast.
They had been travelling close behind the bus on that morning:
British Transport Police - 20 July 2005
I wanted to express my appreciation for the outstanding assistance from the doctors and staff at the BMA following the atrocious attack on the bus outside your premises on 7 July.
Three of my officers were travelling behind the bus when the bomb exploded, and were the first officers on the scene. Whilst they began to rescue passengers from the bus, your staff immediately sprang into action assessing and treating the casualties.
Their response was first class and I would be grateful if you could pass on our gratitude to all those concerned.
Ian Johnston, CBE, QPM
Chief Constable,
British Transport Police,
Tavistock Place,
London 'Your thoughts', BMA Web site
high strangeness!!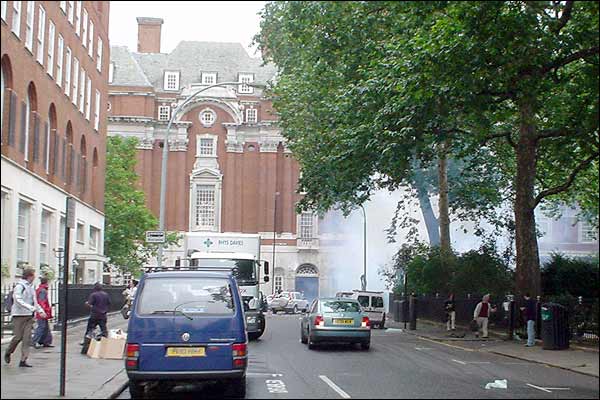 There is smoke...Has the Bomb Just gone off in this Picture?
a 4X4 can be seen in the far distance between the white lorry and the green car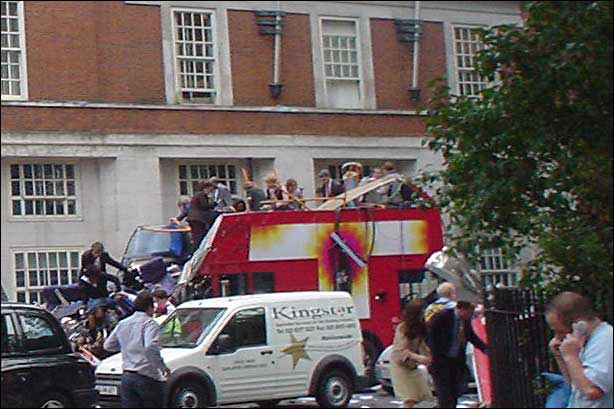 This is very soon after the explosion
people are still on the top deck, a white van is next to the bus...behind the taxi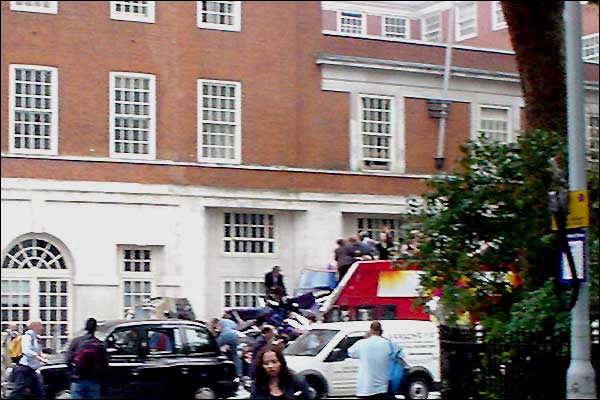 another shot with people still on the top deck...a white van is directly behind a taxi
| | |
| --- | --- |
| The white kingstar van can be seen here | The van can be seen here |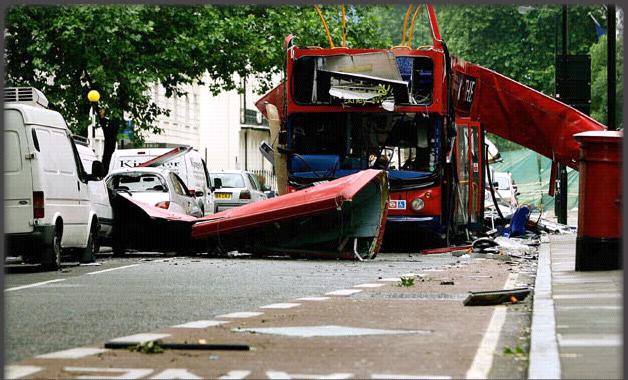 The White Kingstar van is still here in this angle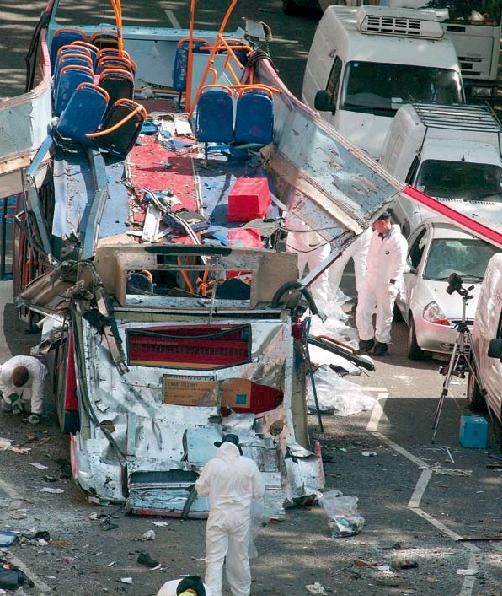 The White Kingstar van is here with equipment close by, while the authorities pick through the area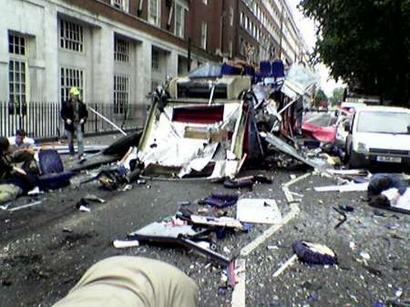 A shot of the carnage - a man in a yellow cap walks by
Is this the same white van, next to the bus?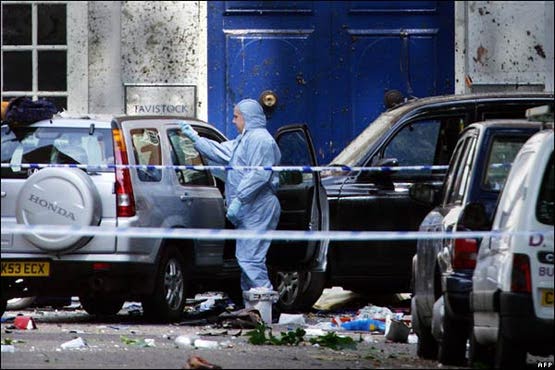 close up of the cordoned area...
There is a 4X4 near the taxi
A view from the side.... No white van visible behind the taxi...Notice the area is cordoned off
There is a 4X4 near the taxi
Notice the Logo on the side of the car?
| | |
| --- | --- |
| a close up of the Van | |
Kingstar offer the UK construction and civil engineering
industry high standards of workmanship and dependability
across a wide range of building service

what do they do?

Controlled Demolition & Robotic Demolition

Just a coincidence: nothing to see here...move along...move along

So...where is the van, now?

The 4X4 is near the taxi...
there is a whiteness visible behind the trees...
is this that van? If it isn't...Where did it go..? .
Kingstar offer the UK construction and civil engineering
industry high standards of workmanship and dependability
across a wide range of building service


Balfour Beatty... eh?
Rail bosses cleared of Hatfield killings

By David Millward, Transport Correspondent (Filed: 15/07/2005)

Five rail executives accused of killing four people in the October 2000 Hatfield rail disaster were cleared of manslaughter at the Old Bailey yesterday.

The charges were dropped - five months into the trial - on the instruction of Mr Justice Mackay, who also instructed the jury to find the contractor Balfour Beatty not guilty of the same offence.
A 'disaster waiting to happen': the 115mph crash was caused by a rail shattering due to metal fatigue But the executives, Balfour Beatty and Network Rail, which assumed the legal responsibilities of Railtrack after it was wound up, still face charges brought under the Health and Safety Act.
The judge, who did not tell the jury reasons for the manslaughter acquittal, said he had reached his decision after considering both the facts and legal argument made by counsel. The case was brought following the crash in Hatfield, Herts, on Oct 17, 2000 in which a train derailed at 115mph after a rail shattered. Another 102 people were injured.
Responsibility for maintenance of the track rested with Balfour Beatty, which, along with two of its executives, Anthony Walker, 46, and Nicholas Jeffries, 53, denies breaches of health and safety legislation. Balfour Beatty was the contractor hired by Railtrack, the privatised infrastructure company, to maintain the stretch of line where the disaster happened. The three Railtrack executives still facing health and safety charges are Alistair Cook, 50, Sean Fugill, 50, and Keith Lea, 53. All have pleaded not guilty.
It was alleged that the five men took "cavalier" risks with passengers' lives as they struggled to cope with a track maintenance crisis. The prosecution said the men, faced with a backlog of more than 200 track defects on a 43-mile stretch of the East Coast main line, agreed to suspend safety procedures.
According to Richard Lissack, QC, prosecuting, the disaster was not an accident but a "disaster waiting to happen" because of the mismanagement of repairs on the southern section of the line between London and Edinburgh.
The derailment was a result of gauge corner cracking - a defect resulting from metal fatigue. The problem had been identified on that section of track in January 1999, nearly 21 months before the derailment. In February 2000, eight months before the crash, the rail was earmarked for urgent replacement and two months later a new piece of track was laying beside the line ready to be fitted. The work was not carried out, nor was a speed restriction imposed until the necessary work was done.
"This simple measure would have avoided the derailment and the deaths," Mr Lissack told the jury when he outlined the case at the start of the trial.
Balfour Beatty's maintenance, he claimed, had been inadequate as it, and Railtrack, knew. Had they followed the rulebook King's Cross would have been shut down. Instead a fresh timetable for repairs was instigated as - until the crash - both companies operated a crisis management system without an adequate assessment of the risks entailed.
The case was adjourned until Monday. - telegraph.co.uk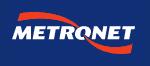 Metronet's shareholders consist of five world-class companies: Atkins, Balfour Beatty, Bombardier, EDF Energy, and RWE Thames Water. Metronet's business has a staff of some 5,000 people.
what do Kingstar do?
Controlled Demolition & Robotic Demolition
although the website of Kingstar does specify that thier demolition methods do not include explosives...but diamond tipped drilling and robotic dismantling, this is a strange co-incidence is it not?

Yet another 'co-incidence' is that Aegis defense - corporate security service, are run by Tim Spicer, who has been involved in spurious activity in Africa, the sponsoring of an aborted coup in the West African nation of Equatorial Guinea, which has the aim of plundering Natural resources such as oil reserves & Gold, diamond mining...
Strangely they also offered intelligence analysis to the Pentagon over the explosives used in the London Bombings
"According to a confidential report produced the day after the bombing by a private London security firm, Aegis Defense Services, Ltd., which was seen and read by Pentagon officials, the team was probably four to six strong . . . The Aegis report says it is possible that the explosives were 'constructed by an experienced bomb maker, possibly coming to the U.K. for that very purpose.'" -Rush Hour By Michael Elliott
would you trust intelligence offered by
corporate stormtroopers hired to protect the Elites 'National interests'
Tim Spicer

Jack Straw

Tim Spicer's record of sanctions-busting and political embarrassment seemed to have been forgotten. He had welcomed television appearances since leaving Sandline. "But only serious comment [shows]," his PR adviser, Pearson said. Spicer appeared again on a BBC current affairs show in February 2002 to discuss the green paper on private soldiers, looking pleased and dubbing himself the "proper end of the spectrum." A week later, speaking on Feb. 19 at the Royal Institute of International Affairs conference at Chatham House, Spicer told the international audience that he welcomed the government's proposal to license private military companies.

Britain's Foreign Secretary Jack Straw, whose immediate predecessor, Robin Cook, had been humiliated by Spicer's conduct, was now toeing the PMC line. Straw announced "states and international organizations are turning to the private sector as a cost effective way of procuring services which would once have been the exclusive preserve of the military."

Straw prophesied that "the demand for private military services is likely to increase. The cost of employing private military companies for certain functions in U.N. operations could be much lower than that of national armed forces." But he added, "clearly there are many pitfalls."

There were pitfalls in such proposals- and the British Foreign Office's green paper had ignored nearly all of them. The conclusions the foreign secretary so readily endorsed drew nothing from British diplomatic expertise or private knowledge of (or involvement with) mercenary companies. Instead, it relied on such unofficial sources as a recently published book, Mercenaries: an African Security Dilemma, edited by Abdel-Fatau Musah and J'Kayode Fayemi. The British government paper also failed to mention that the Foreign Office, itself, had hired bodyguards for more than 20 years from companies that also promoted and provided mercenary activities around the world. Nor did it say that some of these companies had been and were being employed by U.S. and British intelligence agencies for secret operations in Nicaragua, Afghanistan and Kosovo- or that the explicit political purpose of doing so was official deniability. - Duncan Campbell
Straw shows his true colours at the European Parliament in Brussels, Tuesday July 12, days after the london Bombing

"To protect the UK from threats such as terrorism, the proliferation of weapons of mass destruction, and international crime, and to promote our economic interests, we must be active and engaged in the world"

- Jack Straw - February 12, 2004
On 16 June 2005, the United States government ordered the closure of its consulate in Lagos due to terror alarm.
The next day Britain, Germany, Italy and Lebanon followed. Walter Carrington crescent, where the diplomatic missions are located, was swarming with combat-ready mobile policemen, sniffer-dogs and bomb disposal squads.
Of course some of us thought that it was a bit of an exaggeration. Coming soon after a damning intelligence report on Nigeria, people in government thought that it was yet another attempt by America and the West to dent our wonderful international image!
But there was a phrase in the statement issued by the United States that I found very interesting. It said the closure of the embassy was for security reason of 'mutual concern' to both United States and Nigeria. - vanguardngr.com


AMEC... eh?
Bomb Victim Anthony Fatayi-Williams

Anthony, 26, is believed to have taken a bus to work on Thursday after stopping to help Tube passengers caught up in the confusion. His mobile phone records showed that he contacted his employer, oil group AMEC, at 9.41a.m that fateful morning that he might be late in getting to work. There are fears he then joined the No 30 bus, which exploded at 0947. No word has been heard from him since. vanguardngr.com
The 26-year-old British-born oil executive died on the No 30 bus which was ripped apart by a suicide bomber in Tavistock Square on July 7.

Mr Fatayi-Williams lived in Hendon, north-west London, and worked for oil firm Amec in Old Street. He was on his way to work when he was caught in the explosion and had phoned only moments before he died to say he was going to be late. He was last seen by a friend at Camden tube station and had been planning to travel to King's Cross but had been forced to change on to the bus amid the chaos of the explosions. Channel 4
AMEC - oil & gas, engineering & technical services,
and infrastructure projects
AMEC still sees further growth in all 3 divisions in 2005

06.30.2005, 03:37 AM LONDON (AFX) - Project management and services group AMEC PLC said expectations for overall trading in 2005 remain in line with those highlighted in March.

Then, the group said each of its three main business segments -- oil & gas, engineering and technical services, and infrastructure projects -- were expected to deliver further growth in 2005.

AMEC added that the acquisition of the UK nuclear services business NNC Holdings will send its average weekly net debt up to 400 mln stg for the full year, compared to 380 mln in the year to date. - forbes.com

Tube Lines is a joint venture between specialist public services provider Amey and U.S. private industrial firm Bechtel ...
That's Bechtel: Currently Profiting from Destruction in Afghanistan & Iraq...
On March 20 and 21, 2003, two days after the U.S.-led invasion of Iraq, the people of San Francisco organized a massive protest to shutdown the world headquarters of the Bechtel Corporation. Many Americans may be unaware of the connection between the Bechtel Corporation and the U.S.-led war in Iraq. Bechtel employees like George Shultz not only used their political influence to help bring this war about, but key Bechtel board members and employees with advisory positions to the Bush Administration helped ensure that Bechtel would receive one of the most lucrative contracts for rebuilding what they had helped to destroy.
On April 17, Bechtel received one of the first and largest of the rebuilding contracts in Iraq. Worth $680 million over 18 months, the contract includes the rebuilding, repair and/or assessment of virtually every significant element of Iraq's infrastructure, from power generation facilities to electrical grids to the municipal water and sewage systems. The contract was granted in backroom deals without open and transparent bidding processes and the content remains hidden behind a veil of secrecy. The contract has not been publicly disclosed to American taxpayers, who will be paying the majority of the bill. While there is no doubt that Bechtel has experience in these areas, it is an experience from which the people of Iraq should be spared.
War profiteering and political cronyism is just part of this story. - cache of Corpwatch story
Bechtel: Profiting from Destruction - t r u t h o u t | Report
The carve-up of Iraq

The San Francisco-based Bechtel Group, a private corporation which the same family has controlled for four generations, has reportedly completed 19,000 projects in 140 countries: 80,000 kilometres of gas pipeline, 15 telecommunications systems, 350 chemical projects, 200 factories, 2,000 office buildings, 75 airports, 80 ports, 125 kilometres of bridges and tunnels and 27,000 kilometres of highway. 'If only the Pharaohs could have hired the Bechtel Group,' mused one press commentator. Over the years, former Bechtel employees and officers have included a director of the CIA (John McCone) and heavyweight Federal officials like George Shultz and Caspar Weinberger.

Riley Bechtel himself boasts membership of the shadowy Trilateral Commission and now wants to expand his fortune just a little more - on the backs of some of South America's poorest families. - newint.org
Bomb Victim Anthony Fatayi-Williams worked for



AMEC in Iraq

[er...remember them? They are currently helping to carve up the resources in Algeria on Behalf of the FRENCH government]

AMEC is playing an important role in the restoration of Iraq following the award of three major contracts for work worth up to US$1.6 billion, of which AMEC's share will be worth up to US$780 million.

The awards, won in conjunction with Fluor, AMEC's joint venture partner in Iraq, cover the restoration of power generation facilities and water and waste infrastructure across the country. They reflect AMEC's status as one of the world's largest and most experienced project management and engineering services companies.
The power contract for up to US$500 million (AMEC share US$245 million) was awarded on 12 March 2004 to the Fluor AMEC LLC joint venture and covers the provision of engineering services for the restoration, rehabilitation, operation and maintenance of power generation facilities across Iraq.
The two public works and water infrastructure contracts worth up to US$1.1 billion (AMEC share US$540 million) were awarded on 24 March 2004 to the Fluor AMEC LLC joint venture and cover the provision of design and build services for the rehabilitation of existing, and construction of new, potable water distribution and treatment systems, municipal sewer collection and treatment systems and solid waste management systems across Iraq.
In addition, AMEC is supporting Fluor as its prime subcontractor on a further contract worth up to US$154 million, which was awarded to Fluor in 17 February 2004 and which involves the restoration of damaged power generation, transmission and distribution systems in Iraq. Fluor secured this contract with the US Army Corps of Engineers (USACE) and it will potentially involve task orders worth up to US$1.5 billion to Fluor over the next five years, to provide services to the US Central Command area of operations, which includes Iraq. Fluor and AMEC started work in February on this power contract.
All contracts have been awarded on a cost-reimbursable basis.
In February 2004 AMEC appointed Christopher Wilkinson as Managing Director to lead the Company's operations in Iraq. Christopher joined AMEC from Intergen, an independent power developer, where he was Vice President and Country Manager for Turkey and the surrounding regions and was responsible for the development, financing and construction of 3800 MW of new gas fired power generation.
Safety will be of paramount importance and Fluor AMEC LLC will be retaining its own security services in addition to the security teams provided by the coalition forces. - amec.com
suprise suprise
Amec and Balfour Beatty team up for Olympic gold
Tracey Boles - February 19, 2006
AMEC has teamed up with Balfour Beatty to form an all-British consortium to bid for the prestigious project manager role for the 2012 London Olympics. The role is to oversee the design, construction and maintenance of the multi-billion-pound Olympic village and venues.
The two British infrastructure firms, which previously worked together on London Underground's Jubilee line, agreed to join forces last week as the Olympic Delivery Authority (ODA) issued a new tender for the role of "delivery partner" on the Olympics.
Ian Thomas, Amec business-development director, said: "Amec and Balfour Beatty are joining up to develop a strong British consortium with access to resources and delivery facilities from across the whole of the UK." The ODA is the government body charged with building the key venues, facilities and infrastructure for the 2012 Games. As well as the Olympic village, there are plans for the main stadium, swimming pools, a hockey pitch, gym and velodrome, all at Stratford in east London. The resulting Olympic Park will be seven minutes by train from central London.
The project-manager role has been greatly expanded from providing the infrastructure, as was originally envisaged. It will now cover many more stages in the life of the Olympic sites, from early planning to their transformation after the Games have finished.
ODA chairman Jack Lemley, appointed last November, scrapped the original short list already drawn up for the job, which included Amec, KBR, Mace, Lend Lease, Arup and Parsons Brinckerhoff.
The ODA said: "The complexity of the task has been redefined. It is no reflection on the original applicants."
While the bulk of the work will be at Stratford, other sites will also come under the auspices of the project manager. They include a shooting range in Surrey, a yachting facility, and several training camps dotted around the country.
The tender stipulates that only firms with an annual turnover of £100m or more may apply. The ODA wants its project manager to have sufficient resources to pitch in should any of the projects run into difficulty. Expressions of interest for the new role, which can come from consortiums or single companies, must be in by March 28, followed by bids on April 25. The contract begins this July.
Amec said it would bring its programme-management expertise to the new consortium with Balfour, which will be run as a special-purpose vehicle. Amec is project manager on the final fit-out of Heathrow's Terminal Five.
Balfour Beatty's Tim Sharp said: "We have comprehensive infrastructure capabilities. We and Amec are sensible partners to look at this important challenge. Our experience dovetails with Amec's."
The firms are already paired on the Private Finance Initiative (PFI) to rebuild University College Hospital. - timesonline.co.uk
suprise suprise
IRAQ: British Companies Making a Fortune out of Iraq Conflict
A total of 61 British companies are identified as benefiting from at least £1.1bn of contracts and investment in the new Iraq. But that figure is just the tip of the iceberg.
by Robert Verkaik , The Independent March 13th, 2006
British businesses have profited by at least £1.1bn since coalition forces toppled Saddam Hussein three years ago, the first comprehensive investigation into UK corporate investment in Iraq has found.
The company roll-call of post-war profiteers includes some of the best known names in Britain's boardrooms as well many who would prefer to remain anonymous. They come from private security services, banks, PR consultancies, urban planning consortiums, oil companies, architects offices and energy advisory bodies.
Among the top earners is the construction firm Amec, which has made an estimated £500m from a series of contracts restoring electrical systems and maintaining power generation facilities during the past two years. Aegis, which provides private security has earned more than £246m from a three-year contract with the Pentagon to co-ordinate military and security companies in Iraq. Erinys, which specialises in the same area, has made more than £86m, a substantial portion from the protection of oilfields.
The evidence of massive investments and the promise of more multimillion-pound profits to come was discovered in a joint investigation by Corporate Watch, an independent watchdog, and The Independent.
The findings show how much is stake if Britain were to withdraw military protection from Iraq. British company involvement at the top of Iraq's new political and economic structures means Iraq will be forced to rely on British business for many years to come.
A total of 61 British companies are identified as benefiting from at least £1.1bn of contracts and investment in the new Iraq. But that figure is just the tip of the iceberg; Corporate Watch believes it could be as much as five times higher, because many companies prefer to keep their relationship secret.
The waters are further muddied by the Government's refusal to release the names of companies it has helped to win contracts in Iraq.
Many of the companies enjoy long-standing relationships with Labour and now have a financial stake in the reconstruction of Iraq in Britain's image. Of the total profits published in the report, the British taxpayer has had to meet a bill for £78m while the US taxpayer's contribution to UK corporate earnings in Iraq is nearly nine times that. Iraqis themselves have paid British company directors £150m.
The report acknowledges that British business still lags behind the huge profits paid to American companies. But, in two fields, Britain is playing a critical and leading role.
The threat from the Iraqi insurgency means British private security companies are in great demand. Corporate Watch estimates there are between 20,000 and 30,000 security personnel working in Iraq, half of whom are employed by companies run by retired senior British officers and at least two former defence ministers.
The biggest British player, Aegis - run by Tim Spicer, the former British army lieutenant colonel who founded the security company Sandline - has a workforce the size of a military division and may rank as the largest corporate military group ever assembled, according to the report. Other private security companies have sprung up overnight to protect British and American civilians.
Britain is also playing a leading role in advising on the creation of state institutions and the business of government. PA Consulting, which has also received a contract for advising on the Government's ID cards scheme, worth around £19m, is now a key adviser in Iraq.
Adam Smith International, a body closely linked to the right-wing think-tank used by Margaret Thatcher, has been heavily involved in the foundation of the Iraqi government and continues to influence its newly formed ministries. According to the Tory MP Quentin Davies, who visited Iraq, the advisers are "reordering Iraqi government operations at the most basic level, to help restructure some of the Iraqi ministries, in fact physically restructure them, even suggesting how the minister's office should be laid out".
Another favourite of the Thatcher governments, now involved in Iraq, is Tim Bell, who ran the Tories' election campaigns in 1979, 1983 and 1987. His PR firm Bell-Pottinger has been involved in advising on the 2004 elections and a strategic campaign to promote bigger concepts such as the return of sovereignty, reconstruction, support for the army and police, minority rights and public probity.
Loukas Christodoulou, of Corporate Watch, has been monitoring British business relations with Iraq since the invasion. He says in his conclusion to our joint report: "The presence of these consultants in Iraq is arguably a part of the UK government's policy to push British firms as lead providers of privatisation support. The Department for International Development has positioned itself as a champion of privatisation in developing countries. The central part UK firms are playing in reshaping Iraq's economy and society lays the ground for a shift towards a corporate-dominated economy. This will have repercussions lasting decades."
In five years, the £1.1bn of contracts identified in the report will be dwarfed by what Britain and the US hope to reap from investments. Highly lucrative oil contracts have yet to be handed out. - UK independent via corpwatch.org/