Bush / Heinz / Kerry
meet Henry John Heinz III

the only child of philanthropist and industrialist H.J. Heinz II and Joan Diehl (Heinz) McCauley, was born on October 23, 1938 in Pittsburgh, Pennsylvania. After his parents divorced in 1942, Heinz lived with his mother and stepfather, U.S. Naval Aviator Captain C.C. "Monty" McCauley. Heinz grew up in San Francisco, but spent many summers in Pittsburgh with his father who was chairman of the H.J. Heinz Company, the food processing corporation founded by the senator's great-grandfather in 1869.

After his graduation in 1956 from Phillips Exeter Academy in New Hampshire, Heinz enrolled at Yale University He completed his bachelor's degree in 1960 in "History, the Arts and Letters," a special honors major. Following graduation (and accompanied at times by an Australian friend) he piloted a single engine plane on a trip through Africa and the Middle East, carrying only road maps, a seven-crystal radio and a compass. Heinz spent the latter half of 1960 as a floor salesman for International Harvester trucks in Sydney, Australia. He entered Harvard Business School in 1961, and the following year worked for the summer with the Union Bank of Switzerland in Geneva. He received his Master's degree in Business Administration from Harvard in 1963. There he met his future wife, Teresa Simoes Ferreira, who was in Geneva attending graduate school "

Biography Carnegie Mellon university
Meet John Kerry

John Kerry was born on December 11, 1943 at Fitzsimons Military Hospital in Denver, Colorado, where his father, Richard, who had volunteered to fly DC-3's in the Army Air Corps in World War II, was recovering from a bout with tuberculosis. Not long after Sen. Kerry's birth, his family returned home to Massachusetts. John Kerry was raised in the Catholic faith and continues to be an active member of the Catholic church.

A graduate of Yale University, John Kerry entered the Navy after graduation, becoming a Swift Boat officer, serving on a gunboat in the Mekong Delta in Vietnam. He received a Silver Star, Bronze Star with Combat V, and three awards of the Purple Heart for his service in combat.
Kerry's conundrum
Pro-gay in just about every other way, Democratic presidential hopeful John Kerry says he just won't support same-sex marriage

"Kerry is far from a flower child. Dressed in an elegant tailored suit and displaying a formal, almost aloof, bearing, he seems far removed from the days of free love and gay liberation. Kerry is a liberal on most issueshe opposes "don't ask, don't tell," is a proponent of workplace protections for gay people, and thinks George W. Bush's AIDS prevention policy is a jokebut his conservative appearance is right in line with his opposition to gay marriage. In an exclusive interview with The Advocate, Kerry repeatedly defended his stanceeven as his own state's highest court stands on the verge of legalizing it."

"President Bush's AIDS policy has been criticized for a reliance on abstinence-only prevention at the expense of condom distribution and more comprehensive education:

The president's HIV/AIDS policy is a cave-in to the right wing. It defies common sense and reason. It's a completely craven posture about how the world works and how life works.
Abstinence is a fine goal,
and we should all urge people to abstain in the appropriate circumstances. It is one tool in a toolbox. But anybody has to understand, for all of human life people have not abstained and won't. If you know people are going to have sex, you have to promote safe sex and make sure the word condom is not a source of embarrassment. That's critical here and in Africa, where the epidemic is taking off. "
advocate.com

Kerry on AIDS:

"Kerry authored much of the Global AIDS and Tuberculosis Relief Act of 2000, and has authored the U.S. Leadership Against HIV/AIDS, Tuberculosis, and Malaria Act of 2002 to create a five-year plan in combating AIDS. Kerry's agenda to fight AIDS involves shoring up research funding at the NHI and CDC, and has promoted incentives for developing AIDS vaccines and microbicides. He will eliminate the Global Gag Rule, and use both abstinence and contraception programs as part of a global strategy. Kerry advocates debt cancellation for nations bearing the worst of the AIDS epidemic, along with nutrition, medical, and legal services for children orphaned due to AIDS."

global strategy?

Kerry on the war on terror

"Fri Feb. 27 LOS ANGELES, -- John Kerry looked past the eventual day of reckoning for Osama bin Laden and pledged Friday to return diplomacy to U.S. foreign policy so that future terrorists will never have the chance to build up the type of global organization bin Laden was able to create. Kerry said in a foreign-policy speech at UCLA that while bin Laden's days were numbered, the war on terrorism would not end with his capture or death, and the cooperation of foreign governments would be vital in ferreting out other violent anti-American extremists and their networks of financial supporters.
(UPI)

an eternal war...?

nice to know the alternative to Bush is a war mongerer too isn't it?
[he also supports the death penalty for 'terrorists']
Meet Teresa Heinz Kerry

..After studying in South Africa and Switzerland, she moved to the United States to work for the United Nations.
...Turning down offers to run for her husband's Senate seat, she became chair of The Howard Heinz Endowment and the Heinz Family Philanthropies. Under her leadership, the Heinz foundations are widely known for developing innovative strategies to protect the environment, improve education and the lives of young children, broaden economic opportunity, and promote the arts.
She was first introduced to John Kerry by Senator Heinz at an Earth Day rally in 1990. In 1992, she ran into Kerry at the Earth Summit in Rio de Janeiro, where she was representing U.S. non-governmental organizations.
johnkerry.com
award
Kerry's wife, Teresa Heinz, is a prestigious visionary who chairs several philanthropic organizations
vote with a vengeance

Teresa Simoes-Ferreira was born and raised in Mozambique in East Africa. She received a Bachelor of Arts degree in romance languages and literature (French, Italian, and Portuguese) from the University of the Witwatersrand in Johannesburg, South Africa. She speaks five languages. After graduating from the Interpreters School of the University of Geneva, she worked for the United Nations in New York.
johnkerry.com

"As the widow of Pennsylvania senator and ketchup heir John Heinz, who died in 1991 when his plane collided with a helicopter, she inherited around $500 million and responsibility for the billion-dollar Heinz family endowment. "

"(Born in Mozambique to a prosperous Portuguese family, Heinz speaks five languages and has worked as a translator for the United Nations.)" She focused on the environment, and in 1993, one of the Heinz endowments put up $20 million to found the H. John Heinz III Center for Science, Economics, and the Environment, which brought together businessmen, academics, and environmental advocates and sought to find nonpartisan solutions to ecological problems. She subscribed to the pragmatic and controversial belief that environmental solutions were useless unless they might one day be adopted by industry. It was not what many environmentalists wanted, but Heinz did it anyway.
msn.com

"John Kerrys wife, Teresa Heinz, who runs the $1-billion Heinz Endowments, named after her deceased husband, Republican Senator John Heinz."

"...former CNN correspondent Chris Black was hired to serve as a Heinz spokesperson, or "handler," before the presidential campaign. Over the course of his political career, according to the Center for Public Integrity, Kerry has received $140,710 in political contributions from CNN parent company Time Warner."

aim.org


Teresa Heinz Kerry is a trustee of the Brookings Institution. She also sits on the Visiting Committee for the Kennedy School and the school-wide environmental committee for Harvard University, serves on the board of the American Institute for Public Service (which confers the Jefferson Awards), and is an emerita trustee of Carnegie Mellon University. In addition, she was recently elected a fellow of the American Academy of Arts and Sciences.

"After the second world war, Brookings supported the Marshall Plan and an active U.S. presence in the world, and by the 1960s had a reputation as a liberal think tank, but Brookings income flowed from Rockefeller and Ford Foundation grants and corporate contributions. By the mid-1980s, in keeping with the Democratic Party and other "liberal" institutions, Brookings positioned itself back in the "center" of the political spectrum again. In the 1980s Brookings studies called for government budget cutbacks, corporate competitiveness, and national security. In the 1990s Brookings studies promoted market-based incentives to replace regulation, increases in military spending, and "free" trade. In 1995, Michael Armacost, a U.S. State Department official under Reagan, became the president of Brookings."
Profiles in Corporate Power

Other groups supported by Heinz largesse include Environmental Defense, which, according to the Capital Research Center, received nearly $1.5 million from various Heinz foundations between 1995 and 2000. CRC cites Ted Turner's Tides Foundation a clearinghouse for foundations to funnel money to radical groups with a degree of separation as receiving well over $2 million from Heinz foundations over the same period. Other repeat beneficiaries include the Brookings Institution and the Earth Island Institute.

Like Pew, Rockefeller, Ford, and others, the family of Heinz foundations and advocacy groups are merely more in a sadly growing list of endowments dedicated to financing agendas that, if they'd held sway at an earlier date, would have precluded amassing the original fortunes. Whatever the motivation of Teresa Kerry, the League of Conservation Voters, and other left-leaning pressure groups, voters and the FEC would be wise to recall at all times the Heinz connection when these "independent" voices make their political desires known
national review

Reporting for Tech Central Station, James Glassman revealed Wednesday, "The Kerry family business, H.J. Heinz Co. of Pittsburgh, operates 22 factories in the United States and 57 in foreign countries."

A quick check of the Heinz corporate Web site seems to confirm the fact that the Democratic presidential front-runner's family fortune derives from one of America's worst corporate traitors, at least according to the way Kerry defines the term. Under World Locations, the Heinz Corp. Web site lists plants throughout the Third World, including the Middle East, Africa, Southern Africa, the Pacific Rim and Asia.

The company once owned by Mrs. Heinz Kerry's late husband seems to particularly favor the employee pool in Asia, where workers come dirt cheap and slave labor is not unknown.

Here are just a few of the locations where the corporate bucaneers who keep the prospective first couple living in such high style have their Third World workers toiling overtime:
Kerry's Wife a 'Benedict Arnold CEO'?

The Carnegie Mellon Heinz school
HEINZ SINGAPORE PTE. LTD.

Established 2001 Republic of Singapore Factory: Singapore Major Product Lines: chili sauces/ketchup/preserved beans/soy sauces. Brand Names and Trademarks: SinSin.

HEINZ-UFE LTD.

Established 1984 Guangzhou, People's Republic of China Factory: Guangzhou Major Product Lines: cereals for infants. Brand Name and Trademark: Heinz.

HEINZ COSCO

Established 1999 Qingdao, People's Republic of China Factory: Qingdao Major Product Lines: infant foods/ketchup/mayonnaise/puree. Brand Name and Trademark: Heinz.

HEINZ WIN CHANCE LTD.

Established 1987 Bangkok, Thailand Factory: Bangplee Major Product Lines: chili sauce/ketchup/oyster sauce. Brand Name and Trademark: Heinz.
HEINZ HONG KONG LIMITED

Established 2000 Wanchai, Hong Kong

HEINZ INDIA PRIVATE LIMITED

Acquired 1994 Mumbai, India Factory: Aligarh/Bangalore Major Product Lines: glucose powders/infant feeding products/ketchup/medicated powders/milk-based beverages. Brand Names and Trademarks: Complan/Farex/Glucon-D/ Heinz/Nycil/Sampriti.

PT HEINZ ABC INDONESIA

Established 1999 Jakarta, Indonesia Factories: Daan Mogot, Jakarta; Karawang Timur; Pasuruan Major Product Lines: chili sauce/fruit drink concentrates/ ketchup/soy sauces. Brand Name and Trademark: ABC.

PT HEINZ SUPRAMA

Acquired 1997 Surabaya, Indonesia Factory: Sidoarjo Major Product Lines: noodles/noodle snacks. Brand Names and Trademarks: Burung Dara/Heinz.

HEINZ UFC PHILIPPINES

Established 2000 Manila, the Philippines Factories: Cabuyao Laguna; Davao City Major Product Lines: banana ketchup/hot sauce/sweet chili sauce/tomato ketchup. Brand Names and Trademarks: Jufran/Mafran/Papa/UFC.
Meet George W Bush

President Bush was born on July 6, 1946, in New Haven, Connecticut, and he grew up in Midland and Houston, Texas. He received a bachelor's degree from Yale University in 1968, then served as an F-102 fighter pilot in the Texas Air National Guard. President Bush received a Master of Business Administration from Harvard Business School in 1975. After graduating, he moved back to Midland and began a career in the energy business. After working on his father's successful 1988 presidential campaign, he assembled the group of partners that purchased the Texas Rangers baseball franchise in 1989. official biography
In his State of the Union speech last week, the president laid out his basic, tripartite strategy: meet concerns about health care and education with specific, market-oriented proposals; feed the Red State cultural base with a stirring defense of marriage, sexual abstinence and "faith based" welfare programs; dare the Democrats to engage him on what polls show is his strength, the war on terror. "It is not enough to serve our enemies with legal papers," he said. "The terrorists and their supporters declared war on the United States, and war is what they got." America, he added, "will never seek a permission slip to defend the security of our people."
nine msn.com

Mr Bush also appealed to his conservative support base by urging sexual abstinence as a way of cutting sexually transmitted diseases among young people.
He signalled his support for a constitutional amendment outlawing gay marriage, vowing to "defend the sanctity of marriage".
source
aim for success.org

Left & Right Christian fundamentalists?

"It was Democratic President Bill Clinton who signed the act which paved the way for the expansion of abstinence-only programmes into law, but it has been under President Bush, a fervent Christian, that they have grown so rapidly. Under the terms of the multi-million-dollar fund which have been made available under President Bush for abstinence education, schools and groups can only claim federal money for sex education programmes if the classes have as their "exclusive purpose" the promotion of abstinence. "
bbc.co.uk


Bush has given his approval to groups such as:
| | |
| --- | --- |
| "Silver Ring Thing (SRT) sexual abstinence program was created by Denny Pattyn and the Youth FORUM Southwest leadership team in 1995. The program was designed to attract the attention of the typical 21st century teenager and offer them protection from the destructive effects of America's sex obsessed culture. " | |
and 'lifeway'

check out the corporate headquaters!!!

HOW MEEK...How understated...just look at those core christian values...
"As God works through us...

We will help people

and churches know Jesus Christ and seek His Kingdom by providing biblical solutions that spiritually transform individuals and cultures."

LifeWay Core Value 1: The Bible

We believe the Bible is the eternal, infallible, inerrant Word of God and is the plumb line for everything we say and do.

Multichannel Opportunities

LifeWay offers you more promotional avenues than just Web sites and e-newsletters. For example, marketing coordination could take the form of event marketing or in the 11 million retail catalogs distributed annually. Other promotional opportunities are also possible.
overview



more on lifeway

who, curiously, have a namesake [links???] in the form of another food producer...

lifeway



When we consider Boykins speaking and recruitment tour along with the fact he was addressing Baptists and Pentecostals who are the backbone of the religious right dominionist movement, alarm bells should go off. It may be that the Armys Inspector Generals office is simply ignorant of the goals of the religious right, but there is far more evidence that link the hard right religious world with the U.S. Military.

Boykin not only went on a speaking tour to recruit warriors, but prior to the tour, hed invited a select group of Southern Baptist pastors to meet him at the John F. Kennedy Special Warfare Center and School at Fort Bragg, NC on April 22-23 of 2003. According to the promotional materials sent out to the group of Southern Baptist pastors, they would be given unprecedented access to the military base while being recruited for the denominations Super FAITH Force Multiplier program. Boykins invitation was extended in a letter authored by the Rev. Bobby H. Welch, pastor of the First Baptist Church in Daytona Beach, Fla -

Must Read: Infiltrating the U.S. Military
Gen. Boykins Kingdom Warriors
On the Road to Abu Ghraib and Beyond
by Katherine Yurica

Neo Christian Dominionist Warriors for a New American theocracy:

Lt. Gen. William G. Jerry Boykin,
But WAIT!!!!

dry up those tears that have been shared over how philathropic and
thoroughly decent these people are...

Enough of the neo-puritanical christian far-right, already!!!!

Because:

This is where Bush & Kerry really come from.

"...if John Kerry gets the Democratic nomination and runs against George Bush, both candidates will already be bought, sold, and controlled. It wont matter to the ruling elite who ultimately wins because both of these men have already surrendered their souls to the evil cabal years ago.

What makes me arrive at this conclusion? Well, for starters, George Bush and John Kerry are both graduates of Yale University that long-heralded bastion of the Eastern establishment. In addition, each of these men were members of Skull & Bones, the most exclusive secret society/fraternity in America, and prime breeding ground for the CIA and Council on Foreign Relations (CFR).

But wait; theres more. John Kerrys wife, Teresa, was formerly married to Pennsylvania Senator John Heinz. Guess what college he attended. Answer: Yale. And guess what notorious fraternity he pledged to. Skull & Bones! Now ask yourself: what are the odds that both presidential candidates went to the same school, belonged to the same secret society, and that one of their wives was married to TWO different Skull & Bonesmen? Its infinitesimal off the charts.

To make matters even stranger, Teresa Kerrys widowed husband also had direct ties to the Bush family. According to researcher Rodney Stich in Defrauding America, when George Bush Sr. and CIA Director William Casey engineered the October Surprise to bribe Iranian officials into retaining U.S. hostages until after the 1980 elections, two of the passengers on Bushs BAC 111 flight to Paris were Senator John Heinz, along with Senator John Tower from Texas.

Even more intriguing is the fact that John Heinz chaired a three-man presidential review board that probed the Iran-Contra affair and had in his possession all the damning documents from that sordid affair, while John Tower led the infamous Tower Commission that investigated a variety of different CIA criminal activities and dirty dealings. Coincidentally, both John Heinz and John Tower died in plane wrecks on successive days in 1991 Tower in Georgia, and Heinz in Montgomery County, Pa. Once again I must ask: what are the odds of such an occurrence, especially when both men had close ties to George Bush Sr., who was a former CIA director in the mid-1970s? Did both of these men uncover information that they refused to keep silent about any longer?"
George Bush & John Kerry: Blood Brothers

Heinz Family Foundation? more shit dished...
gnp
newsmax


what is left wing, again?...remind me
what is right wing?... again, remind me...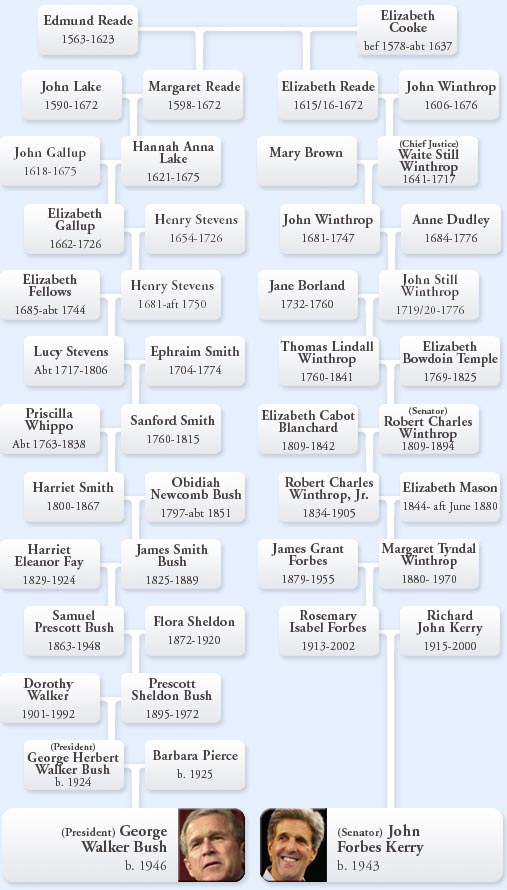 "...there is a fact about Kerry's past that brings him closer to Bush than any of the other candidates. Both Bush and Kerry are members of a secretive society dating back to their respective days at Yale University - Skull and Bones. This fact has not been widely reported but when Kerry's campaign spokesperson was asked about it, she said, "John Kerry has absolutely nothing to say on that subject. Sorry."

Democracy Now! Skull & Bones: The Secret Society That Unites John Kerry and President Bush

John Kerry
Yet another Doctrine of global domination:
"I will modernize our military to match its new missions, Kerry said. We must get the most out of new technologies. We must reform training and update the way we structure our armed forces -- for example, with special forces designed to strike terrorists in their sanctuaries, and with national guard and reserve units retooled to meet the requirements of homeland defense. - John Kerry [democrat????]
Kerry Pledges to Keep Commitment to Those Who Serve

"I will destroy the terrorists, but I am going to build a bridge to every last country we can so war is the last resort."
Kerry promises to 'destroy the terrorists,' pressed on U.S. troops in Iraq
Wes Clarke

"Since the 1999 bombing of Yugoslavia, General Wesley Clark has not answered any in-depth questions about his targeting of civilian infrastructure in Yugoslavia, his bombing of Radio Television Serbia, the use of cluster bombs and depleted uranium, the speeding-up of the cockpit video of a bombing of a passenger train to make it appear as though it was an accident and other decisions he made and orders he gave as NATO's Supreme Allied Commander."

Democracy Now! Exclusive: Wesley Clark Admits Targeting Civilians In Yugoslavia

Clarke ist Now Kaput!!! along with his crazy dreams - whatever nightmares they were...!
John Edwards - is this Damien [as in : the omen] or what?

President Bush has repeatedly asserted that Congress had access to the same intelligence information he did. As far as I know, neither Kerry nor Edwards have denied that. So, perhaps they should tell us why on earth they and other Democrats voted for that dastardly resolution authorizing war against Iraq.
David Limbaugh

more BULLSHIT - Kerry, Edwards Selling Populism on Campaign Trail

Edwards lined up by the Bilderbergers

Several people pointed to the secretive and exclusive Bilderberg conference of some 120 people that this year drew the likes of Henry A. Kissinger, Melinda Gates and Richard A. Perle to Stresa, Italy, in early June, as helping win Mr. Kerry's heart.

Mr. Edwards spoke so well in a debate on American politics with the Republican Ralph Reed that participants broke Bilderberg rules to clap before the end of the session. Beforehand, Mr. Edwards traveled to Brussels to meet with NATO officials, brandishing his foreign-policy credentials.

"His performance at Bilderberg was important," said a friend of Mr. Kerry who was there. "He reported back directly to Kerry. There were other reports on his performance. Whether they reported directly or indirectly, I have no doubt the word got back to Mr. Kerry about how well he did." NY Times
"I will be voting to give the President of the United States [Bush] the authority to use force - if necessary - to disarm Saddam Hussein because I believe that a deadly arsenal of weapons of mass destruction in his hands is a real and grave threat to our security."
- John F. Kerry.

"The President laid out a strong, comprehensive, and compelling argument why Iraq's weapons of mass destruction programs are a threat to the United States and the international community."
- John F. Kerry

A grinning idiot
and Hermann Munster...what an alternative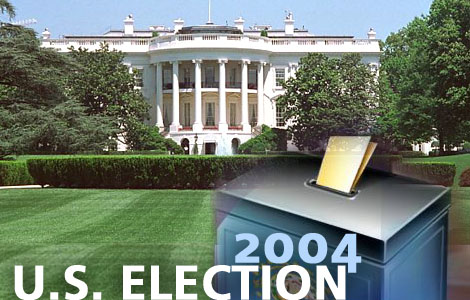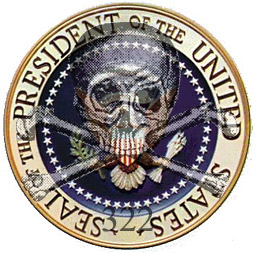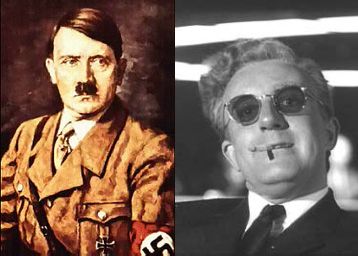 BUSH & CHENEY

Vs.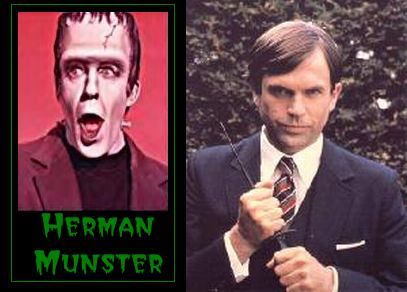 KERRY & EDWARDS