Do terrorists look a certain way??

On the Fox News Channel, Neil Livingstone, described as a "terrorism analyst" (the 9/11 attacks did for experts in security what the O.J. trial did for lawyers), warns that US officials may consider limiting what commuters can carry aboard mass-transit vehicles. CNN airs a particularly unnerving report that a police officer boarded a bus in Manhattan and talked to passengers about what a suicide bomber might look like

. - bostonphoenix
early BBC report - Two people died in the bus blast
There were also 700 people injured, Mr Paddick said. London Ambulance Service said it had treated 45 patients with serious or critical injuries including burns, amputations, chest and blast injuries and fractured limbs.
Mr Paddick confirmed police were looking into whether the bus blast was the work of a suicide bomber.
But, he added: "It could as easily be an explosive device left on the bus as the work of a suicide bomber. We are not able to determine which it was yet."
BBC security correspondent Frank Gardner said he had been told by Whitehall sources that a "massive intelligence effort" was under way to find the perpetrators of the bombings. He also said a previously unknown group calling itself the Secret Organisation Group of al-Qaeda of Jihad Organisation in Europe had claimed to be behind the attacks in a statement posted on an Islamist website.
The group's statement said the attacks were revenge for the "massacres" Britain was committing in Iraq and Afghanistan and that the country was now "burning with fear and panic", he added. Early reports had suggested a power surge could be to blame for explosions on the Underground but this was later discounted.

Transport for London
Update: 14:25 - 7 July2005
Latest information confirms that there were four incidents on London's transport network this morning, three on London Underground and one on London Buses.
At 09:46 the London Underground was suspended and all stations commenced evacuation following incidents at:
* Aldgate station heading towards Liverpool Street station on the Hammersmith & City line;
* Russell Square station heading towards Kings Cross station on the Piccadilly line;
* Edgware Road station heading towards Paddington station on the Hammersmith & City line
9.46am when the London Underground was suspended!
That's four minutes short of an hour after the 'official' 8.50am simultaneous explosions on the Underground and at almost PRECISELY the same time as this Number 30 bus rolled into and exploded in Tavistock square leave a number of unanswered questions - antagonise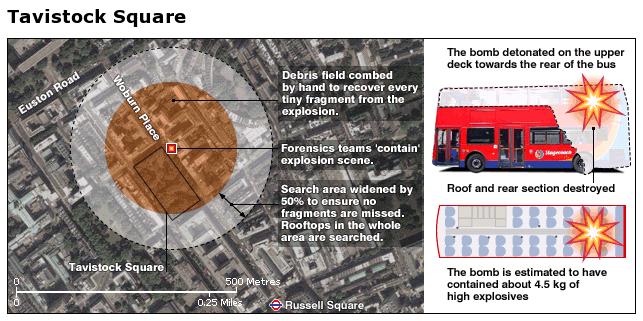 How many People are standing on the top deck???

observe the Blacked-out woman in the foreground
This photograph has been manipulated

How much of the 'suicide bomber was left to identify?
why would someone do this? the bombing was strong enough to decapitate someone, but left the suicide bombers clothes on?...and his driving licence?

Jul 13 2005 - "News reports say a key break in the case came when an anguished mother searching for her teenage son called police. Her description of the son's clothes matched those on a body on the bus whose injuries suggested he could have been the suicide bomber." - NYPOST

The woman's description of her missing son's clothes matched those on a body whose horrific injuries - including decapitation - suggested he could have been the suicide bomber who blew up a red double-decker bus, killing 13 people, The Times newspaper reported Wednesday. - cbc.ca

a picture of the aftermath of a suicide bomber in Isreal
- Not a Pretty sight at all...
"an anguished mother searching for her teenage son..."

What if the Authorities identified the bodies and then picked the 'Asian' victims out as 'terrorists'... because they need the politically useful... 'suicide bombers' FEAR.

if that's true, then the families of these kids are marked for life and cannot greive in peace.

"Her description of the son's clothes matched those on a body on the bus
whose injuries suggested he could have been the suicide bomber."

were the bodies even placed on the bus? We only have this corroboration from the Mother of Hasib Hussian, because the authorities have told her they found a mans body parts and clothing which match her sons...
"Sarge! I've found something...It's a wallet...er...belonging to ...the BOMBER!!!"

A police officer searches the grounds around St Pancras Parish Church for evidence after Thursday's bomb attacks in Tavistock Square, London, Sunday, July 10, 2005. Police began the recovery operations shortly after midday Sunday removing surrounding cars and debris from the square. (AP Photo/Sergio Dionisio )

"Sarge! I've found something TOO..."

A police officer stands on what remains of the top deck of the number 30 bus in Tavistock Square London Saturday July 9, 2005, which was blown up by a bomb in the series of terrorist attacks in central London last Thursday morning. Police revised the timing of the deadly blasts that tore through the London Underground, saying Saturday the explosions were detonated just seconds apart. (AP Photo/ Matthew Fearn, PA
they've changed the story so many times...

Documents found on/near suspects

is that before or after they swabbed for DNA of the victims?

Authorities initially thought Hussain might have been a victim of the attacks and sent family liaison officers to meet his parents, who had believed he was planning a day in London with his friends. Police likely obtained photos and other identifying details to help track the teen, pictures that later matched the closed-circuit TV images.

Police reportedly found Hussain's driver's licence and bank card in the wreckage of the No. 30 bus that blew up at 9:47 a.m. in Tavistock Square, almost two kilometres from King's Cross.

Some believe he may have intended to set off his bomb on the Northern Line, which also passes through the station, but hit a bus instead because a technical problem had disrupted trains on the line earlier that morning.

Documents belonging to two of the other suspects were found at two of the subway scenes, police said. Those suspects were identified in the media as Shahzad Tanweer, 22, described as a cricket fan; and Mohammed Sidique Khan, 30, a new father.

The third subway bombing site, a Piccadilly Line train deep beneath London's streets, is more severely damaged and harder to reach, and searchers have not yet linked anything found there to the fourth bomber. Britain's Press Association news agency, citing police sources, said police have identified the fourth suspect but did not report a name.

Prime Minister Tony Blair congratulated police and intelligence teams Wednesday for work he called "magnificent." - same CBC story
Cartoon from an
Australian newspaper
Thanks to John Via David icke

"Some of his property was found on the No. 30 bus," - Peter Clarke, head of the Metropolitan Police's anti-terrorist unit

"Property in the name of a second was found at the scene of the Aldgate bomb and, in relation to a third man, property was found at the Aldgate and Edgware Road bombs. Finding their property suggests they were caught up in the blasts, officials said.
Was there really a bomber on the bus?
NO STANDING ON THE TOP DECK PLEASE!
check this witness statement,
Mr Jones said he saw a man in an agitated state on the bus

Passenger believes he saw bomber

A bus passenger says he may have seen one of those responsible for the bomb attacks in London.

Richard Jones, from Binfield, near Bracknell, Berks, had got off a bus just before it was blown up in Tavistock Square on Thursday.

Mr Jones, 61, an IT consultant, has told BBC News he saw a man acting suspiciously on the bus.
He said the man was fiddling with something in his bag and seemed in an agitated state.
Everybody is standing face-to-face and this guy kept dipping into this bag
Mr Jones, who was forced to take the bus from Euston after Tube services were suspended, said: "He was standing next to me with a bag at his feet and he kept dipping into this bag and fiddling about with something.
"I was getting quite annoyed with this because it was a crowded bus.
"Everybody is standing face-to-face and this guy kept dipping into this bag."
Mr Jones, who said he got off the bus because it was in heavy traffic, has given a statement to police.
Police have yet been unable to establish whether a suicide bomber was responsible for the attack on the bus.
Police have said thirteen people were killed on the bus. - news.bbc.co.uk
he states that the passengers were standing face to face....
the so called bomber was fiddling with his bag......
he doesnt say if they were upstairs or downstairs......
on the top deck of buses passengers are not allowed to stand, only downstairs is that allowed. If the driver sees people upstairs standing in his periscope he will stop the bus and order them off....
if this happened downstairs they were away from the source of the blast !
[thanx to yooknowhoo for pointing this out to me xx]
does this description fit?

in another account to the press Richard jones is quoted:

He said the bomber was around 6ft tall, in his mid-twenties, clean-shaven and smartly dressed. He kept reaching into the bag at his feet, thrusting his backside towards Richard's face every time.

Richard said: 'I thought he was maybe playing with an iPod. But every time he bent over, he was right in my face. 'He was becoming more and more agitated and kept reaching down but didn't take anything out of the bag.'

The man was wearing hipster-style fawn checked trousers, with exposed designer underwear, and a matching jersey-style top. Richard said: 'The pants looked very expensive, they were white with a red band on top. It's a strange thing to remember but he was right in my face. - sundaymail.co.uk

So, why are the media playing 'conspiracy theorist', why are they using tittle tattle tales from a Scots IT expert who doesn't seem to trust brown faces with nice clothes...

Face of London bus bomber

14/07/2005 - 17:58:04 - Detectives today issued a picture of one of the London suicide bombers as they appealed for public help in tracing his last moments. Hasib Hussain, 18, blew himself up on the number 30 bus in Tavistock Square along with 12 other people. The head of Scotland Yard anti-terrorist branch, Peter Clarke, said police wanted to know what Hussain was doing in the hour after his three fellow bombers blew themselves up on tube trains. They detonated their devices at 8.50am but Hussain did not trigger his bomb until 9.47am. - IOL

Thais hold Algerian for possible London bomb link
Sat Aug 27, 2005 9:49 AM BST - BANGKOK (Reuters) - Thai police are holding an Algerian man arrested this week for passport fraud who may also have a connection to the July 7 London bombings, a senior Thai police official said on Saturday.
Atamnia Yacine, 33, was detained in the Thai capital on Wednesday and faces charges of possessing 180 fake French and Spanish passports and overstaying his visa. The Nation newspaper reported on Saturday that police also suspect Yacine may have supplied fake travel documents used in the London attacks which killed 52 commuters.
Police Major General Suwat Tumrongsiskul said British police had asked for information about Yacine, but declined to comment further on the investigation. "British police want to investigate this man to see whether he has anything to do with the London bombs," Suwat told Reuters.
The forged passports had been sent to the French and Spanish embassies in Bangkok for further examination, Suwat said. Thailand is notorious as a centre for the production and distribution of fake travel documents.
However, police have been under pressure to clamp down on the trade, which security analysts say makes it easier for international militants to hide their identities and travel undetected.
reuters.co.uk
Since when did anyone who was British need travel documents,
like a passport, to travel anywhere in the UK?
There is No internal passport system in the UK
Why would suicide bombers need false passports
Last known movement of men linked to London bombs
12/07/2005 - 18:20:39 - Police today outlined the last known movements of four men linked to the bombings in London. Three of the men were from West Yorkshire and they all met on the journey to the capital last Thursday. They arrived at King's Cross Station just minutes before the explosions, according to Scotland Yard.
Deputy Assistant Commissioner Peter Clarke, of the Anti-Terrorist Branch, said property from three of the men was found at bomb sites but it was unclear whether they all died in the explosions.
He said: "The investigation quite early led us to have concerns about the movements and activities of four men, three of whom come from the West Yorkshire area. "We are trying to establish their movements in the run-up to last week's attack and specifically to establish if they all died in the explosions."
All four of the men arrived in London by train on the morning of Thursday July 7, he said. CCTV footage showed them arriving at King's Cross station shortly before 8.30am. One of the men from West Yorkshire was reported missing to the central casualty bureau by his family shortly after 10am last Thursday. Police confirmed that during the journey to London, he had been joined by the three other men. Mr Clarke said that personal documentation bearing the names of three of the four were found close to the seats of three of the explosions. Property of the man who had been reported missing by his family was found on the number 30 bus in Tavistock Square.
Further property in the name of a second man was found at the scene of the Aldgate bomb. Documents in the name of a third man were found at both the sites of the Aldgate and Edgware Road bombs. Police said there was "very strong forensic and other evidence" that one of the men from West Yorkshire died in the explosion at Aldgate. A vehicle was also found at Luton Station car park. Police did not say whether it played a part in the four suspects' journeys. One man has been arrested in West Yorkshire and will be brought to London to be questioned. - IOL